Seat belts in motorhomes is a controversial topic. But it needn't be. It's time for some common sense.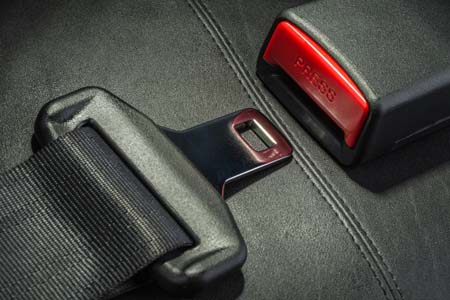 Who'd have thought the subject of seat belts in motorhomes could raise so many questions? Plain and simple, if you want to offer your family the safest way to travel, make sure you buy a motorhome that's fit for the purpose.
Vehicle safety has come a long way since the first seat belt law was announced back in 1965. And it wasn't until 1983 that the wearing of seat belts (if fitted) in front seats was made compulsory. Then, in 1991 it became law to wear rear belts (again, if fitted).
Industry trade body the NCC (National Caravan Council), also points out: "Motorhomes first registered on or after 20 October 2007 must have seat belts for forward and rearward facing seats. These seats must be designated as travelling seats and have a badge stating this. In a vehicle manufactured after this date, if a seat is not badged for travel you should not use it."
Put simply, if seat belts are fitted you should wear them. If they're not fitted and you choose to carry passengers, that's reckless to say the least.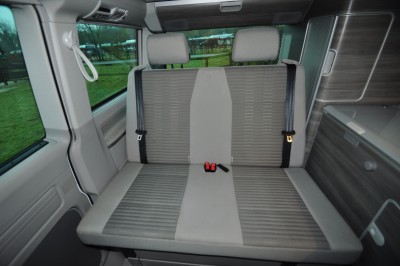 The question of adding extra seat belts to existing designs is a bit more complex. But, there's a simple argument – if the original design did not incorporate belts, there's strong reason to say they shouldn't be added. Even if mounting points are accessible, there's every chance the rest of the conversion didn't take into account the adding of belts.
For example, a basic seat base with no metal framework will simply collapse in a crash. Proper upper body/head restraints are essential, too. Other fittings need to be considered – for example locker doors with positive catches will always be safer in the event of an accident, and stowing loose items such as sink covers etc before travelling.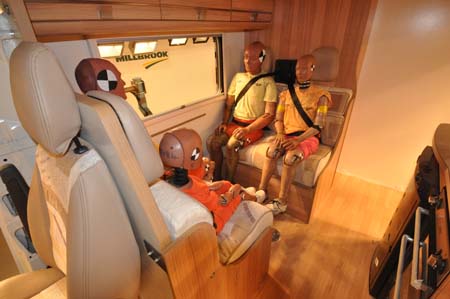 Remember, also, some legislation could be affected by future cases in the courts of law. At present, the UK's Construction and Use Regulations stipulate that the driver of any vehicle is responsible for making sure anything carried on board, including passengers, are not subjected to any dangers whilst being transported.
The other critical issue that people tend to forget is, if you fill your vehicle with passengers, there's a possibility of overloading it… which could lead to prosecution under Construction and Use legislation and make your insurance void.
Our advice will always be that the safety of your passengers is paramount.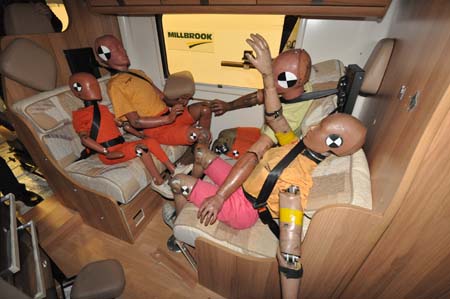 Key points
*Motorhomes registered on or after October 20, 2007, must have seatbelts for forward and rearward facing travel seats. These seats must be badged to indicate they are designated travel seats.
*For any motorhome, where seat belts are fitted, they must be worn for travel
See the Direct.gov website for more seat belt information.
* Seatbelt fittings are also assessed as part of the MoT test.
Can I add seat belts to my motorhome?
It's not recommended by industry experts. And simple commonsense can explain why.
In many instances, if original conversions weren't designed for additional passengers it's not a good idea to think they can be easily adapted to do so.
Put simply, older motorhomes may have forward-facing seats without any kind of restraint. But, they will not have been designed for the retrofitting of seat belts. Even if specialist fixing points are provided in the base vehicle, do note that the seat bases themselves, as well as other aspects of the conversion work, will not have taken into account the adding of additional restraints.
We asked trade body the National Caravan Council for its view. Technical director David Whitehead says: "The NCC strongly recommends not adding additional seat belts to the rear of motorhomes."
He adds, the NCC's own Product Approval Scheme for new motorhomes would only look for the Type Approval of the vehicle and does not inspect seat belts individually.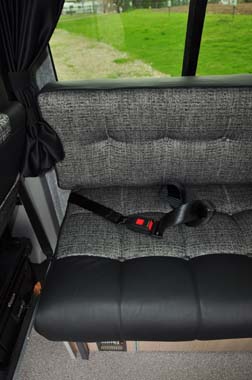 Q&A
Can lap restraints be fitted to side-facing rear seats?
Type Approval comes to the fore here. But, there is an anomaly. Individual Vehicle Type Approval allows the fitting of lap restraints to side-facing seats, whereas Whole Vehicles Type Approval does not.
What about medical exemptions?
Your doctor may say you don't have to wear a seat belt, on medical grounds. If that's the case, he/she will give you a Certificate of Exemption from Compulsory Seat Belt Wearing, which you must keep in your vehicle. You will also need to show it to police if you're stopped.
My motorhome has six sleeping berths but only four designated travel seats. Why is this?
There is no legislation to say you must have as many seat belts as beds. Indeed, many manufacturers prefer to offer some flexibility when it comes to sleeping. Elddis is different, operating a "belts = berths" policy for all its motorhomes.
For more information
www.gov.uk/seat-belts-law/overview
www.motorhomeinfo.co.uk/seat-belts-in-motorhomes/
See also our previous report.
If you want to see how a major motorhome manufacturer tests the safety of its rear seat belts and makes safety improvements, have a look at www.outandaboutlive.co.uk/motorhomes/news/bailey-crash-tests-motorhomes-to-improve-safety and www.youtube.com/watch?v=1iKwg2672UM
Search our blog
---