An annual motorhome habitation check will not only make sure your vehicle is safe for all your adventures it will also maintain any manufacturers' warranties.
So, last month, we asked motorhomes how often they had a habitation service as we spent the day with mobile service Habcheck to see what's involved.
Here are the results…
It was pleasing to see that a good majority of motorhomers have the habitation area of their pride and joy serviced each year, with a huge 72 per cent share of the votes.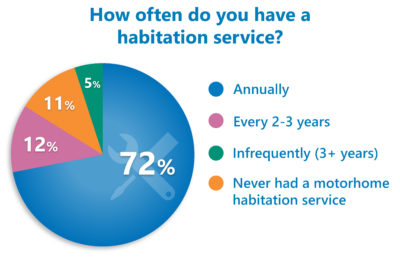 Just 12 per cent said they only booked in a service a bit less frequently – every two to three years.
11 per cent of voters had NEVER had a motorhome habitation service with some commenting that they didn't think they were worth the money.
We'd suggest taking a look at our video which goes through the importance of having your gas, water and electrical systems checked regularly for peace of mind and to make sure everything is safe.
Your comments…
David Coulter agreed that a habitation check each year gives him peace of mind: "We have a lot of money tied up in the motorhome and a hab check every year gives us peace of mind," he commented. "It checks everything is safe, also, if any problems are found they can be sorted before they get worse. It also builds a friendship with your dealer."
But Les Pridgeon has had his motorhome for 20 years and said he carried out all the checks himself: "I know how much it costs. I do ALL the repairs my self and I would like my money to stay in my pocket," he said.
Barry Carter shared his concerns about checks carried out after the warranty period, commenting that he had yet to find a servicing centre which met his needs. "So, I have the servicing done on a need-to basis with the exception of the damp and gas combustion tests," he said.
Peter Pillai also believes that habitation checks aren't worth the money. "Personally I would pay for proper servicing of my gas heating, boiler and the fridge, the rest really doesn't require much skills or expertise." Often these systems and items are checked during a Habcheck.
Thanks to everyone who voted and commented.
Cost to insure: *
---
factfile
| | |
| --- | --- |
| Model | |
| Base vehicle | |
| Axle type | |
| Dimensions | |
| Shipping length | |
| RRP | |
---
Search our blog
---