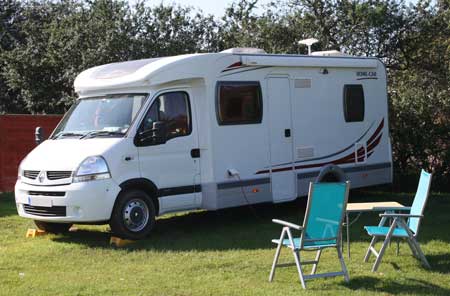 In recent years we've seen a fall in insurance claims for theft of motorhomes amongst our customers. Unfortunately the same cannot be said for the theft of items from motorhomes, which make up one of our largest areas of claim. However there are some simple precautions which motorhomers can take in order to better protect their equipment and belongings and reduce the risk of theft, whether your motorhome is in storage, on a campsite, or on the road.
Protecting your belongings on a campsite
In general caravan sites and campsites are very safe places to be and the risk of theft is certainly not any higher than elsewhere. However some campsites are more secure than others, so if you are on a site with open access or no entrance gate or barrier then take extra care when looking after your equipment and belongings. Try not to leave items on view in an unattended motorhome and always lock your motorhome even if you are only leaving it for a few minutes on campsite. It only takes a matter of seconds for a thief to gain access to an unlocked van and steal small valuable items. An audible alarm can also be a useful tool in combating theft on campsites. A loud siren is sure to get the attention of neighbouring campers and scare off would-be thieves.
Avoid thefts from your motorhome when in storage
When your motorhome is not in use, whether at home or on a storage site, then wherever possible you should remove any valuable items such as TVs and electrical equipment and store these safely in your house. If all valuable items have been removed from the 'van then you can leave the curtains open to show that there is nothing worth stealing inside, should a would-be thief start looking around. If you have an alarm or tracking device fitted to your motorhome then it's extremely important you check the battery which powers them is fully charged and in good working order. Some tracking devices will even send out an alert when the battery power is about to run out, allowing you to replace or recharge it before your vehicle becomes unprotected.
Keep belongings safe when on the road
Security is often the last thing on your mind when pulling your motorhome into a service station, or stopping at the roadside, but it's important that you never leave your motorhome unlocked, even for a minute, as it only takes seconds for a thief to gain access and steal valuables.
Further info: Boost security
Motorhome security which is quick to engage, such as alarms and trackers can also be turned on when you stop with your motorhome to give added security at the push of a button, and further peace of mind that your belongings are safe. A proactive tracking device can be useful at thwarting break in thefts thanks to the trigger of motion sensors or an alarm that links to the tracking device, which then sends a signal to the tracker's monitoring centre telling them someone is breaking in. Police can then be alerted and the thieves can be caught red handed.
When theft occurs what's covered by insurance?
Of course sometimes theft is unavoidable and that's why a specialist motorhome insurance policy is vital to cover your motorhome specific items of equipment.
For policies taken out or renewed pre April 1st 2014, Caravan Guard's motorhome insurance cover includes a sum of £3000 cover for motorhome equipment including awnings, pots and pans, TV's, generators etc. (Cover levels, terms and conditions apply – see our motorhome policy wording). Please note that personal items that you take from your home on motorhoming trips such as clothing are not covered under Caravan Guard's pre April 2014 motorhome policy – these are usually insured under your home insurance policy.  Also remember that 'high risk' items such as mobile phones, cameras, watches, jewellery, mp3 players, iPods and bicycles are generally not covered under a motorhome policy and should be insured elsewhere and looked after with extra care.
Update June 2014. Please note policies taken out or renewed after 1st April 2014 now include £5000 cover for motorhome equipment and personal possessions such as clothing. For further information visit our benefits of motorhome insurance page. High risk items such as bicycles and tablets can also now be covered on Caravan Guard's separate Gadget and Leisure equipment insurance policy.
Cost to insure: *
---
factfile
| | |
| --- | --- |
| Model | |
| Base vehicle | |
| Axle type | |
| Dimensions | |
| Shipping length | |
| RRP | |
---
Search our blog
---