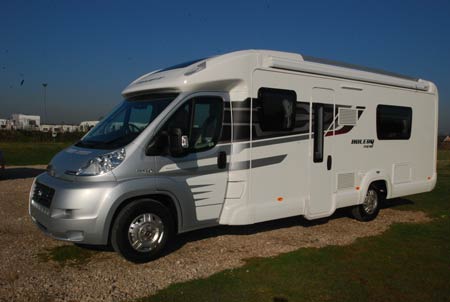 Can the motorhome equivalent of the holy grail ever be reached? That would be a full-size wash/changing room, comfortable fixed bed sleeping, generous kitchen in terms of equipment as well as space and storage… but all packaged into reasonably compact overall dimensions. And great to drive, too, of course.
Well, take a look at Swift's Bolero line-up (or indeed sister range, the Bessacarr E500 series). This season has heralded the arrival of a new kind of sleeping arrangement – twin single beds. And here, with the 612 FB variant, is one of the best exponents of the genre. Plenty of others have such floorplans in their line-ups – from the likes of Auto-Trail (Savannah), as well as imported marques ranging from Adria to Burstner to Dethleffs to Pilote. When it comes to equipment for your pound sterling, however, arguably it's only the Auto-Trail that comes close.
Seriously well equipped, all Boleros start out on the heavier duty Maxi version of Fiat Ducato chassis with Al-Ko extensions (always that bit better for overall handling) and the lusty 150bhp engine as standard.
There's a distinctive enough "Swift look" to the streamlined exterior external equipment extends to a fully integrated awing and a reversing camera system.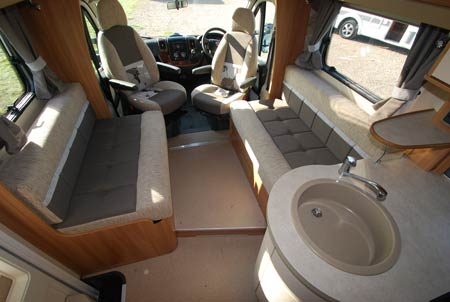 Inside, one of the key things to look for in lounges of this ilk (ie twin settees) is that the cab and settee seating is on the same level. That's very much the case here.
Aft of the lounge, there's a superb kitchen with just one obvious failing – the sink is in such a position that it could be easy to splash water onto the settee adjacent. The only other love 'em/hate 'em items of contention here are the loose plastic drainer and the rotating shelving under the sink.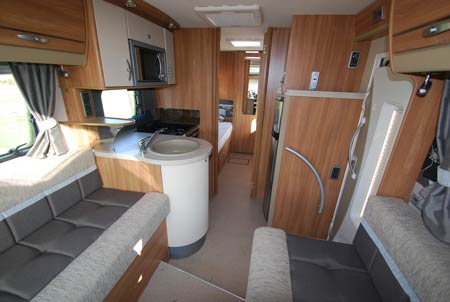 Then, it's on to the bedroom and those aforementioned twin singles. At 1.89m, they're a generous length, just a tad narrow at 0.71m. But, they're on the thickest of one-piece, sprung mattresses.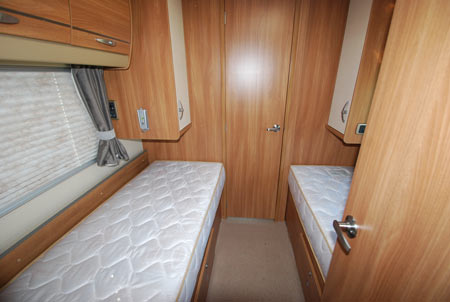 You can sit up for reading – the lights are adjustable – or watching TV. And one of the big bonuses of that Alde heating is it can be programmed to come on any time you want.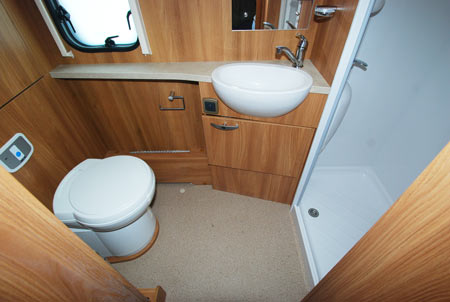 The full-width washroom is beyond the bedroom, and again you'll be impressed not just by the equipment, but also the practicalities and space it affords.
From an insurance point of view the Bolero, at a cost of over £53,000, will require you to invest in a little extra security. A Thatcham Category 1 approved alarm or an approved tracking device will do the trick. The colour reversing camera, part of the optional vogue kit, will also get you a discount on your motorhome insurance.
Why, there's even an excellently healthy 918kg payload. Yes, it is a pleasure to drive. And, when it's all backed up by a ten-year bodywork warranty, don't you just know you're onto a good thing?
Pros
Alde heating
UK dealer network
Residual values
Ten-year bodywork warranty
Cons
A few kitchen issues
Lightweight washroom fittings
Verdict
Excellently equipped and well put together, at a very good price
Summed up in one word? Singular.

Cost to insure: £317.50*
Fact file
Based on: Fiat Ducato Maxi 150 Multijet/Al-Ko low frame tag axle
Price from: £53,845
Dimensions: 7.71m L, 2.35m W, 2.77m H
Maximum weight: 4,250kg
Key options: Vogue Pack (cruise control, cab air conditioning, colour reversing camera) £1,095, Winter Pack (water tank heaters, drain insulation, fridge vent covers) £199
Security: Engine immobiliser, remote central locking to all three doors, ABS and EBD, reversing camera, battery isolation switch
More info:  https://www.swiftgroup.co.uk/
*Insurance premium for this motorhome based on Swift Bolero 712SB £53,845. Fitted with Manufacturer's Immobiliser system and a Thatcham Category 1 approved security system. Kept on driveway at home at TD9 8ED. Insured & spouse, 50 years old, professionals, with no claims, convictions or health conditions in last 5 years. 5 years transferred NCD, 5 years motorhome driving experience. Members of motorhome club doing less than 5000 miles annually. European insurance cover for motorhome costs extra – please call for quote. European Breakdown is £43 extra. Premium includes Insurance Premium Tax (IPT) at 6% and is correct as of 19.06.12.
Cost to insure: *
---
factfile
| | |
| --- | --- |
| Model | |
| Base vehicle | |
| Axle type | |
| Dimensions | |
| Shipping length | |
| RRP | |
---
Search our blog
---