Buying your first caravan can be an exciting prospect – but how do you choose the right kind of caravan for you and your family?
It is important to first decide how you intend to use the caravan. In other words, will you be taking regular trips throughout the year or infrequent weekends away during the summer months? If you plan to use your caravan on a regular basis, you might want to opt for a larger, twin-axle caravan that will provide you with more space for luggage and additional guests (or pets). If your new caravan is only going to be used for short trips, you could look at a small single-axle caravan that will be lighter and easier to tow, as well as cheaper to insure.

Although there are many UK manufacturers of touring caravans, if you're looking for a large family sized caravan, you may be tempted to look at European or American models. These tend to be larger than UK 'vans, so you should always check the width of the caravan before buying or importing.
Width and length
The maximum trailer width for any towing vehicle is 2.55 metres. The maximum length is 7 metres for a trailer towed by a vehicle weighing up to 3.5 tonnes (3,500 kilograms). American trailers and caravans don't always meet European safety regulations so if you want to use an American caravan or trailer in the UK or the EU, you must first check that it's legal. Gov.uk has more details on towing with a car.
If you're looking at German twin-axle caravans, telephone a few insurance companies before committing to buy as these have a higher theft rate and may not be covered by some insurance companies.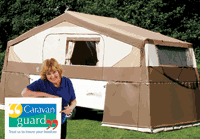 Lower insurance premiums for Trailer Tents
If you're looking for something that will be more compact and easier to tow, why not look at a folding camper or trailer tent? They fold down into a trailer, so towing is easier and more economical, but once on site, they fold out to be as big and well equipped as many tourers. Also, they're often cheaper to insure than normal caravans. They're not for everyone though, and if you want to put your feet up once you've found your pitch, rather than having to unfold the camper, then a standard ready-made caravan might be the best option for you.
Similar to the folding camper, is the 'pop-top' caravan, which can also be more economical to tow with a low roof line. As the name suggests, these caravans have a roof that you can raise (or 'pop') to provide more headroom. These caravans provide ample living accommodation and home comforts.
If you want compact accommodation for couples, you could try the new teardrop trailers that are becoming more popular for short breaks. The living space and equipment is basic, but if you're upgrading from a tent, it could make the perfect place to sleep. Plus, due to their small size, they are light weight and easy to tow for the beginner. More and more manufacturers are now producing these micro-caravans with models including the Bedbug, The Pod and the Danbury Tear Drop.


Airstream Silver Bullet Touring Caravan
Looking to turn heads on the campsite? Then look no further than the American Airstream range of silver bullet caravans. Airstream now produce a European spec caravan that has proved popular with celebrities and young professional types. It's a welcome change from the traditional 'white box' caravan, but the price tag may make some people think twice.
Always bear in mind the towing capability of your towing vehicle. For a legal match the Maximum Technically Permissible Laden Mass (MTPLM) of the caravan must be equal to or less than the maximum tow limit of the car, but it is recommended that the MTPLM of the caravan is kept equal to or less than 85% the kerb weight of the car – otherwise known as the 85% rule. If the maximum towing weight of your towcar is less than 85% of its kerb weight, then the MTPLM should not exceed the towing weight limit. Obviously, a heavy caravan will require a big towcar and big towcars can be costly to run!
Finally always think about insurance. Generally the more you spend on a caravan, the more it will cost to insure, but also the more you spend, the more theft attractive it will be. So for a top of the range caravan, a specialist caravan insurance company is likely to expect you to invest in security beyond that of a simple wheel clamp and hitchlock. If you do decide to buy a top of the range caravan however, you may find that the manufacturer has already fitted security such as tracking devices, axle wheel locks and alarm systems. Whether you invest in additional security or your caravan has various devices fitted as standard, you will very often find that large insurance premium discounts are applied.
Cost to insure: *
---
factfile
| | |
| --- | --- |
| Model | |
| Base vehicle | |
| Axle type | |
| Dimensions | |
| Shipping length | |
| RRP | |
---
Search our blog
---