Caravan, campervan and motorhome owners love their sleep and our community poll results also show huge affection for mattress toppers.
From smoothing out ridges, to helping back problems and making their caravan or motorhome beds softer – the list goes on as to why so many leisure vehicle owners wouldn't travel without the extra layer of comfort a mattress topper or mattress protector offers.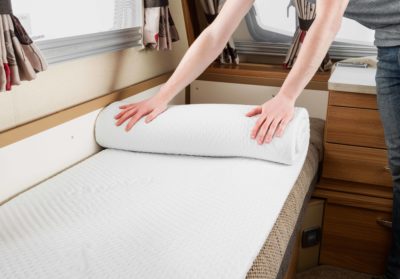 You responded with love and admiration when asked if you used a sleep-boosting mattress topper, with many suggesting it was an essential piece of kit and highly recommending them.
Topping the polls….
We received a massive 729 votes and huge 82 per cent said they used a mattress topper or protector – 71 per cent of these used a bed topper, with many commenting how perfect they were for a peaceful slumber.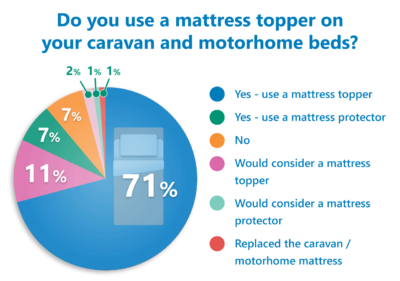 Only 51 voters (seven per cent) said they didn't use any kind of bed topper but 12 per cent said they would consider them to help make those caravan and motorhome beds more comfy.
Another two per cent said they had replaced their caravan or motorhome mattress instead.
Your comments…
Many have not tired of their bed toppers – having had them for years.
June has had her Duvalays for 11 years, W.G. Blakey had toppers for 20 years and Barry Carter has been motorhoming for 14 years and has always used a 30mm memory foam mattress topper.
"It smoothes out the ridges and reduces wear where cushions are used," said Barry. "It mounds to the body and takes away any lumpiness – is warm in winter and cooler in summer. We tend to fold ours up and store them on the over-the-cab bed when not in use. We wouldn't be without them."
Many leisure vehicle owners use toppers for a more even or softer sleeping arrangement.
Graham Preston said: "We use a mattress topper because it smooths out all the dips between the cushions that make up the double bed."
Alexis Macleod has a Knaus motorhome and the bed was too hard. "We bought a  3 inch mattress topper. Now we get a great sleep."
Maryann Plumbley uses a custom-sized Duvulay mattress topper: "What was once good is now fantastic," she said. "Would not leave home without it and now have them for my home bed too."
Richard Messenger has always used a mattress protector: "For the first time last month we used a quilted mattress topper, the bed was comfy before, now it's sumptuous!"
Patricia Worth said the addition of mattress toppers had been wonderful.: "We thought it was just because we are old codgers that our seats and mattresses were getting less comfy. Ours have covers and are on the daytime seats/night time mattresses 24/7, so they are used for daytime sitting and snoozing too. Ours are inexpensive ones from Amazon but would recommend them to anyone wanting a better night's sleep."
Some owners have made their own topper from pieces of luxury foam or by cutting up a memory foam mattress an stitching into a duvet cover.
Bed toppers are designed to help you sleep well when away in your leisure vehicles and they're certainly doing just that for many owners. Thanks for sharing your comments with us and don't forget to check out our gear guide on toppers and other kit to help boost your sleeping and enter our fab competition to win a pair of Duvalay portable toppers.
Cost to insure: *
---
factfile
| | |
| --- | --- |
| Model | |
| Base vehicle | |
| Axle type | |
| Dimensions | |
| Shipping length | |
| RRP | |
---
Search our blog
---