How many ways can you cook when you're away in your caravan or motorhome?
Here are a dozen great suggestions in our gear guide to motorhome and caravan cooker alternatives.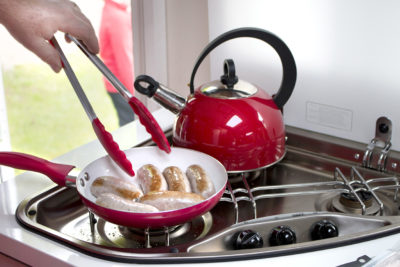 Off the hob!
Tired of on-board kitchen drudgery? Or, do you find cooking in – or outside –  your caravan or motorhome is much more fun and/or entertaining?
No matter what you already have in your leisure vehicle – and that can be anything from a two-burner gas hob through to a full cooker and microwave oven – there's always the temptation to add another style of cooker, especially if you also enjoy preparing meals outdoors.
So, here's a selection of 12 alternative cooking products to your humble caravan or motorhome cooker – nearly all of which can also be used back at home, making then even more desirable – that might just get your juices flowing!
Top motorhome and caravan cooking tips
Consider your neighbours, especially if your cooking involves creating smoke.
Always be wary of small children getting too close to hot surfaces
Check manufacturers' recommendations. If an item is designed for use outdoors don't be tempted to use it in your vehicle or even within the confines of an awning.
Keep a fire extinguisher and/or fire blanket handy. You never know what might happen!
Make sure outdoor cookers – especially those that can connect to your vehicle's external gas or electric points – aren't operating too close to your caravan or motorhome.
Make sure any cooker you use is fully cooled before you pack it away.
Don't forget to add the value of any extra cooking kit to your caravan insurance sums insured!
See also our guide to pots and pans for caravans and motorhomes and gear for eating outdoors.
Star Player #1
Outwell Selby griddle
A mains electricity-powered griddle that use a flat, non-stick surface, which means you can cook with minimal fat/oil, making for healthier food. Plus it's really easy to clean and great for cooking all manner of meals.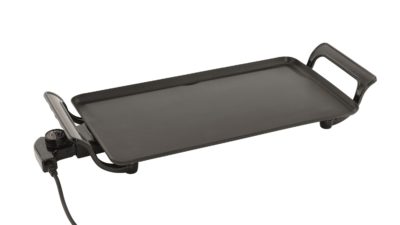 The adjustable temperature control also has an indicator light so you know when the thermostat kicks in.
Weight is 1.9kg and dimensions are 61.5cm x 26cm x 9cm.
Key features Steel/aluminium, non-stick cooking surface, maximum 2,000Watt rating, heat-resistant handles, 2.5m cable
Expect to pay £35
Star Player #2
BioLite FirePit
A smokeless fire pit that's bang up to date, thanks to BioLite's patented airflow technology (there are 51 air jets that inject the fire with oxygen) and what it calls an X-ray mesh body. That means it replicates the effect of a campfire, pushing out its heat in all directions (just like a fire).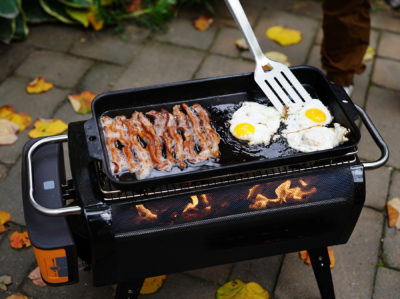 But, add wood or charcoal and you can cook over its grill grate. And you can also control the fan intensity and flame size either manually, or remotely via the (supplied) Bluetooth app.
Key feature is a 12,800mAh power pack that runs a fan for anything up to 30 hours. Re-charging is via a USB port (cable supplied).
A griddle and a lid are among the options available here, should you wish to extend its cooking capabilities. It's 68.6cm x 33cm x 26.7cm high, extending up to 40.1cm with its legs folded out.
Key features Fire pit or grill flexibility, folding legs, removable grill, weighs 8.98kg
Expect to pay £269.99
Star Player #3
Cadac E Braai
The latest product from long-established and well-regarded Cadac is this, the E Braai. Unlike its predecessors, its power source is electricity – a first for Cadac.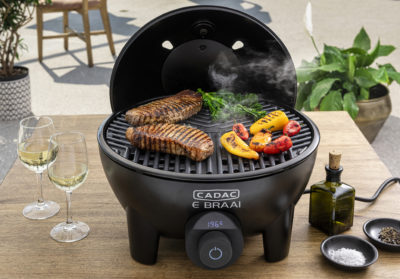 It otherwise performs like any other Cadac braai (roughly translated as a barbecue, from its native South Africa). The grill has an organic, ceramic coating, while the dome lid has a heat-resistant handle. Cooking temperatures are set and maintained via an automatic control, with a probe that sits directly under the cooking surface.
For tabletop use, the E Braai weighs 10kg and its dimensions are 33cm x 42cm x 42cm.
Key features 2.3kW electric coil, enamelled fat pan, LED display, storage bag, removable heat deflector/pot stand, temperature probe, optional additional cooking surfaces, dishwasher safe
Expect to pay £250
Star Player #4
Quest Deluxe Maxi Frypan
Cooked breakfast in the great outdoors? It's the stuff of dreams. And it's just one of the capabilities of this electric cooking unit from Quest. Essentially a grill, it comes with a non-stick cooking area, 30.5cm x 30.5cm, with heat adjustment, plus a glass lid.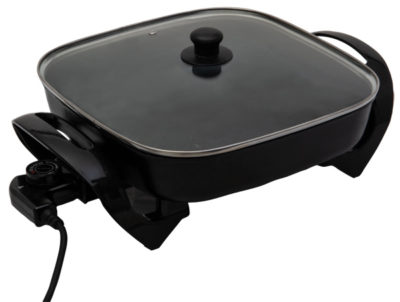 The low setting allows you to keep your food warm once it's cooked.
It weighs 1.9kg and pack dimensions are 31cm x 42cm x 14cm.
Key features Cast aluminium, low wattage, easy to clean, 1,200Watt rating,
Expect to pay £29.99
Star Player #5
Outwell Whitby skillet
An interesting alternative to the more expansive Remoska? A mains electricity-powered skillet that also comes with a removable glass lid (with steam escape), so you can use it for frying or roasting. The adjustable temperature control also has a setting for keeping food warm, while the cooking surface has a non-stick coating.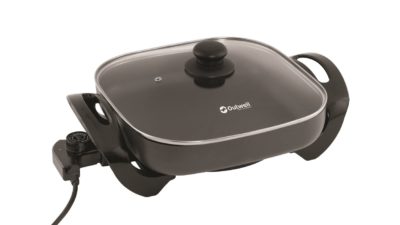 Weight is 2.6kg and dimensions are 41.5cm x 30.5cm x 17.5cm.
Key features 1,300Watt rating, heat-resistant handles, 2.5m cable,
Expect to pay £40
Star Player #6
Campingaz Party Grill 400 CV
A perennial best-seller, this can give you a whole choice of cooking styles when you're outdoors – barbecuing, traditional pan use, plus comes with a non-stick grid and griddle, and the lid even doubles as a wok.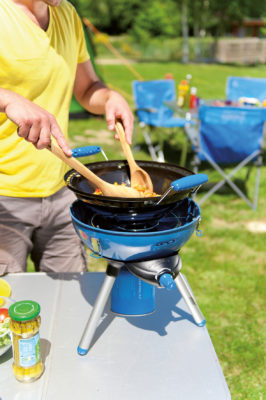 One key features is the water compartment which collects any run-off cooking juices, making it all the easier to clean.
From a range of Party Grills, choose the 400 CV, which runs on Campingaz CV Plus cartridges – each offering up to three hours' burn time – if you haven't got an external gas connection on your vehicle. If you have, you might prefer any of the sister models in the line-up that use butane or propane.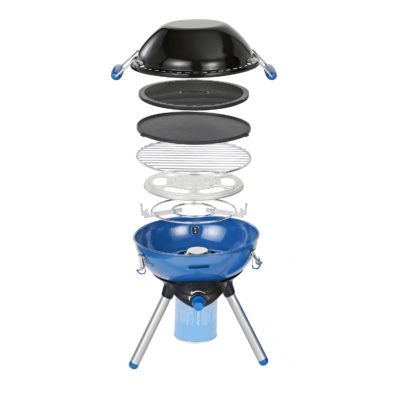 Key features Choice of five different cooking surfaces, 2,000Watt power rating, Piezo ignition, lockable lid, carry bag, fully portable, patented valve cartridge connection
Expect to pay £109.99
Star Player #7
Vango Sizzle Double
Induction hobs have been around for a while now, and for some folk they make perfect sense. If you already have access to mains electricity and prefer not to use gas, or if you don't like the perils associated with hot surfaces, an induction hob makes great sense.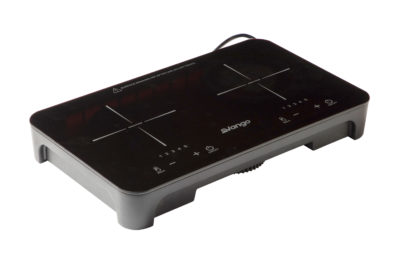 You need the right pans, of course (luckily, most are induction hob-friendly, but it's always worth checking). Or, like this Vango unit, there's a sensor to tell you if they're not compatible.
The cooking area is designed for two pans, 12cm-21cm in diameter. Other features include a cooling fan and a heating lock, if you want to keep pans warm. And, as well as being particularly safe to use, it's very easy to wipe clean.
It weighs 2.78kg and dimensions are 47.5cm long x 32cm wide x 11cm high.
Key features 800Watt power rating for each ring, 2.5m cable with plug, LED controls, designed for outdoor use, storage bag
Expect to pay £132
Star Player #8
Kampa Freedom
A rather dinky, 30-litre oven that operates from gas cartridges (so it could prove handy if your main gas supply runs out).  A single cartridge can last up to three hours.
It weighs 9.6kg. Dimensions are 47cm x 32.5cm x 32.5cm.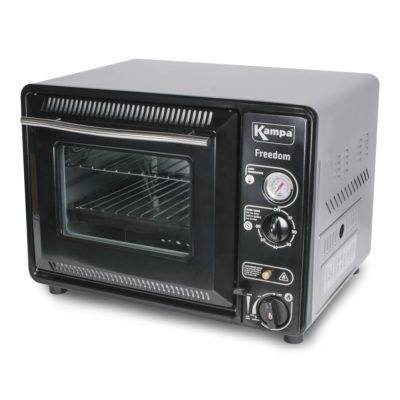 Key features Piezo ignition, 1kW power rating, oven tray, timer with auto shutdown, temperature gauge, carry bag
Expect to pay £206
Star Player #9
Dometic MWO 240
You can boost your caravan's/motorhome's cooking capabilities with a microwave oven. Just be sure you choose one, like this from Dometic, that's suitable for use in a leisure vehicle.
The door lock also makes sure it won't spring open when you're on the move.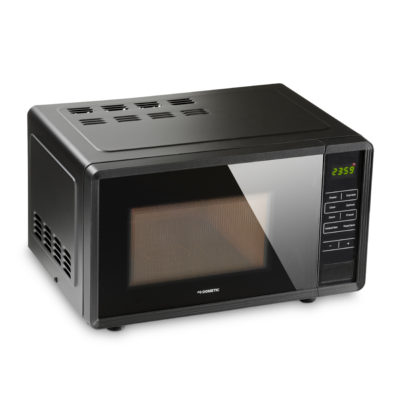 It weighs 10.8kg and dimensions are 451mm wide x 328mm deep x 257mm high. It also comes with a ceramic plate that's easy to clean.
Key features Designed specifically for leisure vehicle use, five power levels plus defrost, interior light
Expect to pay £166
Star Player #10
Ooni Koda 12
Your very own pizza oven, wherever you go? That's what this model from specialist manufacturer Ooni gives you. It's a gas-powered oven, that says it can cook a 12in pizza in a minute, reaching temperatures up to 500degC.
Operating from propane, it's ready to cook within 15 minutes of start-up. It comes with a cordierites stone baking board and a gas regulator and 1.2m hose.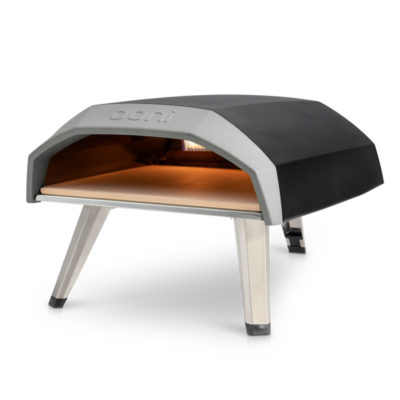 Weight is 9.25kg and packed dimensions are 592mm x 355mm x 150mm high (298mm high with legs open). There's also a larger sister model, the Koda 16.
Key features Carbon steel shell, 337mm x 337mm cooking surface, foldable legs, heat control dial, range of accessories, flame-safety device, three-year warranty
Expect to pay £299
Star Player #11
Outwell Danby grill
Ideal for toasted sandwiches and more, this is a mains-operated contact grill that weighs just 3.6kg and is compact enough (37cm x 31cm x 12cm) to be used on many worktops inside your vehicle.
It has an adjustable thermostat and you can adjust the gap between the two cooking surfaces. They're also removable for cleaning.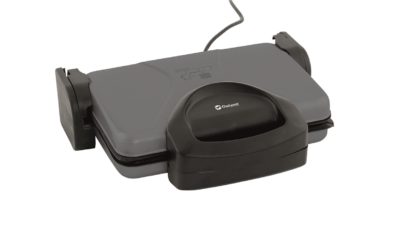 The mains lead is also removable, should you wish to place the Danby on a table and serve your cooked food direct from it.
It can also be used for cooking bacon, vegetables, fish etc.
Key features Steel/aluminium construction, 1,400-1,600Watt rating, non-stick finish to cooking surfaces, heat-resistant handles,2.5m cable, two-year warranty
Expect to pay £71.99
Star Player #12
Primus Kamoto OpenFire Pit
Better than a single use barbecue? It may be a bit heavier, at 630g, but this is far more versatile. It's also a way of cooking over an open fire whilst keeping any ashes or hot surfaces well off the ground, meaning no danger of causing damage (to grass, especially).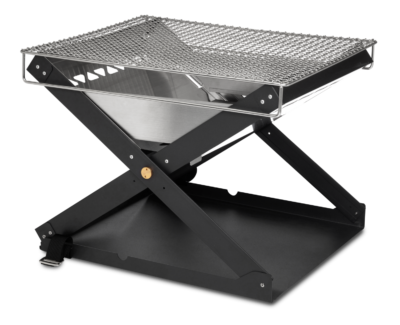 The flatpack design here is a real space-saver, too. Open it up and dimensions are 60mm x 530mm x 390mm. It can also be combined with Primus' Open Fire Pan.
Key features Powder-coated steel and stainless structure, burns wood or charcoal, windshields, air inlet tray, grill grate
Expect to pay £155
Over to you…
Got any advice on alternative motorhome and caravan cookers you'd like to pass on to fellow caravanners, campervanners or motorhome owners? Please feel free to share your comments and any top products you use for cooking outdoors.
Cost to insure: *
---
factfile
| | |
| --- | --- |
| Model | |
| Base vehicle | |
| Axle type | |
| Dimensions | |
| Shipping length | |
| RRP | |
---
Search our blog
---