Carry on cooking wherever you travel? A decent set of pots and pans will help
While it's always surprising to hear how little folk use the ovens that they otherwise expect to be fitting in their caravans and motorhomes (not so much campervans, admittedly), it's always great to have at least a couple of gas rings to help prepare all manner of meals – from fry-ups to rice- or pasta-and-sauce mixes.
A couple of saucepans, plus a frying pan – and a kettle to complement – then? Sounds pretty perfect, for starters (pun intended).
You don't want to weigh yourselves down with items that are too heavy or too bulky… although you might just be tempted by items such as pressure cookers, slow cookers, Dutch ovens and more.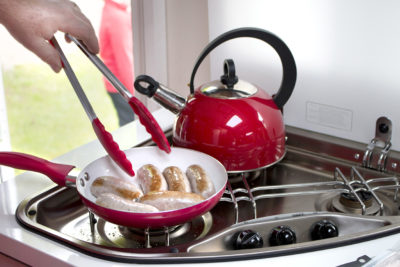 Caravan Guard's top tips when buying pots and pans
Stay sturdy. Although, as ever, you should aim to pack light, you don't want pots and pans that aren't efficient and don't work optimally.
Several items that pack together will save plenty of space when it comes to packing away.
Clean up quick. It's usually easier if you wash up as soon as possible after you've used your cooking gear.
Doubling up on lids and handles can save space (and weight) without losing out too much on convenience.
Hob-friendly? Chances are, you'll be cooking on a gas hob in your caravan or motorhome, but who knows what the future holds? Induction hobs could be just one type we'll be seeing more of…
Star Player #1
Outwell Feast Set M
A full set of lightweight items – three-litre pot, 1.5-litre saucepan, 20cm diameter frying pan – plus a single glass lid that can be used on the pot or the frying pan.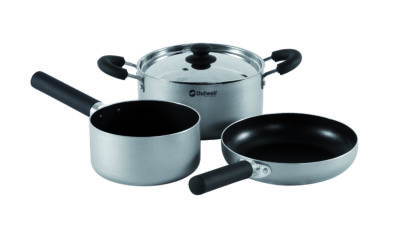 Thanks to detachable screw-in handles for the pans, the whole ensemble packs together (dimensions 32cm x 20cm x 15cm high), ready for travel in a suitably small locker.
Key features Aluminium, non-stick finish, can be used on gas or induction hobs, soft-touch handles, supplied with carrybag, two-year warranty
Expect to pay £52
Star Player #2
Outwell Tea Break Kettle
Where would we be without our cuppas – morning, afternoon or whenever? And a kettle with a whistle that works on a gas hob, like this, is just the thing that great camping memories are made of.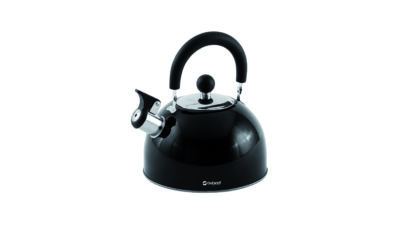 Choose here between a stainless steel or a slightly more expensive black finish, sizes M (1.8-litres) or L (2.2-litres).
The handle has heat-resistant padding and folds for travel convenience.
Key features Stainless steel, removable lid, heat-resistant handle, opening spout with whistle, two-year warranty
Expect to pay £10.99 -£13.99
Star Player #3
Lakeland 3.5L Slow Cooker
Plenty of leisure vehicle users turn to Lakeland for great ideas when it comes to in-'van cooking gear, storage, cleaning products and more.
If you like the concept of going out for the day and returning to a delicious meal (not forgetting the tempting aromas… less cooking mess, too) back in your leisure vehicle, a slow cooker could be for you. All you need to do is chop (your vegetables, meat, fish etc) and go.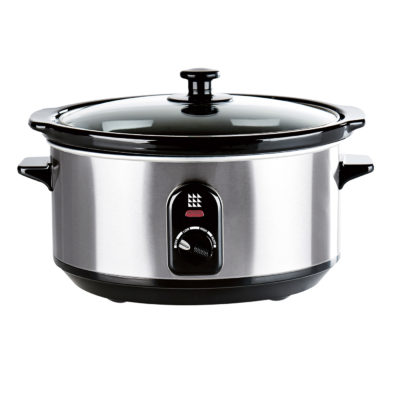 This example has three heat settings and a circular electric ring for even cooking. It has enough capacity to cope with a whole family.  Dimensions are 35cm x 24cm x 17cm high.
There are other offerings from Lakeland, including a digital version.
Key features Ceramic pot, glass lid (both dishwasher safe), 200Watt rating, working capacity 2.5-litres
Expect to pay £29.99
Star Player #4
Vango Gourmet Cook Set
A real three-in-one cooking gear set, this. It includes two pans (diameters 18cm and 20cm) plus a 20cm frying pan – each sharing a single, easily detachable handle – that all pack together for space-efficient storage.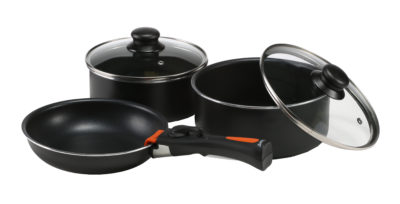 That makes it an ideal arrangement for the more confined hob dimensions of most leisure vehicles.
It all packs down to 22.5cm diameter x 22.5cm high and total weight is just 2.15kg.
Key features Aluminium alloy, non-stick cooking surface, suitable for most hobs (gas, electric or induction)
Expect to pay £45
Star Player #5
Remoska 2L
Here's a cracking little pan – or rather, cooker – that's long been a well-kept secret amongst caravanners and motorhomers. Mains operated, treat it like you would an energy-efficient oven – so you can use it for cakes and puddings etc.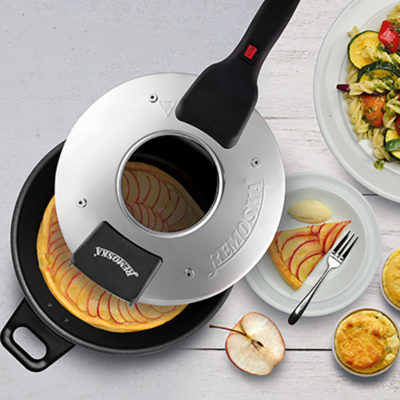 You can also use it as you would any pan, including for frying. The glass lid means you can keep the splashes in and a close eye on your cooking.
Dimensions are 24.5cm x 45cm x 18cm high. Also available in Grand size, offering twice as much capacity. Plus, there's also a Remoska cookbook full of great recipes and other ideas.
Key features 400Watt rating, non-stick aluminium pan, heat-resistant trivet, two-litre capacity, 125cm cable
Expect to pay £150
www.remoska.co.uk and www.lakeland.co.uk
Star Player #6
Kampa Space Saver Deluxe Cookset
Three saucepans (14cm x 13cm, 16cm x 15cm and 18cm x 17cm), each with its own glass lid, plus an 18cm x 8cm steamer/colander. All of which nests together for storage (pack size 28 x 20 x 28cm high).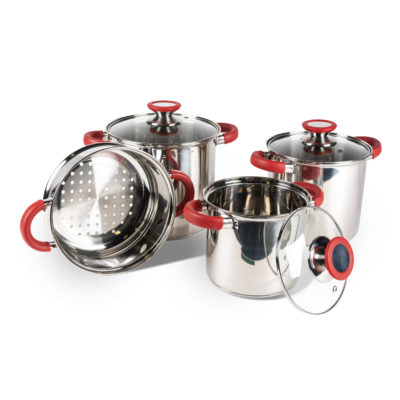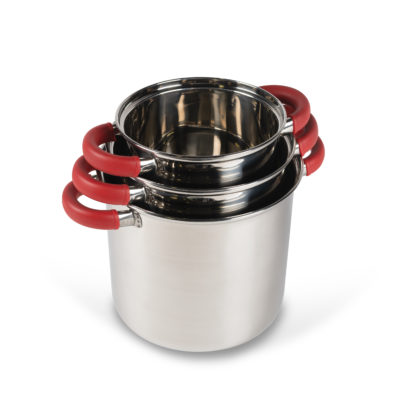 Each pan has an encapsulated base, which makes for more even heat distribution – and they can be used on most hob types.
Key features Stainless steel pans, silicone handles, tempered glass lids
Expect to pay £42.99
Star Player #7
Robens Carson Dutch Oven
Dual purpose – you can use this item as a pot or an oven – this embraces the glamping style, but is practical, too.
It's designed for use with a campfire – its three legs allow it to sit in the fire, or there's a handle with hook attachment point for hanging (a tripod is an option). The specially designed lid can also hold embers for even cooking from above, as well as below.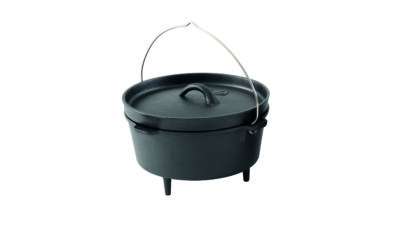 It has a 26cm diameter and is 18cm high. Weight is 4.74kg
This is the smaller, 4.3-litre version – there's a sister model that's double the size.
Key features Pre-seasoned cast iron, metal handle, lid with raised edge,
Expect to pay £38.99
Star Player #8
Petromax Perkomax Enamel Coffee Percolator
Looks good, doesn't it? This percolator has a 1.3-litre capacity allows for up to nine (continental) cups. It weighs 1kg.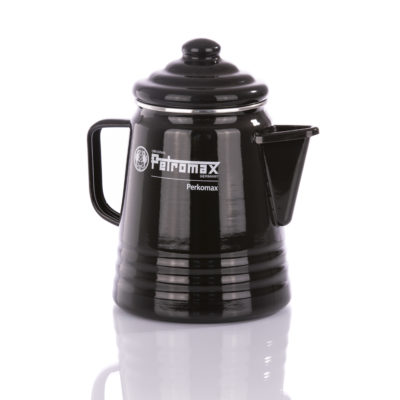 Dimensions are 21.5cm high with a diameter of 15cm. Also available in white and it can also be used to brew tea.
Key features Enamelled steel, suitable for all hob types (including fires), German-made
Expect to pay £37.99
Insurance considerations
As a caravanner, always make sure you include the value of your pots, pans and slow cookers in your insured value for equipment to make sure you're fully covered in the event of a claim. Motorhome owners get £5000 of equipment and personal possessions cover as standard with Caravan Guard and pots and pans would come under this element of cover.
Over to you…
Got any advice on pots, pans, or other motorhome and caravan cooking gear you'd like to pass on to fellow Caravan Guard policyholders? Please feel free to add a comment below.
Cost to insure: *
---
factfile
| | |
| --- | --- |
| Model | |
| Base vehicle | |
| Axle type | |
| Dimensions | |
| Shipping length | |
| RRP | |
---
Search our blog
---