As a person with a disability, when you think about travel, caravanning might not immediately jump out as even being a possibility. But, with the right setup it can actually be one of the most accessible ways see the world!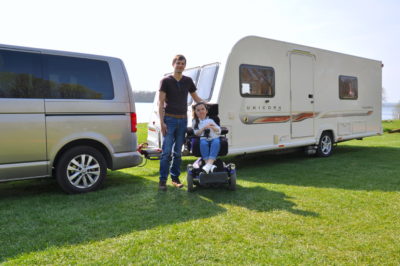 Here, wheelchair user and blogger Karla Baker explains all you need to know about accessible caravanning with a disability.
The benefits of caravanning
Whether you have a disability or not, everybody can benefit from leisure vehicle travel. There really is nothing better than hitting the open road in search for adventure, or equally, a relaxing break if that's what you prefer. One of the beauties of caravanning is that you have the freedom to choose.
The freedom doesn't stop there though, caravanning offers the ability to hitch up and go with very little notice, adding spontaneity to life that other means of travel often don't, and with off-grid capabilities, caravanning also allows you to travel to exciting and remote places that you never thought possible.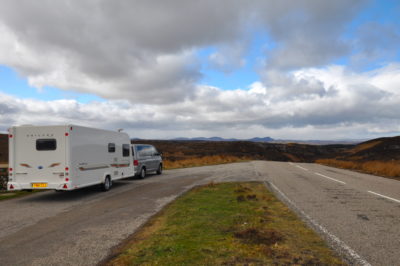 Whether you go on an epic 3,000 mile road trip or have a relaxing weekend five miles from home, all of this freedom mixed with spending more time outdoors can work wonders for your health- both physically and mentally!
Why caravanning is ideal for people with disabilities
When you live with a disability, one of the most common difficulties with travelling is finding accommodation to suit your needs. It can sometimes feel like a mission to secure the right place to stay, in your desired location, within your price-range AND for it to be suitable for your unique needs. But having your own adapted caravan can solve a lot of these issues.
"When I had my caravan made wheelchair accessible and modified to my own specifications it completely changed my views towards travel," said Karla. "There's no longer any trepidation because I feel safe in the knowledge that wherever we go I'll have my own home-on-wheels with me, and it'll be as accessible as we've made it! This has given me the confidence to travel further afield, even caravanning off-grid on a white sandy beach in the Outer Hebrides."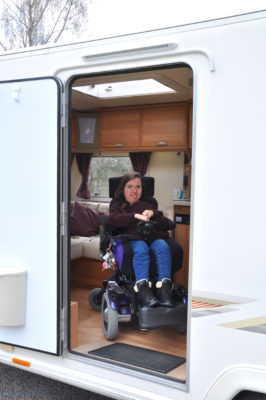 For people who have anxieties about travelling it can also be comforting and reassuring to have somewhere familiar to return to after a day of exploring.
Accessibility on campsites
Campsites vary hugely on size, price, location and facilities – and it's the same for accessibility.
While some do not have any wheelchair-friendly toilets or showers, you will find that a lot do.
These accessible washrooms usually have grab rails by the toilet and shower, a lowered sink, an emergency pull-cord and a wet room style shower with either a fold-down shower seat or a shower chair, and a moveable shower head.
As well as accessible toilet block facilities, a lot of campsites have level access to reception, an information room, laundry room and washing up areas – some even have lowered washing up sinks that are ideal for wheelchair users!
Although there is still work to be done, you will find the majority of campsites are suitable for accessible caravanning, and most site wardens are very friendly and willing to help make your stay as enjoyable as possible.
Most campsites have accessibility information on their websites, but both clubs are particularly good at providing this information about their campsites.
How to choose your caravan layout
When it comes to choosing your caravan there is no right or wrong layout. There are countless different layouts to choose from, from a tiny two-berth to a spacious 8ft wide six-berth tourer, but it's whatever suits you that matters.
Some things to take into consideration when looking at different caravan layouts are:
Does it have the right sleeping arrangement? Twin beds? French bed? Island bed?
Is the toilet in an accessible position for you?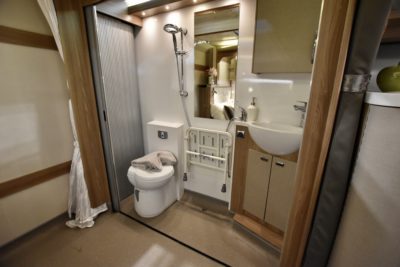 Are there a sufficient amount of plug sockets? And are they in the places you need them the most?
Is there enough storage for extra medical equipment you might need?
Does the fridge size suit you? Perhaps you have a specialist diet that means you need to bring enough medical food to last your entire trip?
Is there an ample amount of space? Not just to comfortably live in, but practically too. If you need help in the washroom or the bedroom, is there enough space for two?
If you need the door widened for wheelchair access, is there anything on the inside that might make it more difficult or costly? A fuse box, heating supply or water pump, for example.
Does it have the right heating system for you? If you suffer from asthma or other lung conditions you may prefer Alde wet central heating over dry blown air.
It's important to take your time when deciding on your caravan, but don't worry if you can't find anything that ticks every single box. As long as you get it as close to what you need as you can, it'll keep costs down when making modifications.
Adapting a caravan
One of the main reasons caravanning is perfect for people with disabilities is because you can modify your vehicle to suit your exact needs, and you'd be surprised at the possibilities!
Coachbuilt is the most reputable company that modifies leisure vehicles in the UK, and whether you only need a couple of additions or a complete overhaul, it will be finished to a very high standard.
Some examples of modifications that can be made are:
Grab rails
Wide access door
Ceiling-track hoists
Hydraulic entry lift
Wet room
Layout adjustments
Slide-out systems
Profiling beds
Depending on your circumstances, you might be able to get the modifications tax-free, and Coachbuilt has partnered with Pegasus to offer finance on the purchase of your accessible caravan.
Insuring an adapted caravan
When it comes to insuring a modified wheelchair accessible caravan it's essential to make sure that the cost of conversion is included in the sums insured value. You'll also need to make sure that the caravan insurance provider is made fully aware that the caravan has been modified from its standard factory condition.
Whether you have a disability or not, there really is no barrier to getting out and exploring. For more information about accessible caravanning and travel inspiration, head to Adventure Wheels!
Over to you…
Have you had your caravan adapted or are you a disabled caravanner? We'd love to hear your views on how you find accessible caravanning. Simply leave your comments in the box below.
Cost to insure: *
---
factfile
| | |
| --- | --- |
| Model | |
| Base vehicle | |
| Axle type | |
| Dimensions | |
| Shipping length | |
| RRP | |
---
Search our blog
---