Motorhomers like to have some extra wheels on their touring trips so they can explore their surroundings.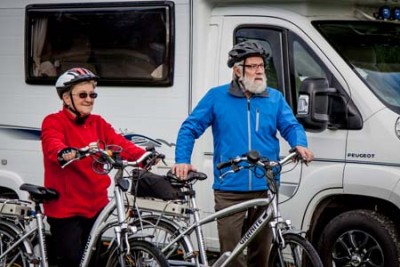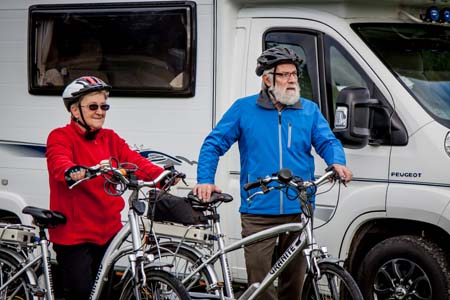 Last month, we asked owners if they take extra transport on their motorhome holidays and a huge 88 percent of voters said they did.
Two wheels was by far the most popular form of extra transport, with 71 percent choosing this option – 39 percent of voters told us they took a bike or two and a further 32 percent said they take electric bikes – giving motorhomers the freedom to explore further afield.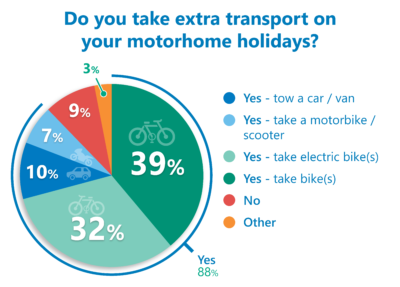 With options for electric, folding and lightweight bikes, the ability to venture out – and keep fit – are limitless when on your motorhome holidays.
Towing a car or van on the back of their motorhome was favoured by 10 percent of voters.
And taking a motorbike or scooter on holiday was voted for by just 7 percent of motorhome owners polled.
With a huge majority opting for extra transport, just nine percent said they didn't take anything else, commenting that they like to walk, use public transport or even hire a small car!
Your comments…
"When we first started motorhoming (now in our 16th year) we took bikes for the first 10 years. Now we just walk to places, use public transport or taxis in the area of the site. It's just great to get out and about physically visiting and exploring the great outdoors. We can't see the point of towing a car or a trailer unless for hobby or commercial reasons. If you need the use of a car buy a caravan as in most cases they are cheaper and have better layouts, especially if you feel the need for fixed bed."
Alex Summers told us they carry their e-bikes on a swing out rear carrier on the back of their van conversion motorhome.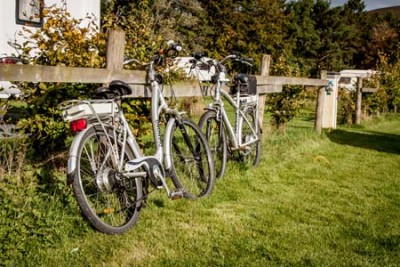 Alan David Bennett also loves their electric bikes: "Just came back from Snowdonia where we rode up some pretty steep mountain roads," he commented. "Our old bikes would have stayed in the garage. On the economy setting we get over 70 miles from one charge."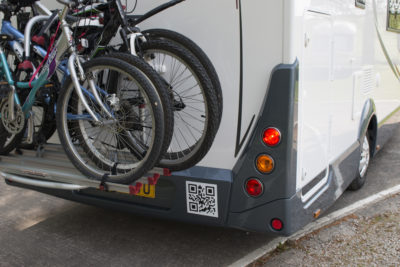 Colin Tipping 
said their bikes have been "invaluable" on their camping and motorhome holidays: "
At first, for transporting our two girls. The last seven years without the girls, we've used our bikes for day trips out from campsites and, with the motorhome, to get to places we couldn't easily have done with our vehicle. At 76 and 66, we're still fit enough to enjoy cycling even if our range is not what it once was."
Neal tows a trailer on his motorhome and said
: "
We exhibit at steam rallies through the season so, if I'm not towing a trailer with vintage motorcycles, I'll be towing my Fiat Panda on an A-frame. It gives us the ability to visit places without using extra diesel and it's a boon for shopping trips."
Search our blog
---