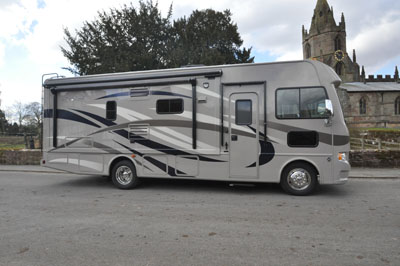 Some baby, eh? The 27.1 is the smallest and lightest of the three-strong Thor Ace range for this season – well it's a mere 28ft from that distinctive front end to its substantial rear ladder. But, all models are under 7500kg (for driving licence purposes), with something like a tonne's worth of payload to play with in this case.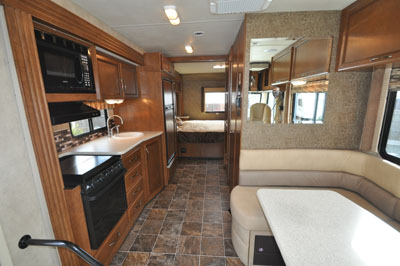 Importer Signature Motorhomes (formerly known as Westcroft) doesn't just have a long history of bringing American motorhomes to the UK, it also holds the Thor franchise for the whole of Europe. Its work has involved getting Type Approval as well as the usual changes to aspects such the electrics for use over here.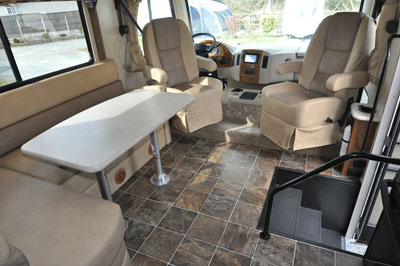 Not that there's much to change as far as the initial proposition is concerned. Thanks to a 1.90m x 1.20m electrically-operated drop-down bed over the cab and a rear bedroom it can sleep four in space as well as comfort – and still leave the most generous of floorspace in between. Indeed, you could also sleep another two in a double converted from the settee (and its air mattress, for such purposes).
It's a veritable bedroom at the back, offering not just room for the huge 1.92m x 1.82m transverse double bed, but also the whole nearside wall devoted to wardrobes, dressing table and other storage.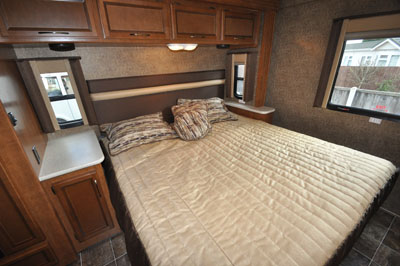 Step out of the master bedroom and you have a full-size washroom on your left that includes a separate shower cubicle and proper flush toilet with its own 44-US gallon waste tank. To save you doing the maths (as they say), there's a fresh water tank with a 50 US gallons capacity – that's nearly 42 gallons to us, or 190 litres.
Also here are: an Atwood cooker with three-burner hob and oven/grill; Advent microwave oven; Norcold 12sq.ft capacity, three-way fridge with separate freezer; Coleman-Mack heater capable of belting out some 34,000BTU; and a six-gallon Atwood underfloor water boiler.
If you're away from mains hook- up, all of this can be powered via LPG from the substantial 40kg underfloor tank.
Being an American, there's also an on-board generator, of course, so you can always take advantage of any of the dozen or so mains sockets on this vehicle.
It's fittings like the above that show the Thor's true worth. Rather than a touring vehicle, this is all set-up for living in long-term, often in a single place, where you can also really make the most of the extra space afforded by its extensive slide-out section, that pushed the kitchen and that rear bed out to really optimise the room.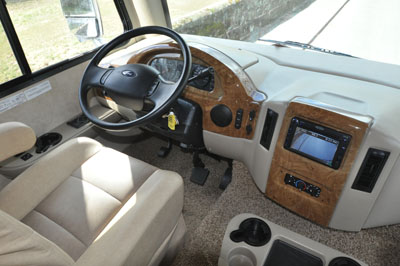 While the exterior look certainly gives this Thor presence, wherever you take it, it's the interior that has very much an American appeal, with its chunky-look rather traditional decor – the furniture is called Vintage Maple, with other fittings to complement.
There's plenty more here, from the roof-mounted air conditioning unit for the living quarters, to electronic levelling, twin 11amp leisure batteries, generous number of exterior lockers, main and porch awnings, and more. It really does add up to quite some vehicle, and something a bit different to the usual Europeans at this level of pricing.
In fact, the only contentious issue is the use of lap restraints for the rear seat passengers – acceptable enough in the US, it seems, but somewhat dated over here.
Verdict: Priced to compete, here's a genuine alternative to top-End Euro vehicles
Plus: Big everything! Slide-out space galore and equipment to match
Minus: Rear travel seats, fixed position for table
In a nutshell: Big enough to look after itself – and you!
Cost to insure: £937.50*


In summary
Based on Ford F-59, 6.8-litre V10, 362hp, four-speed automatic (plus overdrive)
Dimensions 8.72m L, 2.52m W, 3.64m H
Maximum weight 7257kg
Payload 950kg
Key options:  Autogas conversion from £3,000
Security and safety double lock to caravan door
MPG estimate 10-12
Recommended retail price from £89,995**
Visit the Signature Motorhomes website for more information on the Thor Ace
Caravan Guard remain a popular choice for specialist American RV motorhome insurance with bespoke cover and big discounts available.
*Motorhome insurance cost based on Thor Ace 27.1 28ft retailing for £89,995. Fitted with a Caravan Guard approved motorhome tracking device and Cat 1 alarm (must be in place before inception). UK travel only. Kept behind locked gates on secure driveway at TD9 8ED. Motorhome owners retired with no claims, convictions or health conditions in last 3 years. 4 years no claims bonus mirrored from car policy and 2 years motorhome driving experience. Members of motorhome club doing less than 5000 miles annually. £350 excess applies. Quote correct as of 20/06/13.
Alternatives: Concorde Cruiser 890, Niesmann + Bischoff Arto 83F
Cost to insure: *
---
factfile
| | |
| --- | --- |
| Model | |
| Base vehicle | |
| Axle type | |
| Dimensions | |
| Shipping length | |
| RRP | |
---
Search our blog
---