Motorhomes are a huge investment and one that's definitely worth protecting.
In our recent community poll we asked motorhome and campervan owners if their vehicle had a tracking device fitted.
With more than 500 votes, it was great to see a large number of owners have invested in a motorhome tracking device to keep track of their pride and joy.  A motorhome tracking device can immediately and accurately pinpoint the location of a stolen motorhome and guide police to a speedy recovery.
Let's see how you voted…
Almost two thirds of voters (65 per cent) told us they had a tracking device fitted to their motorhome and that it was activated with many commenting that it gave them that added peace of mind. This was compared to just six per cent who have a tracking device but have not paid the subscription.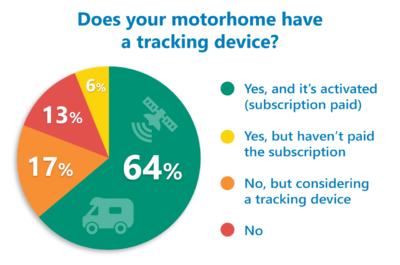 Seventeen per cent of voters told us they didn't have a tracking device but were considering one in the future. If you're one of these, remember that we do offer a large discount on our motorhome insurance policy if you fit and activate an approved motorhome tracking device. We do recommend that you check a particular tracking device is acceptable for insurance purposes before you commit to buy one.
Only 13 per cent of voters told us that they didn't have a tracking device and had no plans to fit one.
Your comments…
Barry Carter said for peace of mind and lower motorhome insurance premiums he wouldn't be without an approved tracking device.
"I am currently into my third motorhome and tracker – a SmarTrack device monitored by Global Telemetrics," he commented. "I am able to view my motorhome's mapped position on my smartphone and it also tells me the state of the battery that supplies it. So far (touch wood) I haven't had to call on them for it to be recovered and may it continue to be so!"
Both Derek Millward and Susan Price agreed.
Derek has had his tracker fitted from new when he bought his 2015 motorhome and pays £99 a year for the subscription which he says is s a "bargain" for the peace of mind.
"If stolen the police have the equipment to alert them if they are in an area where my motorhome is being kept, even inside a building," he said. "Plus I get a small discount on my insurance. It's a win-win situation."
Susan said her motorhome tracker was a very worthwhile investment and would recommend.
Ian Smith has a tracking device that doesn't need an annual subscription.
"I can use with my phone and computer and only pay to top up a SIM card," he said. "We also have a CRIS chip fitted."
Cost to insure: *
---
factfile
| | |
| --- | --- |
| Model | |
| Base vehicle | |
| Axle type | |
| Dimensions | |
| Shipping length | |
| RRP | |
---
Search our blog
---