Vermin in your caravan or motorhome?
That could spell trouble. But, prevention is definitely better than cure. Can there be anything worse than opening the door to your pride and joy to find there's been a bit of a party in your absence… and the place has been trashed?
Mice, rats and even squirrels can cause huge amounts of damage to the interiors and exteriors of caravans or motorhomes, particularly in the winter months, if they can find a place to nest and maybe a supply food! It's not just soft furnishings, bedding, furniture, and food, but plastics and cabling are also prime targets inside a caravan or motorhome.
In this video, we give you some tips on preventing vermin from getting into your caravan or motorhome.
Protecting against vermin is far easier than removing them once they're inside the habitation area.
Also, to save you trawling through your motorhome or caravan insurance policy booklet it's important to note that damage caused by vermin is not covered under our policy, and having been through policy booklets of our leading competitors, it seems to be general exclusion.
Why do mice like caravans and motorhomes?
There's no doubt a cosy caravan or motorhome offering a ready supply of food and a safe place to sleep can be an attraction to creatures like mice. Getting into a leisure vehicle that's not been used for a while can be easy for such creatures, too.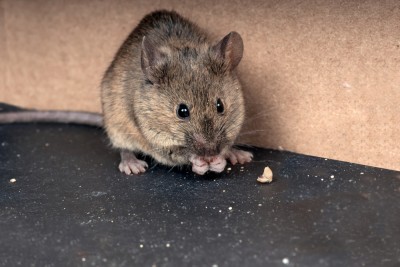 Both health and safety are at risk here. Health, because mice and rats can carry disease. And safety, because the action of gnawing through things like wires just might cause short-circuiting and even the risk of starting a fire. If they're using a caravan or motorhome to store food, toilet, and sleep they can cause nasty odours to linger too.
If you're putting your caravan or motorhome into storage, it's worth knowing official operators have to abide by regulations set by the likes of the Damage by Pests Act 1949, Health and Safety at Work Act 1974, Food and Environment Act 1985 and Control of Pesticides Regulations.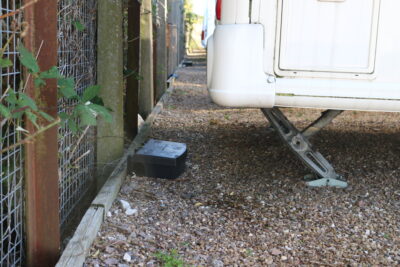 But, it's not just winter that mice in particular can seek refuge in a caravan or motorhome. In summer, especially during harvest, mice, vowels, and shrews flee fields that are being harvested. In instances where leisure vehicles are stored in country settings like farms or rural storage sites, a quick nip through a hedgerow and some perimeter fencing and caravans and motorhomes can have some uninvited guests.
Preventing vermin is better than cure…
There are no easy ways of eradicating the effects of vermin getting into your 'van, but there are some key ways you can stop mice from getting into your 'van in the first place.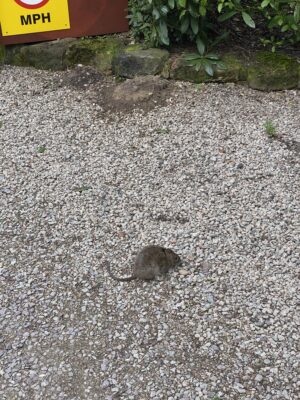 General advice is not to stow your leisure vehicle in high grass, where vermin might already have established runs.  And if you're keeping your caravan at home, why not let your cat pay occasional visits?
Remove food
Removing food from the caravan or motorhome when in storage will eliminate tempting scents that could attract vermin inside. Tinned foods are safe, but dried packet foods such as pasta, cereals, rice, and especially pet food should be removed whenever your vehicle is not in use.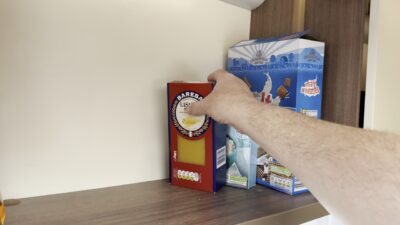 If you want to keep foodstuffs on board, consider metal containers rather than plastic – as the latter can be gnawed through.
Also remove any paper, such as toilet and kitchen rolls and making sure you clean your caravan or motorhome, vacuuming any crumbs, paying attention to around the fridge, any dining areas and in between seats.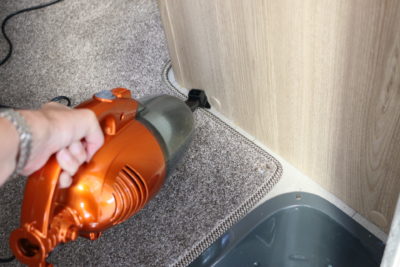 Remove nesting materials
If you're planning on storing your caravan or motorhome for long periods, also remove as much as possible in terms of cushions and soft furnishings, including seat/bed cushions which could be good nesting materials for mice.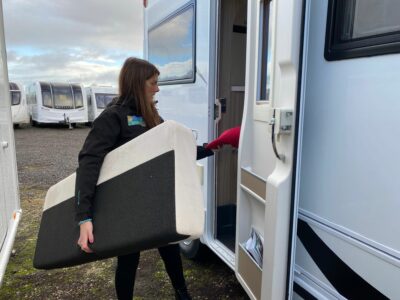 Storing them at home is a good idea and is also a good time to get them cleaned and prepared for the next touring season. Definitely remove any bedding and towels.
Close waste pipe outlets
When in storage, close the flaps on waste water outlets. These might seem too small for a rodent to enter, but you would be amazed how small mice and rats can make themselves, and these outlets are an ideal entry point.  So they don't attract vermin in winter, clean the waste pipes with a detergent to remove any trace of food waste, especially from the kitchen sink outlet.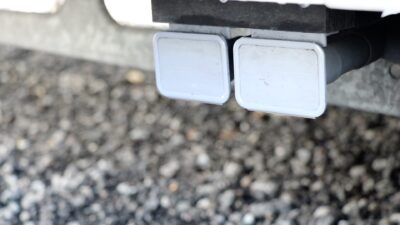 Look under your caravan or motorhome and you might see gaps where pipework enters the main body. If there are gaps, no matter how small, use an appropriate sealant to fill.
Checking vents 
Underneath the caravan and motorhome are a series of vents, intended to evacuate gas leaks from the habitation area.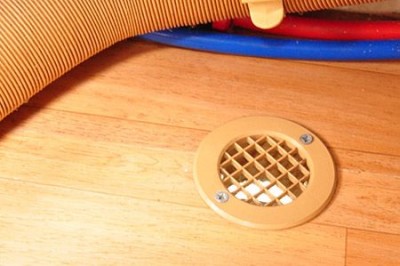 These should not be covered over, instead use a mesh screen, wire wool or rodent guard to prevent vermin from squeezing through.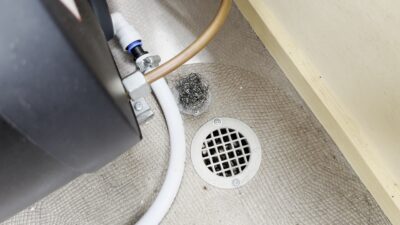 This could help to stop the vast majority of break-ins, however, if you do leave items such as food or anything smelling attractive to a rodent, they will persevere. So, again make sure you remove all items that could attract attention.
Don't block off any holes near gas pipe joints. Instead, use a fine mesh or wire wool. Also, remember that your caravan is designed to be well-ventilated. Restricting airflow might build up other problems such as condensation damage to the interior.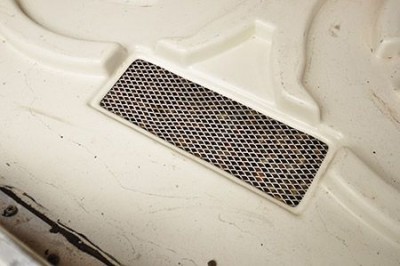 Ventilation gaps between the exterior front locker and the main body of the caravan are often where mice get into the living area. Again, the advice is not to block these altogether, but to fit a metal mesh.
Dispose of rubbish.
Whether your leisure vehicle is in storage or you're on holiday make sure you dispose of all rubbish, and don't leave bags of waste lying around outside.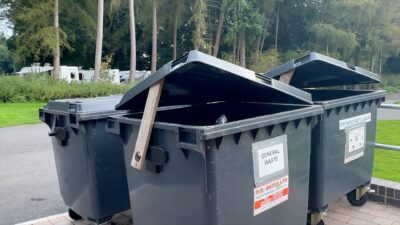 Also if you have a dog (or cat) with you – try not to leave pet food in bowls on the floor or in the awning.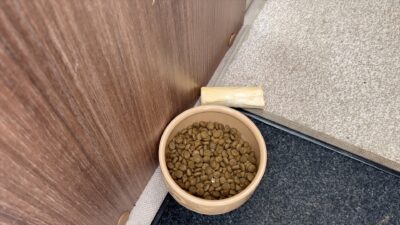 Numerous occasions have been well documented of rats eating pet food that's been stored in an awning cabinet or left on the floor.  Simply check that everything is cleaned away each night.
Reduce access methods
Remove items that might be stored under the caravan, such as levelling ramps, steps and chocks. Each of these items can be used as an initial step-off point for any determined rodent.
Caravan corner steadies seem to be an easy access point so you might want to put wire wool at the top of these to deter rodents.
Check regularly
It goes without saying that it's a good idea to regularly check up on your caravan or motorhome whilst it's in storage.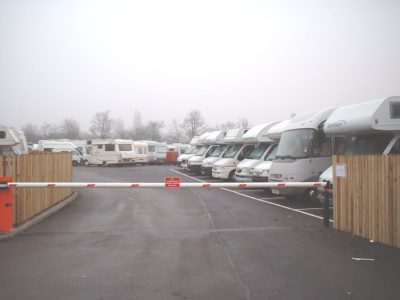 Check for any signs of nibbles, use your nose to smell any ammonia from droppings, and also carry out a visual check of vents, waste outlets and the floor for any signs of damage.
Tackling vermin entry
If you already have an infestation, first of all, identify where they are getting in, and where they are sleeping and try to contain them to this area. Fix any damage to the caravan or motorhome that aides their entry. Remove any droppings, or damaged parts and disinfect as much as you can.
Buy some deterrents such as ultra-sonic mouse deterrents, and traps and place these near the access point. Try to use humane traps, and not poisons. Poisons will kill the rodents, but it's likely they will hide inside the caravan somewhere and decompose – leaving a foul smell inside. Humane traps will keep the captured rodent alive for some time, and allow you to remove them and rehome the vermin some miles away from your leisure vehicle.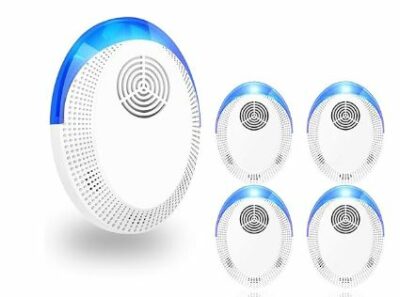 Other vermin deterrents include mothballs, tumble dryer sheets and peppermint oil.
Keep a regular check on your caravan or motorhome, and above all keep the interior as clean as you possibly can.
Over to you…
Got any hints and tips you'd like to pass on to fellow caravan and motorhome owners about preventing damage from vermin in caravans or motorhomes? Please add a comment below.
Cost to insure: *
---
factfile
| | |
| --- | --- |
| Model | |
| Base vehicle | |
| Axle type | |
| Dimensions | |
| Shipping length | |
| RRP | |
---
Search our blog
---