If you don't plan to use your motorhome over the colder months then make sure you prepare it well for winter storage to protect it from the elements.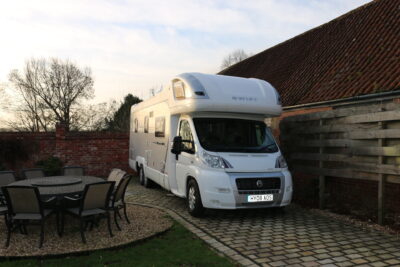 Rodents, damp, frost damage, battery care, and theft are all real concerns when a motorhome is left unattended for long periods of time in the colder months.
A well-looked after motorhome left hibernating in winter storage will be easier to get ready for the new season ahead. Alternatively, if you use your motorhome throughout winter then why not read our six tips for motorhoming in winter.
Here's our guide to preparing your motorhome for winter storage:
Before putting your motorhome into winter hibernation it's always a good idea to have it serviced and a habitation check carried out, particularly if you have any concerns about the mechanical side of your motorhome or any of the on-board systems that your motorhome uses.
Winter storage
Choose where you store your motorhome in winter carefully, remembering it's only the motorhome that's hibernating, not a determined thief or thieves!
If storing at home, and if possible, park your motorhome so it's not visible from the roadside. Park it nose-first against a wall so would-be thieves can't attempt to tow it. Think about creating a barrier with locked gates or a drive post so thieves would have to break it down to drive the motorhome away. Good security lighting and a carefully placed CCTV camera could also be a turn-off for criminals.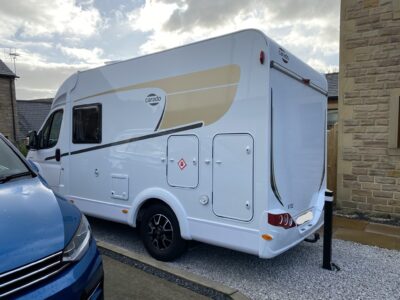 If storing at a storage site, take a careful look at the security measures in place and check that they meet your motorhome's insurer requirements. As a minimum make sure the site has a 24-hour locked access control gates or barrier and high perimeter fencing.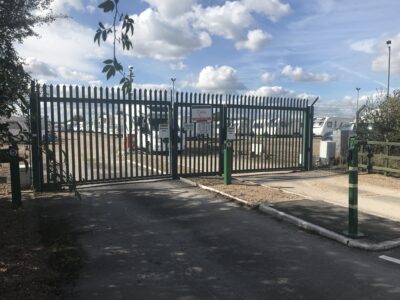 Try to avoid obvious risk factors like storing your motorhome beneath trees, where branches could fall on it, or on an area with a high water table that could result in flooding. Consider a motorhome cover to save your motorhome from getting covered in leaves and tree sap. The cover itself could also act as a further deterrent with thieves less likely to know the make and model of what lies beneath.
Motorhome security
Motorhome theft is a concern for any owner, so make sure you fit plenty of security to act as a deterrent and slow a thief down.
There are other physical security devices to slow down a thief such as steering wheel locks, pedal locks such as Clutch Claw, motorhome wheel clamps and gear stick locks. See our motorhome security guide for tips on how to protect your motorhome or campervan from theft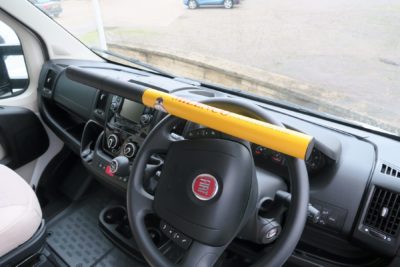 Check your motorhome insurance policy to see if there are any specific terms and conditions for when you leave your vehicle unattended, such as security devices and systems
At Caravan Guard we ask for extra security on higher value motorhomes. That can be a Thatcham Category 1 approved alarm system or an approved tracking device.
If you do have electronic security such as an alarm or motorhome tracking device it's vital to make sure the battery that is powering them has enough charge at all times. Some tracking devices and alarms will alert you if there's been a power failure but by then it could be too late. We'll discuss batteries in more detail lower down.
Also, make sure any tracking system subscriptions are up-to-date so your motorhome is being monitored and so you remain insured.
Avoiding frost damage
Draining down your motorhome's water system is of paramount importance to avoid any frost damage when putting your leisure vehicle into winter storage. It's also a condition of your motorhome insurance policy to drain down between November 1st and March 15th.
It helps to tilt your motorhome so the drain valves are at the lowest point. Check the manufacturer's handbook if you are unsure where the valves are. Open the outlets to your fresh and waste water tanks and open all internal taps, including the shower.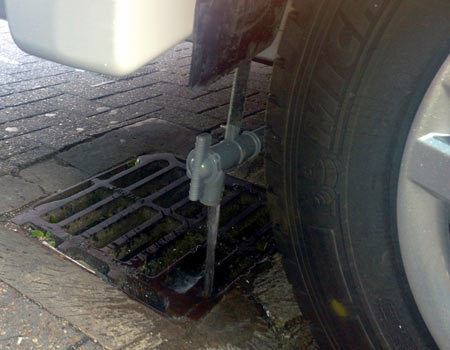 You might want to use a device such as Floe, with an air compressor to blow out every last drop of water. After draining down leave all taps open and in the case of mixer taps leave these halfway between hot and cold.
Remove the shower handset, give it a good shake and leave the head and tube on the shower tray.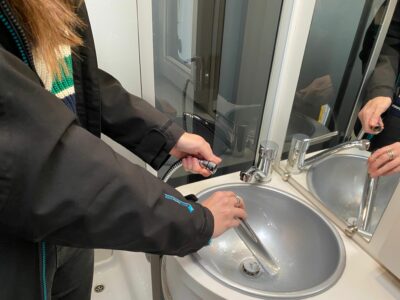 While you're in the shower room clean the shower, wipe down the walls and the basin, put plugs in the drains to stop any smells from entering the interior and drain the water from the toilet. You'll find out how to do this in the manufacturer's handbook.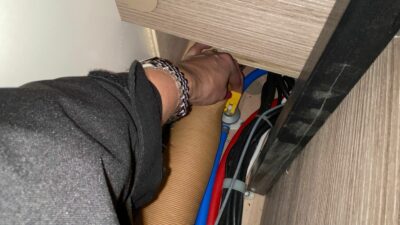 Remember any external shower too! You'll need to drain the water heater, the onboard tank and the grey water tank. Don't forget the external pump; you can keep this in the motorhome, and remember to drain any internal pump. If you have a "wet" heating system, refer to the manufacturer's instructions for winterising.
Leave the toilet cassette open and lubricate the seal with a silicon-based spray.
Winter storage housekeeping
A little bit of housework is called for when laying up your motorhome in winter.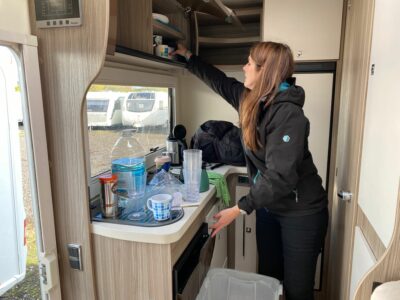 Empty and clean the fridge using the manufacturer's guidelines, leaving the fridge and any freezer compartment doors slightly ajar. Also give the hob, oven and grill a final clean.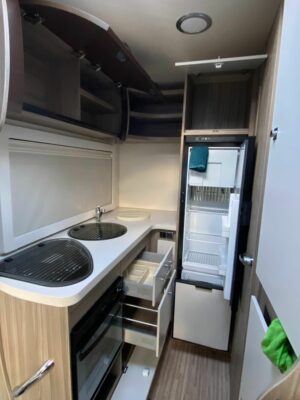 Empty and clean out all the cupboards of food, getting rid of any crumbs to avoid vermin squeezing in to look for food, and have a good run around with a vacuum cleaner, not forgetting the upholstery and curtains.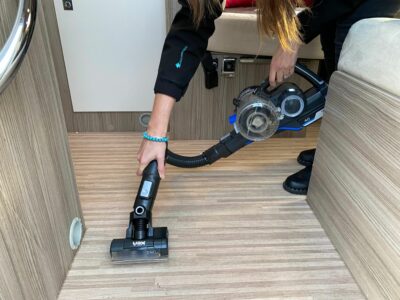 If the carpets can be lifted mop the floor too. Open all the cupboards and lockers to allow air flow.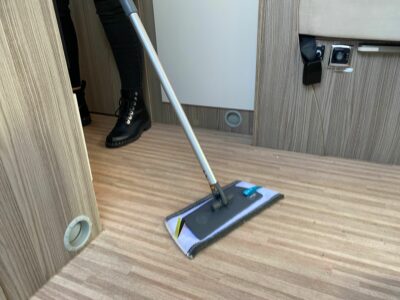 You can either take out the soft furnishings if you have somewhere warm or dry to store them at home or move them into the middle of your 'van so that air can circulate around them.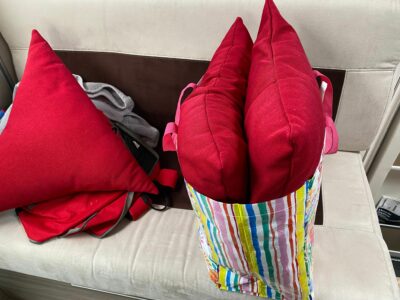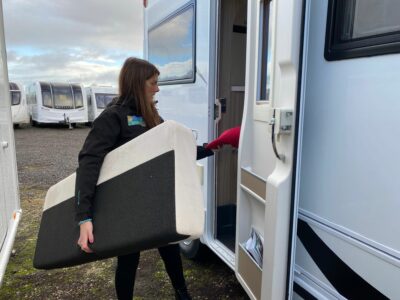 Leaving blinds, curtains and cupboard doors open will show any potential thieves there's nothing worth breaking in for.
Don't forget to remove any valuable electrical items, portable equipment or personal documents like the ownership handbook and motorhome insurance certificates.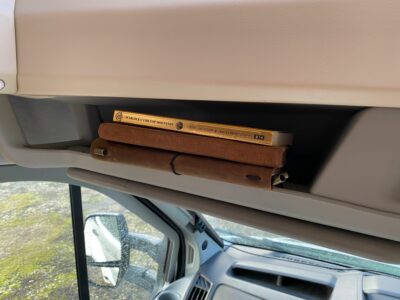 Also remove clothing including bedding, cushions, and towels. It's a good idea to clean out any unwanted leaflets you've picked up on your travels and take out any personal journals or images that you wouldn't want to get damaged by damp.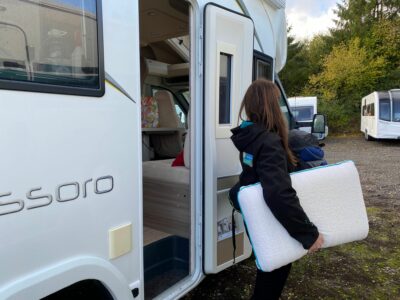 Moisture-absorbing crystals help to reduce the risk of condensation but they'll need changing quite often.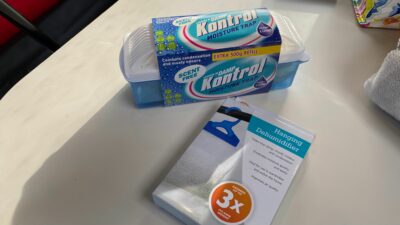 Once the inside is cleaned and drained down it's time to focus on the outside.
Clean the outside of the motorhome with a specialist shampoo and apply a wax or over-wintering solution that will provide a barrier over winter.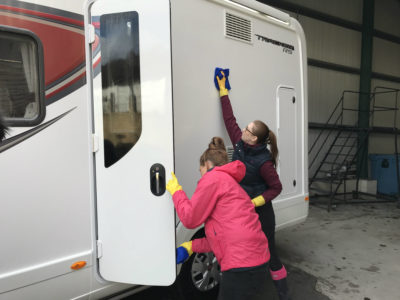 Clean all windows and glass to make them sparkle and lubricate all the seals with a silicon lubricant to protect and nourish the rubbers. And make sure your solar panel is clean and free of debris or build-up of dirt in the corners.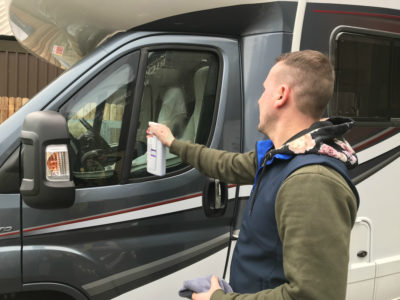 Use winter fridge vents to keep the back of the fridge free of moisture and make sure the gas valve on the regulator is closed. Disconnect the gas bottle and if you can,  remove the gas bottle to store at home.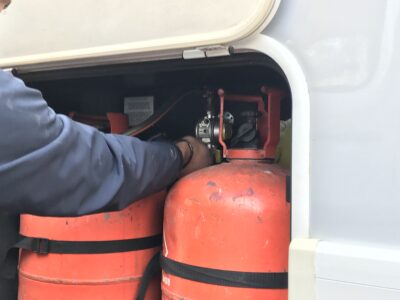 You might also want to make sure your motorhome wheels are chocked slightly to allow rainwater to run off the roof of your motorhome during the winter.
Battery care
Modern motorhomes contain two, separate batteries – one for starting the engine and the other for supplying power to the habitation area.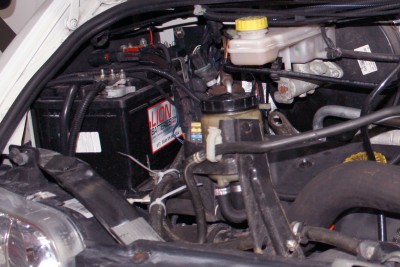 The starter battery might also be used to power an alarm, tracking device or both. In this case it's essential that this battery is kept charged, even when the motorhome is not being used.
All lead-acid batteries suffer from "self-discharge". This means that, even with nothing connected to it, a battery will lose capacity and, eventually, stop working. Not only that, it might be damaged and its useful life greatly reduced. To avoid this, charge the battery on a regular basis, using an "intelligent" battery charger.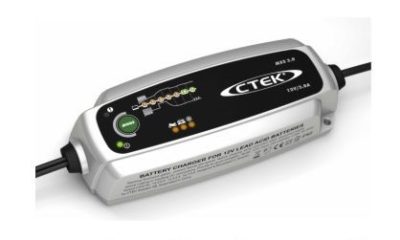 If the starter battery is not being used to power a security device and you don't have mains electricity where your motorhome is stored, you could remove it and look after it at home, keeping an eye on the voltage and charging it on a regular basis. If you do this, bear in mind that you may need to reset the radio, clock and any devices that get their power from the starter battery when you return it.
If your motorhome is kept at a storage site and the starter battery is being used to power an alarm or tracker, you will have no choice but to take it for a good run every few weeks.
The same basic rules apply to the leisure battery. If you can, remove it from the vehicle and keep it charged up at home, using an "intelligent" charger.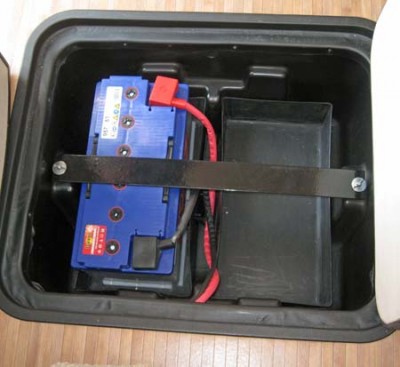 If you have a solar panel, it will put some charge into the leisure battery and, maybe, the starter battery too, depending on the solar regulator and how it's been connected.
Do remember that shorter winter days will supply less charge to a battery than on long summer days, so checking the starter and leisure battery often is recommended.
Using an "intelligent" battery charger on a regular basis will not only make sure your batteries are kept in tip-top condition but it will also prolong their useful life.
Motorhome tyres
When storing your motorhome, check the tyre pressures are correct and if in direct sunlight, consider a cover to protect the tyres from UV damage.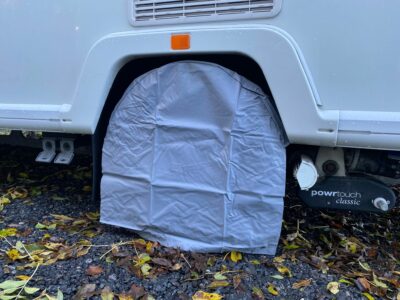 If you have levelling systems built into the vehicle, use these to reduce the pressure on the tyre.
Finally lock up, check when your motorhome insurance is due, book a motorhome service and habitation check and plan your trips for next season.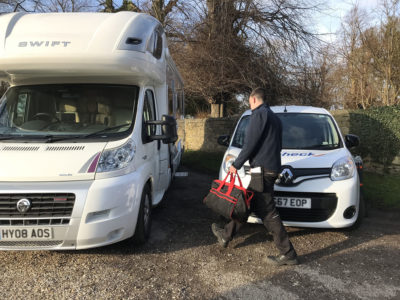 Oh and keep your keys hidden in a safe place and in a Faraday pouch that can prevent a thief from using a relay device to copy your key's signal and drive it away without the key!
Regular maintenance checks
If you're not going to be going on any winter adventures in your motorhome it's worth carrying out some regular checks so it's ready to go when you are and to catch any issues nice and early.
At least once a month check the motorhome. Check the tyres are still at the correct pressure. This will give an indication if you have a slow puncture. Also, check the level of charge in the leisure battery.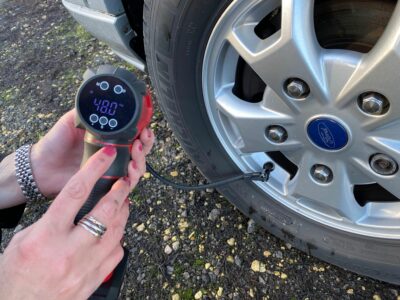 Check under the bonnet for leaves or nesting animals, then make sure nothing is obstructing the exhaust, such as snow or a motorhome cover, and start up the engine and allow the motorhome to run for 30 minutes. This will charge the vehicle battery and allow the engine to warm up – or better still, take it for a short run.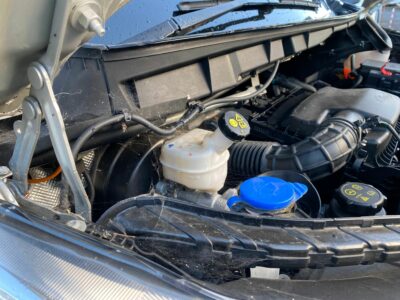 To avoid pressure on a single area of your tyres and flat spots developing, move your motorhome a little bit each month. Also, releasing the parking brake and moving the motorhome back and forth will prevent the brake from seizing up.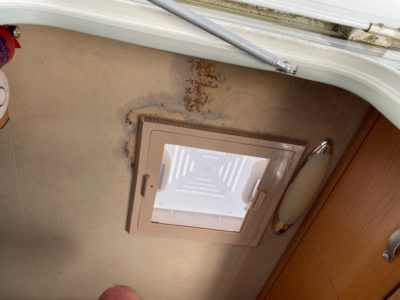 Check the interior of the motorhome for signs of damp, condensation or water ingress and wipe down any windows and wallboards if necessary. You could change over any moisture crystals too.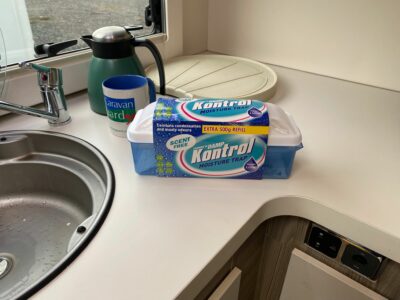 Check the external bodywork for any signs of damage and especially around windows or lockers. And finally, check that those security devices are still in place and working.
Over to you…
Have you got any further tips for winter storage? Post your suggestions in the comments box below.
Cost to insure: *
---
factfile
| | |
| --- | --- |
| Model | |
| Base vehicle | |
| Axle type | |
| Dimensions | |
| Shipping length | |
| RRP | |
---
Search our blog
---