On the road in your motorhome this winter?
When you've spent thousands on your dream motorhome the last thing you want to have to do is leave it standing on your driveway for weeks on end during winter.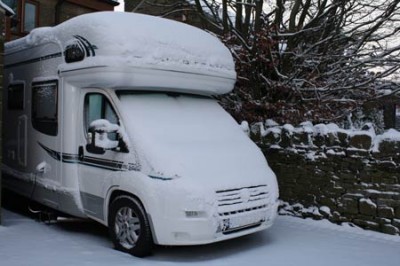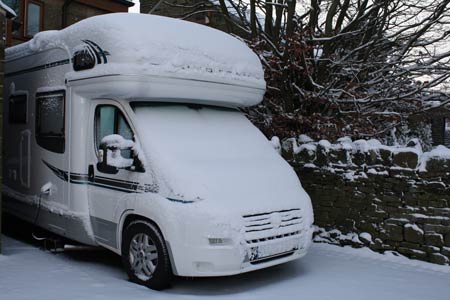 That's why hordes of motorhomers spend the colder months out and about in their motorhomes as revealed by owners in our recent poll. Many seek out the winter sunshine of places like Spain or Portugal or the ski slopes of Austria or France but others like to stay closer to home.
It divides opinion but some say that winter motorhoming is better than spending a summer in their 'van, because there aren't the guaranteed holds-ups of the summer months, like the long queues as people head for our most popular destinations. Bright and crisp mornings are perfect for walking too and it's unlikely that campsites (that are open all-year-round) will be full.
So, whether you want to see in the New Year on a campsite in Scotland where there might be some package available for site, dinner and a New Year's Eve party available, visit a Christmas market in Belgium or grab some winter sunshine in Portugal, your motorhome is still the perfect travelling companion.
It's important to make sure your vehicle is fit for purpose before embarking on a winter motorhome trip. Here are some top tips to help your winter motorhoming trip go smoothly.
1. Driving your motorhome in winter
First of all make sure you and your motorhome are prepared for driving in wet, icy and snowy conditions in winter.
Consider fitting winter tyres to your motorhome – and if you're heading to Europe check the local laws as winter tyres are a legal requirement in some countries – you might also need to carry snow chains for use in some regions too.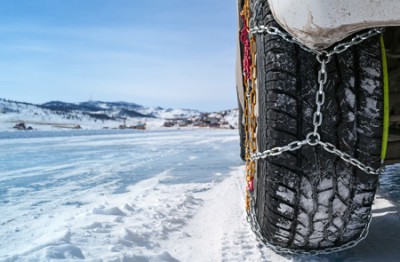 Always check your tyre tread, pressure and condition before heading off on any motorhome trip.
It goes without saying to make sure you have enough fuel but also check your motorhome engine's oil and water levels, and make sure you top up the windscreen wash and coolant.
Also, check wipers for any signs of wear and tear make sure all lights are clean and working, replacing any bulbs if necessary.
Make sure your motorhome cab and habitation areas have been serviced to make sure your engine and onboard facilities are in full working order. It's also worth having your battery checked over to make sure it can cope with the cold conditions.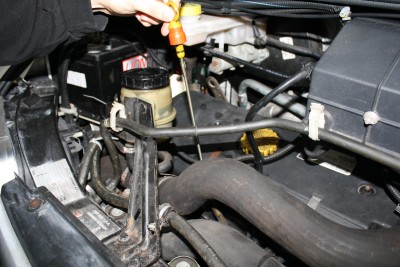 Check weather conditions before you set off and make sure you have a winter motorhoming driving kit, with a hazard warning triangle, ice scraper, jump leads, hi-vis jacket, first aid kit and a torch.
2. Watch the water
Fresh and wastewater in externally mounted water tanks could freeze in sub-zero temperatures. Many water tanks are fitted under the floor and purpose-designed immersion heaters are available from motorhome accessory stockists or you could lag them with some sort of insulation to help prevent them from freezing.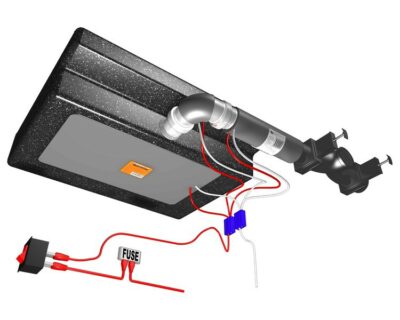 The TankBlanket is a heater that attaches to the bottom of your motorhome's water tank and runs off your 12v battery or hook-up. When switched on it automatically activates when your water tank drops towards freezing.
Also make sure any exposed pipes are lagged or you can look to install a 12V pipe heater to help keep water flowing.
Adding a small amount of non-toxic anti-freeze to the wastewater tank could help prevent the water from freezing.
And make sure you have a backup container of water inside the motorhome – in case your main water source does freeze.
Keeping the 'van warm will help too but it's worth asking your dealer for their advice before you set off on your winter motorhoming adventure.
2. Windscreen cover and insulation mats
Using an external blind or windscreen cover will help to reduce condensation on the inside of your motorhome and internal insulation mats are great for on the floor, around rooflights and in underbed lockers.
3. Staying warm when winter motorhoming
Choosing the correct type of gas for winter motorhoming is important. For winter touring you'll find propane gas works better in colder conditions than butane.
It's also a good idea to take an extra heater with you too. Using a 1 or 2Kw fan heater can quickly heat your motorhome if for any reason your main heating isn't doing the job.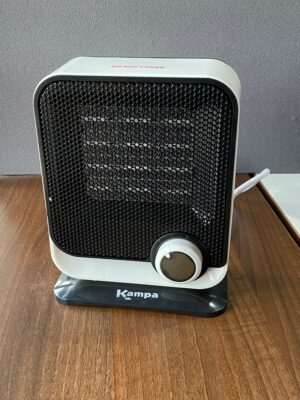 When heating up your motorhome for the first time you'll likely get a build-up of condensation on windows and possibly inside cupboards. Keep on top of condensation by wiping down with a microfibre cloth or some motorhomers use a window vac to remove condensation.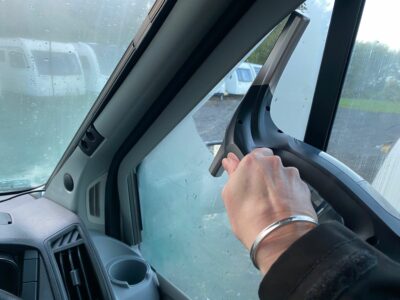 Consider using a draft excluder or old pillow by your habitation door to prevent drafts and cold air coming in. And pull down blinds and draw curtains as night falls to keep the warmth in.
Use carpets or rugs with underlay to keep things warm underfoot. Be careful not to block or cover any gas vents on the floor though.
And a supply of extra blankets, slippers, warm clothing, hats, and even a hot water bottle will keep you toasty warm and cosy.
4. Dealing with wet and muddy ground
Dealing with wet and muddy ground can lead to all kinds of problems when motorhoming in winter. Try to park up on a hard-standing pitch if possible, but be prepared for soft ground by carrying grip mats, even pieces of carpet, and a tow rope in case you do get stuck in the mud.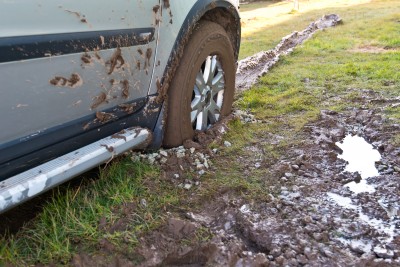 See our tips on avoiding getting your motorhome stuck in the mud and coping with wet ground.
To get the most out of winter, take your waterproofs and walking boots too – perfect companions for those chilly days. Oh, and a box to keep those wet shoes and boots in or perhaps even a small awning.
A Boot Buddy is also a neat piece of kit to clean muddy shoes and boots on the go – there's even a Paw Buddy for muddy paws! See our latest giveaway where we have a Boot Buddy up for grabs!
5. Winter bedding
For a good night's sleep when winter motorhoming invest in some extra blankets or winter bedding. If you use a duvet, switch up to a higher tog to stay toasty warm, and similarly for sleeping bag users, use a three or four-season sleeping bag with extra filling.
An extra blanket over you will help to keep any chill off too. The Outwell Constellation Comforter is a versatile blanket for extra warmth when sitting outside on-site or when snuggled up in bed at night. Our festive giveaway also includes one of these blankets.
Or you could go for a sleeping bag suit! The Selk'Bag is a full-body sleeping bag with arms and legs, insulated hood, pockets and removable booties!
6. Be prepared for nights in
Having a good supply of gas and a good charge of the leisure battery is essential in case the electricity is cut. And be prepared with a supply of tinned and packet food in case you're unable to get to the shops.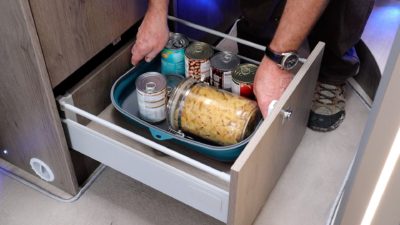 If you are confined to your motorhome due to bad weather make sure you have plenty of reading material, games, and perhaps a slow cooker for nice stew or casserole!
Finally, make sure you have extensive motorhome insurance cover, with breakdown included, should the worst happen.
And don't forget to drain down your motorhome fresh water and wastewater systems when you return home or before you leave the campsite.
Over to you…
If you've got any winter motorhoming tips to share then please comment in the box below.
Cost to insure: *
---
factfile
| | |
| --- | --- |
| Model | |
| Base vehicle | |
| Axle type | |
| Dimensions | |
| Shipping length | |
| RRP | |
---
Search our blog
---