Keeping a regular check on your tyres is essential when motorhoming – or driving any vehicle for that matter – and a tyre pressure monitor is a simple device that does this for you.
Plus, fitting a tyre pressure monitoring system (TPMS) to your motorhome will earn you a small motorhome insurance discount with Caravan Guard.
Last month we asked motorhome owners if they had a tyre pressure monitoring system on their leisure vehicle for that added peace of mind. Here we bring you the results, and you could also take a look at our gear guide to tyre pressure monitoring systems.
Tyre pressure monitoring poll results…
After hundreds of votes, we can reveal that almost half (49 per cent) of motorhomers do keep an eye on their vehicle's tyres with a tyre pressure monitoring system (TPMS). Of these 20 per cent had an inbuilt system and 29 per cent had a retrofitted system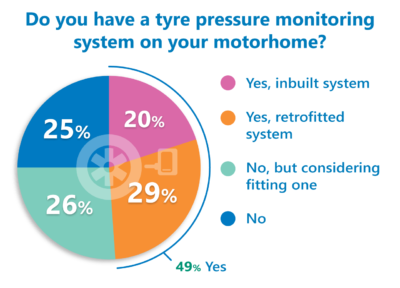 Fifty-one per cent of voters told us they didn't have this tyre safety device, but more than a quarter said there were considering fitting one. .
Your comments…
It was great to read many comments from motorhomers who recognise the great importance of tyre safety and who regularly check their tyres, with or without a tyre pressure monitoring system.
Mark Sweeney told us he had a set of four Snooper tyre pressure monitors fitted to his motorhome and that he checked his tyre pressures before a trip.
"Check each tyre pressure using a digital gauge setting all the same," he said. "Continuously monitor when driving but find pressures and temperatures differ quite a bit on each wheel. Never sure what one is right but have set low and high alarms at +- 10 psi so they do tend to fall between those figures but not really sure how accurate they are."
Jeff Illidge has had a Tyrepal solar tyre pressure monitoring system on his twin rear-wheel Mercedes motorhome for a few years, and it's come in useful.
"Glad I did when we had a valve fail on the outside rear wheel," he commented. "The alarm went off and I had time to pull onto the hard shoulder, without this I could have carried on driving while the tyre deflated, and possibly shredded, damaging the side of the motorhome."
Chris Booth said: "Pressure monitors often seem to indicate a problem indicating low pressures. Nothing is better than daily checks before journeys. Observations made throughout journeys and using a pressure gauge if you're unsure."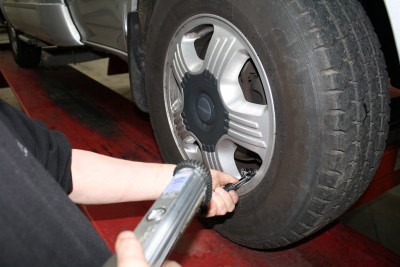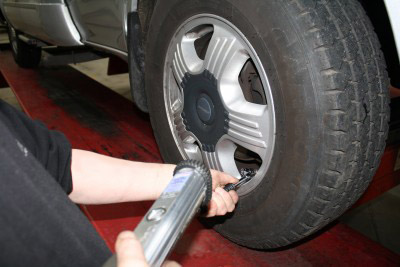 Gregory Brown thinks a TPMS is great for letting you know if you have a slow puncture.
"Even if you've checked your pressures a puncture can happen anytime whilst you are travelling and gives you an early warning of a problem," he said.
Thanks to everyone who voted and commented and don't forget to check out this month's community poll.
Cost to insure: *
---
factfile
| | |
| --- | --- |
| Model | |
| Base vehicle | |
| Axle type | |
| Dimensions | |
| Shipping length | |
| RRP | |
---
Search our blog
---