It's Springtime and lots of caravanners will probably be easing their 'van out of hibernation to give it a clean and polish for the new season. But according to our recent poll, there must be lots of clean caravans out there as many caravanners told us they like to keep their 'van clean throughout the caravanning season – giving it a good wash at least four times a year.
Here's the results..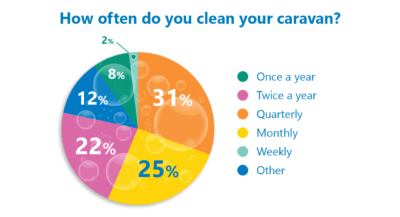 There were nearly 500 votes in our caravan cleaning poll and the results show that nearly a third clean their caravan quarterly. But a quarter of voters said they dig out those ladders, brushes, cloths and shampoo monthly!
A twice yearly wash was also a popular choice with 22% of the votes but many of you commented and told us that you'll clean the caravan before and after every trip, and give it a polish or wax at least once or twice a year, proving that many caravanners really do look after their pride and joy all-year round .
Your comments…
Sue Wiltshire hates a dirty caravan and will clean hers whenever she notices any little marks and stains. Plus it's always given a wipe over before she goes away.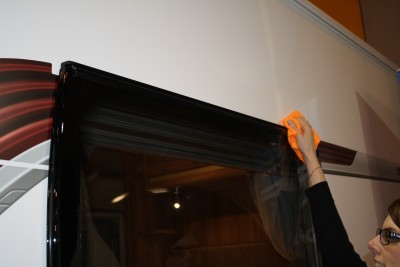 Tony Thompson and John Allerton clean their caravans when needed but Norman cleans his every time he gets back from a trip and polishes it twice a year.
"I also hate a dirty caravan," added Norman.
Linda Bacon is in the same camp: "Every time we use it I thoroughly clean it before it's closed up," she said. "All sick and span for our next outing!"
Pam Blanshard will wash her caravan if it's been out in particularly bad weather.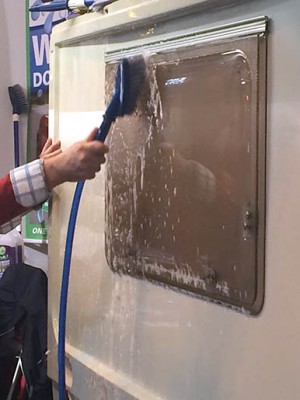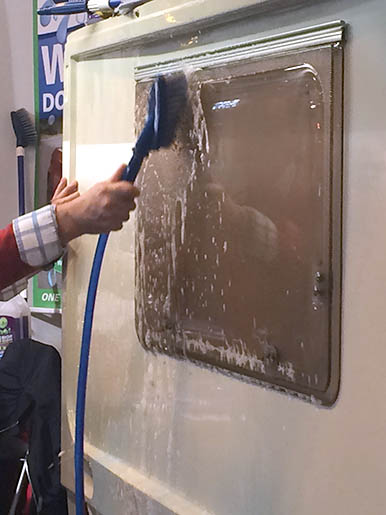 "Polishing I do at the beginning of the season and just before winter sets in, I may also spray with a silicone spray," added Pam.
Ian will have his caravan thoroughly cleaned inside and out after its annual service in March and again just before they go away – which is about six or seven times a year.
"If we've had a dirty journey en-route we'll wash down the exterior on site," said Ian. "I clean the windows with a glass cleaner sprayed on and gently polished with a microfibre cloth."
Jack J cleans his every time it's used, "which is a lot".  "We give it an all over external polish before the winter. And wash and wipe over with showroom shine when away so as to keep the streaks of dirt off the paintwork."
Brian will always thoroughly clean the exterior and interior of his caravan before closing up for the winter, treating the outside surfaces to some Autoglym super resin polish.
"Before first use I thoroughly clean the exterior with Autoglym shampoo and conditioner to remove the build up of deposits and streaks left by the winter weather," said Brian. "The caravan then gets a wash and clean out after each use during the season, that's at least six times, with another polish with the super resin polish again during mid season."
Over to you…
What do you make of the results? Feel free to add your comments in the box below. And don't forget to check out our updated caravan cleaning guide if you want some handy tips on getting your 'van gleaming for every trip.
Cost to insure: *
---
factfile
| | |
| --- | --- |
| Model | |
| Base vehicle | |
| Axle type | |
| Dimensions | |
| Shipping length | |
| RRP | |
---
Search our blog
---