The new season is just around the corner and it's time to start thinking about cleaning and polishing your caravan. So it's time to get the hot water, shampoo, polish, brushes and dusters at the ready to give your tourer the once over.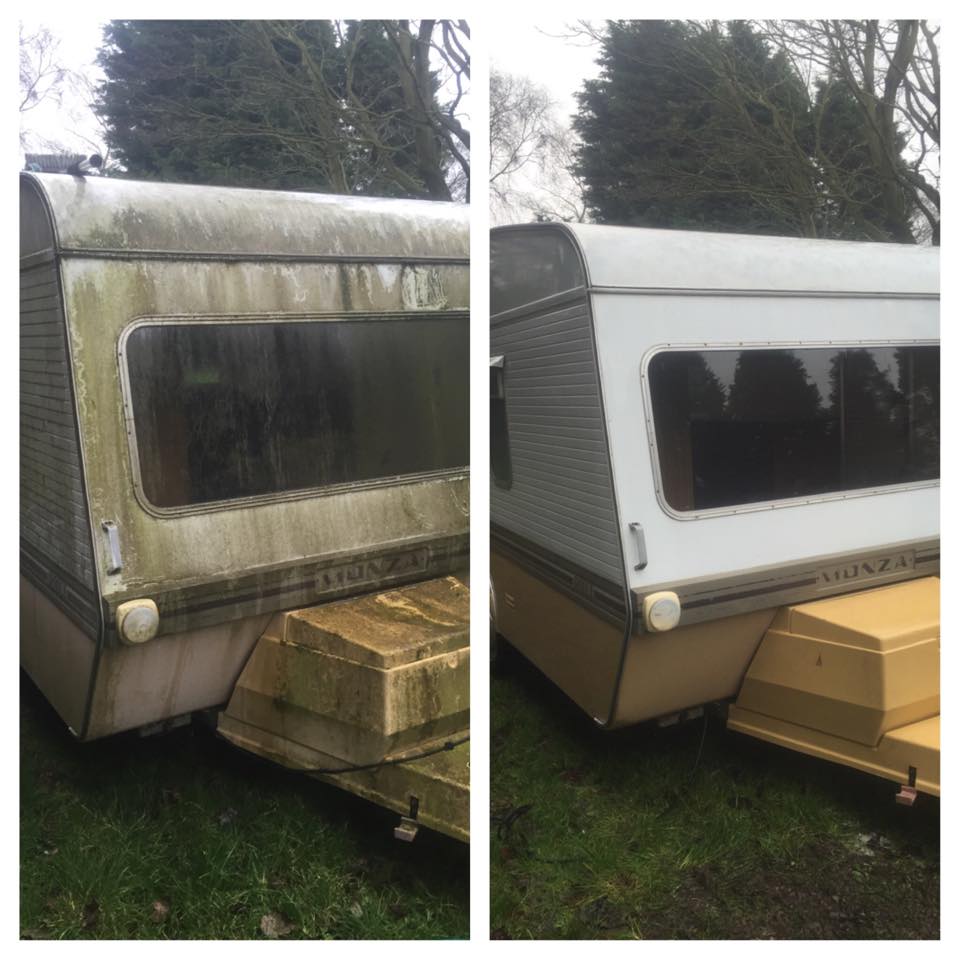 Many people might think caravans and cars are similar and could be tempted to dig out the car shampoo and jet wash when cleaning their 'van. But, you need to remember that caravans have different paint and bodywork so need a less abrasive product so you don't end up scratching the surface. Plus you need to take extra care with water, to prevent damage to the seals.
Here's our top tips for getting your tourer sparkling for the Spring. Also see our recent caravan cleaning video guide.
You'll need:
Hose / bucket(s) of water
Multi-functional or V-shaped ladder with platform / scaffold plate
Extendable or long handled brush / mop
Sponge or wash mitt
Specialist caravan shampoo/cleaner
Caravan window cleaner
Caravan polish
Soft brush
Microfibre drying cloth and dusters
White spirit
Vacuum cleaner
Anti-bacterial spray
Air fresheners
Bicarbonate of soda
Plenty of elbow grease!
First we'll start with some DON'Ts!
Don't use a high pressure washers or steam cleaner to clean your caravan.
This can damage the seals and longer term you could cause damage, and end up with a leaky caravan!
Don't use car or motorhome shampoo. These can be mildly abrasive and could scratch your caravan or could contain chemicals more suited to a car or motorhome paintwork.
We took some expert advice from Stephen Page at caravan and motorhome valeting specialist Leisureshine, based in Bracknell, Berkshire.
Work top down
Clean your caravan from top to bottom, starting on the roof and working your way down.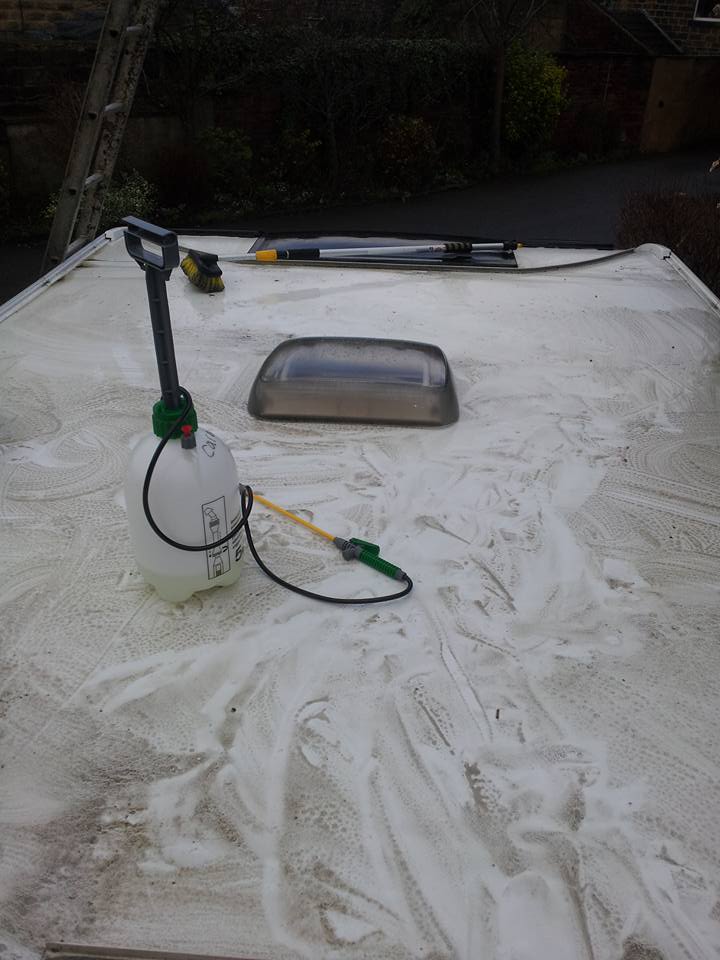 Use a specialist cleaning product
There are a number of leisure vehicle cleaning products on the market. Speak to your caravan dealership or manufacturer to see which products they recommend for use on your particular make of caravan.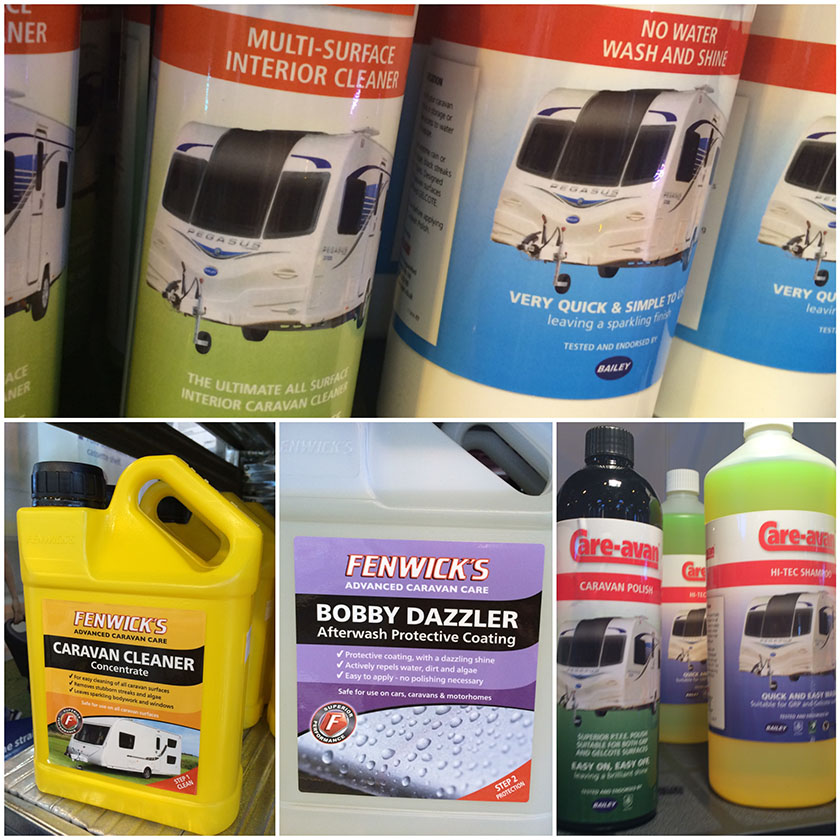 "Your caravan is your pride and joy and can cost a lot of money," said Stephen. "Use good quality cleaners such as Autoglym or Fenwick's and if using shampoo and polish use the same make. If you use a traffic film remover (TFR) then use a non-caustic one."
Care-avan polish also gets good reviews, as well as some of their other cleaning products and complete sets.
Rinse down
First rinse your caravan to soften any algae and loosen any dirt. Spraying with a hose pipe or throwing buckets of warm water over will do the trick.
Tread carefully when cleaning the roof!
You're going to have to use a step ladder to wash and polish your caravan's roof but do take extra care when there's soapy water about. It's probably best to have someone hold your step ladders or call the professionals in!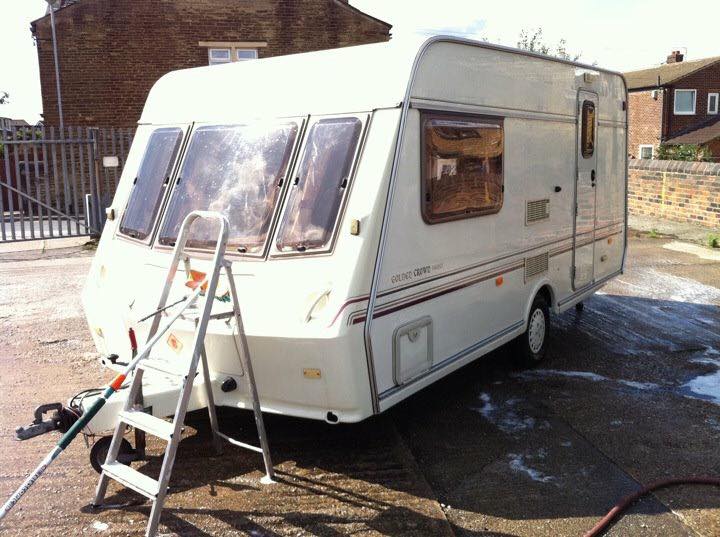 Set the ladder's platform or scaffold plate at the right height so you can reach across the roof. Using a shampoo and sponge or a long handled soft brush thoroughly clean the caravan using horizontal strokes across the roof and sides. Apply enough pressure to lift dirt, algae and stains and then rinse.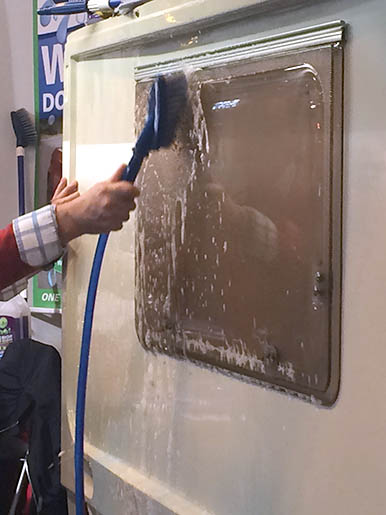 Skylights
Undo skylights and clean under the edges with a 2 inch brush. Rinse and squeegee off. For skylights which have a double layer, you need to open and use a long bottle brush to get between the layers. Or, if you're able to then you can dismantle the skylight and clean that way.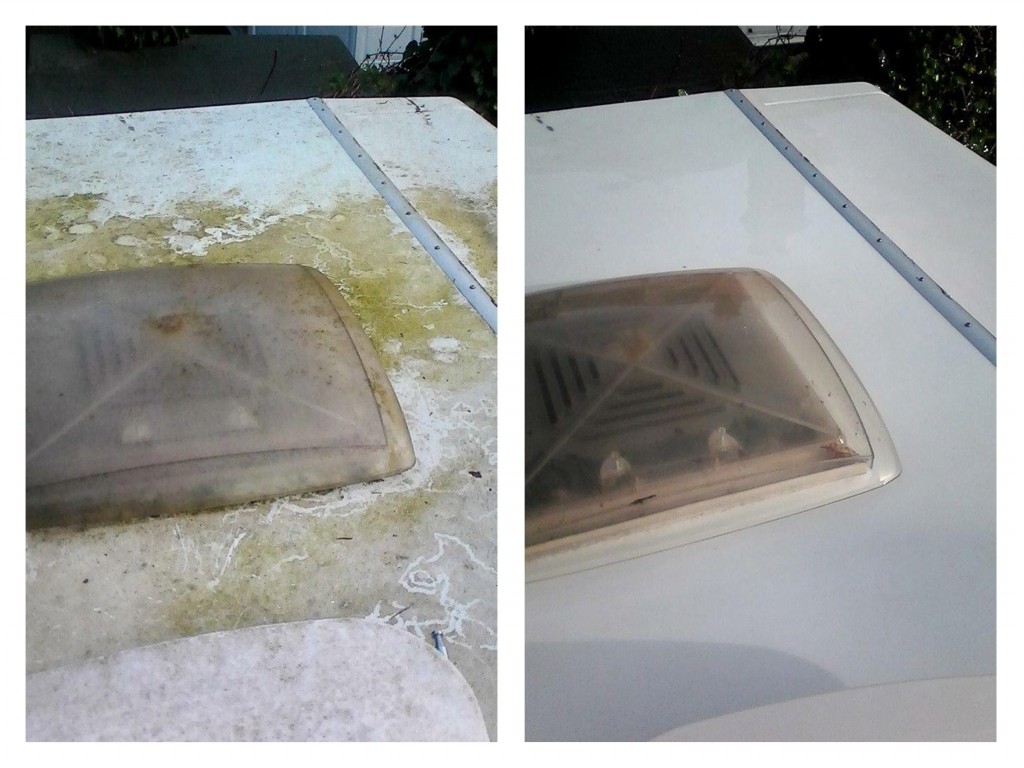 Awning rails and sides
Next clean the sides from the awning rails, cleaning these with a soft brush, as most of the black marks on your caravan come from muck in the rail. Work your way down with a soft brush, then shampoo and sponge each panel thoroughly, then rinse.
"Stubborn black marks can be removed using polish which is a fine cutting compound. To remove black marks from the mastic around side lockers use white spirit on a soft cloth then wash off," he added.
Another tip from a reader is to try a small dab of Silky caravan cleaner. "It's a mild paste supplied in a tub and is excellent for stubborn marks," he said. "A tub lasts years and you only need a small amount on a damp cloth to apply it. Great on black streaks too."
When you're cleaning windows!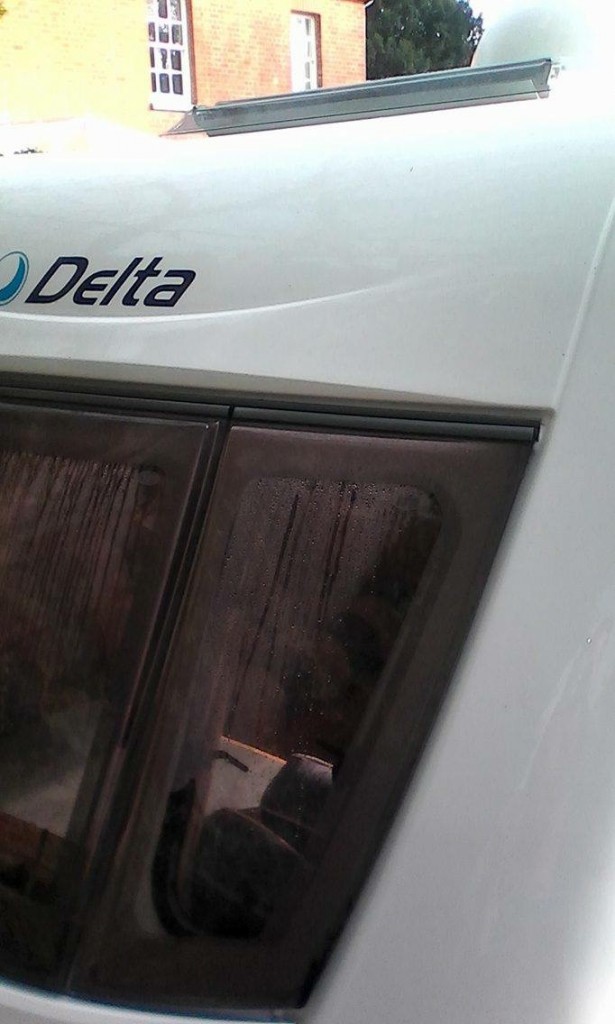 Extra care needs to be taken with caravan windows so think before wading in with the usual glass cleaning product. They can be easily scratched or damaged by chemicals so make sure you use a product specifically for acrylic windows and a microfibre cloth, to reduce the static.
First softly hose or sponge your windows down to remove any grit using plenty of water. Use a special window cleaning set such as Dometic, Autoglym's Fast Glass, Fenwicks Windowize, or Care-avan's Window Cleaner.
When you're happy you've removed all trapped, stubborn dirt, wipe with a microfibre cloth.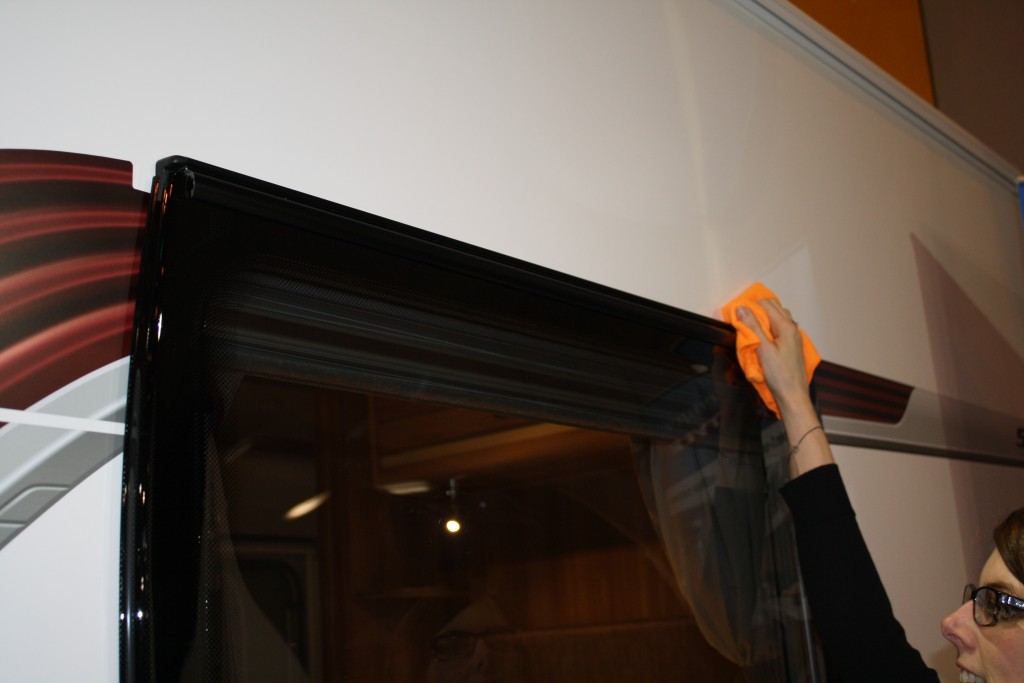 Another reader tip was to give the rubber seals a good rub over with a wet cloth then wipe dry. "Once dry spray some silicone on to a duster and go around the seals," he said. "I find this prevents sticking all season and doesn't pull seals off the frames."
Dry and polish
Once you've finished cleaning the exterior you can choose to let it dry naturally or use a drying cloth to speed things up. A large microfibre cloth works well and is cheaper and softer than a chamois leather.
When your caravan is dry apply polish and plenty of elbow grease!
Internally
Thoroughly vacuum the carpets and upholstery. Use anti-bacterial spray on the kitchen surfaces and give the windows a clean with the same specialist cleaner used for the outside. Use microfibre cloths and polish to dust down shelves and air fresheners and scented drawer liners will help neutralise any unpleasant smells whilst your unit has been in storage or layed up for winter.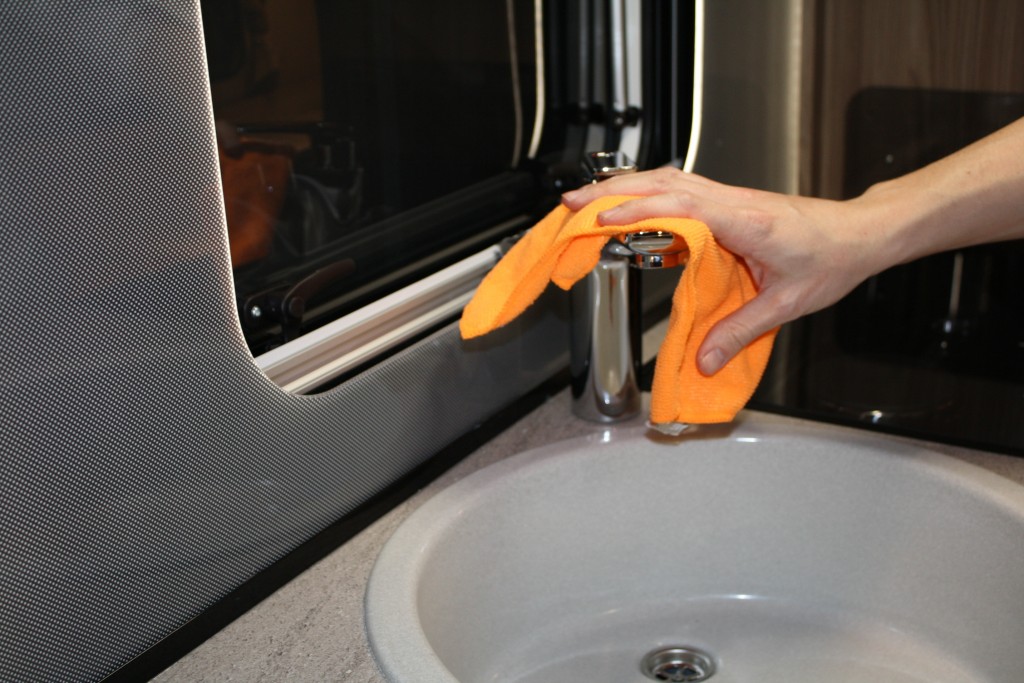 Make sure you keep a good air flow through you caravan to prevent condensation and damp, and always leave your fridge door open when it's not in use. You can use the usual mild domestic cleaners for cleaning your fridge and bathroom area.
Clean out the drains
The drains in the caravan sink can give off a some nasty smells, particularly after being left in storage or in between trips. Mix a tablespoon bicarbonate of soda with a litre of warm water, place a bung in the outlet and then fill the pipes. Leave for a few hours and then rinse away.
Or you could try a flexible drain cleaning rod and rotate brush through the pipe before rinsing with the bi-carbonate of soda mixture.
One of our readers also uses Puriclean to refresh the water tank, all internal pipework, and to clean the drains.
For more information on the range of cleaning products available visit:
Fenwicks – http://www.fenwicks.info/caravan/
Care-avan: http://www.care-avan.co.uk/caravan-cleaning.html
Autoglym: http://www.autoglym.com/products/products/caravan-and-motorhome-cleaner
Dometic: http://www.dometic.co.uk/product/dometic-acrylic-glass-cleaning-kit/
If you've got any cleaning tips then please share them in the comments section below and thanks to some of our readers for sending in our featured cleaning photos
Search our blog
---