Spring is around the corner, which means your motorhome is probably due for a good old clean ready for the new season!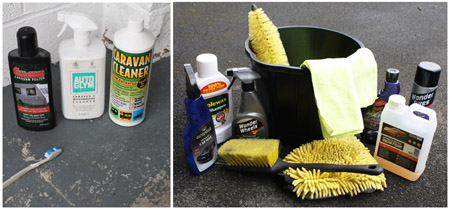 Cleaning a motorhome isn't the easiest of tasks as it can be quite tricky getting to those hard-to-reach places.
In this guide to cleaning your motorhome in a few simple steps, there's also some expert advice from Mike at www.motorhomevalet.co.uk.
Follow the steps and your motorhome will be in tiptop shape this season and could save you from potential problems in the future.

You'll need:
Hose / bucket(s) of water / pressure washer
Multi-functional or V-shaped ladder with platform / scaffold plate
Extendable or long handled brush / mop
Flannel or towelled mop head
Sponge or wash noodle mitt
Body shampoo
Window cleaner or spray
Wheel and tyre cleaner
Finishing wax
Toothbrush / felt brush
Chamois leather or microfibre drying cloth
Plenty of elbow grease!
It might sound obvious but always remember to clean your motorhome from top to bottom, starting on the roof and working your way down.
Manufacturers might advise against using certain cleaning products or techniques so always check your handbook before you start.
Clean your motorhome on an overcast day
"Cloudy days with little wind are the best for cleaning your motohome as it will not dry out before finishing each step of your wash," says Mike. "If it's sunny or windy wash one side, rinse, then wash the back, rinse, working your way round the motorhome. This will probably take a lot longer to do but will result in a streak free finish."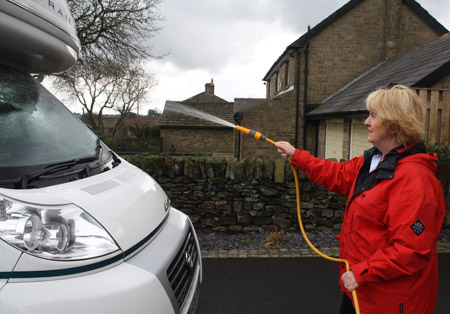 Rinse down
Many say that hosing down with a pressure washer is the best way to begin as it loosens dirt relatively quickly. Just be careful not to get too close to the windows as water could seep through crevices and damage seals. Otherwise spraying with a hosepipe or throwing buckets of warm water over the motorhome is a good start.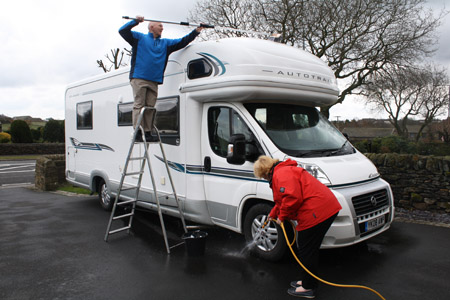 Roof
Start by applying cleaning solution to the end of your long-handled brush. Which solution you choose depends on the desired finish. Shampoo and cream cleaners are popular choices. Care-avan's Motorhome Body Shampoo is great at removing algae, moss, streaks and stains.
Set the ladder's platform or scaffold plate at the right height so you can reach across the roof. A couple of our readers use pipe lagging or insulation on their step ladders to stop it marking your motorhome and to prevent if from slipping.
Make horizontal strokes across the top of the roof and apply pressure to lift residual dirt and grime that could cause mould or damp.
Move the ladder around the motorhome and repeat if necessary.
Once you've cleaned the surface of the roof take a bucket of hot water and pour across the top to remove the dirt lifted, plus any stubborn insects or bird mess.

Solar panels
If you have solar panels fitted to the roof of your motorhome then you might find there's lots of debris and green staining underneath when you've washed the roof. One of our readers uses a long handled emulsion pad (used for painting behind radiators) to clean beneath the solar panel.
"Just use it gently, using plenty of water and soap, and work carefully around any seals and cables. Finally, direct a low-pressure hose beneath it and watch the muck come out," he said.
Top tip: Make sure you use an adequate amount of water
"When I valet motorhomes I always use snowfoam (a canister filled with detergent attached to a special nozzle that's connected to a pressure washer) to release dirt," says Mike. "This isn't always an option though so it's best to use plenty of water when cleaning and make sure you soak your motorhome before washing with a shampoo."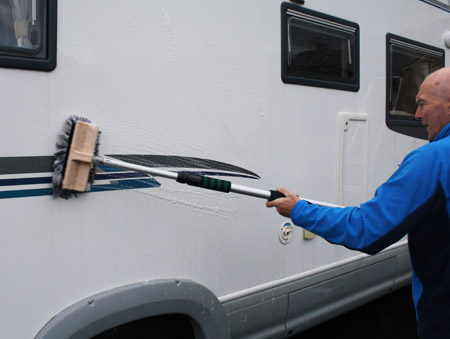 Side panels
Cleaning the sides of your motorhome needs much of the same techniques used to clean the roof. Use a soft brush, microfibre cloth or noodle mitt to clean down each panel thoroughly. Let the solution soak for up to 10 minutes before washing off with a flannel or towelled mop head.
Mike says: Ditch that old sponge
"Sponges are very good at holding minute particles of grit which can scratch your van. It's far better to use a Noodle wash mitt as they don't hold the grit when rinsed in the wash bucket. Noodle mitts aren't very expensive and last much longer than a sponge."
Never use washing up liquid to clean your motorhome as it can be corrosive. If used by mistake, apply a layer of polish straightaway to preserve the motorhome's protective coating.
Black streaks and algae
Reader tips for getting rid of black streaks on your motorhome is to use Autoglym engine cleaner. Another uses Aldi black streak remover to remove mould or algae staining on the silicone sealed seams of your motorhome.
Windows
Softly hose or sponge your windows down to remove any grit using plenty of water. When you're happy you've removed all trapped, stubborn dirt, wash the suds off using a microfibre cloth. Once dry use everyday glass or window cleaner to add shine.
To remove light scratches, dust grease and other markings try using Autoglym Fast Glass cleaner.
TOP TIP: Avoid using a hard brush on polycarbonate (plastic) windows that's likely to scratch easily. Plus don't use usual glass cleaning products as it could damage the surface. Use a product for acrylic windows and a microfibre cloth. 
As well as Autoglym's Fast Glass, there's Fenwicks Windowize, or Care-avan's Window Cleaner.
Drying
Once you've finished cleaning the motorhome's exterior you can choose to let it dry naturally or use a drying cloth to speed things up.
Mike says: Use a microfibre drying cloth
"Chamois leathers can be expensive and are not that motorhome friendly. For easier drying use a microfibre drying cloth which is cheaper and softer. Plus if you buy one of the larger ones you won't be wringing it out every two minutes."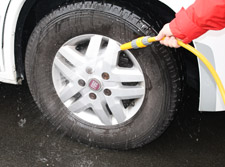 Wheels
Sparkly wheels are a must if you want to achieve that perfect spring-cleaned look.
There's a range of spray-on tyre and wheel cleaners available that get rid of brake dust and road grime nicely. Dual action products designed to clean tyres and wheels are especially handy.
3M Wheel And Tyre Cleaner is a good choice if you want to remove dust, tar and grease for example.
Once you've applied cleaner use a non-scratch wheel brush to get in-between wheel spokes to tackle stubborn dirt. And for that 'newly buffed' rubber look, try Turtle Wax Wet 'n' Black Tyre Dressing or Autoglym Instant Tyre Dressing.
Reader tip for tyres and plastic trims: "Use Leather Genie. Not only is it ideal for leather upholstery in the house or your motorhome but I've found it's perfect for rubber trims and seals around the windows."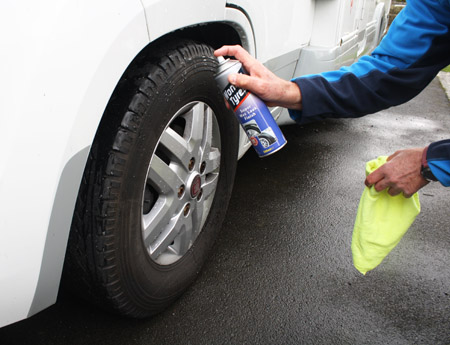 Roof lights
If the roof lights in your motorhome consist of two layers moulded together, an old toothbrush or flexible felt brush will remove mould or dirt from the around the edging easily. For the best clean, get into each nook and cranny and wipe away with a damp cloth.
Some roof lights have small vents on them that attract dust very easily. You can use a tooth or felt brush for these too, although a compressed air cleaner might be a quicker option. Just remember to direct the dust outwards!
Working from a stepladder inside the motorhome should make those hard to reach spots easier to clean.

Finishing and final touches 
For a final touch, apply polish or finishing wax to guarantee the best shine. Mer Deep Gloss Finishing Wax costs a little more than other products but tends to last longer.
Apply the solution to a flat wool mop end or cloth and use the same horizontal motion across the roof as when you were washing. Remember a little wax goes a long way!
TOP TIP: Apply overwintering spray to your motorhome once clean and you'll find that algae and dirt will wash away easier next time round. Fenwicks is a popular choice.
Cleaning inside your motorhome
Give any carpets and upholstery a good vacuum and thoroughly wipe down kitchen surfaces with an anti-bacterial spray.
Clean windows with a microfibre cloth and the same specialist cleaner used on the outside windows.
Polish and dust down shelves and clean inside lockers and cupboards, making sure to dry surfaces after.
Use a gentle anti-bacterial cleaner inside your fridge and give the bathroom a good wipe down with a mild householder cleaner. Again making sure you wipe surface dry with a microfibre cloth.
Throw open those doors and windows to get the air flowing through your motorhome to prevent condensation and damp.
Don't have time? Then speak to a professional!
If you would prefer to have your motorhome professionally cleaned, use a specialist valet company or speak to your dealer as some might offer a wash and wax service. Certain storage sites also provide washing facilities too.
Want more advice on motorhome maintenance? Check out the blog posts on:
How do you clean yours?
Please feel free to share your motorhome cleaning tips in the comments box below.
Cost to insure: *
---
factfile
| | |
| --- | --- |
| Model | |
| Base vehicle | |
| Axle type | |
| Dimensions | |
| Shipping length | |
| RRP | |
---
Search our blog
---