In 2012, Caravan Guard saw a huge increase in motorhome insurance claims for tyre related incidents – up 38% on the previous year!
These claims cost an average of £12,333 each and no doubt caused many motorhome owners some inconvenience too.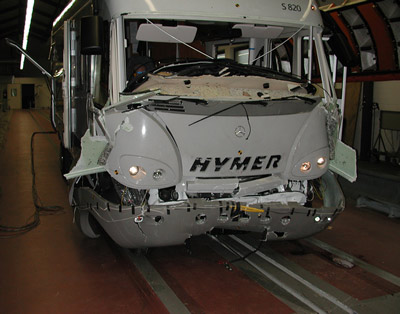 The majority of these claims were as a result of tyre blowouts whilst travelling. Although a damaged tyre may not seem like an expensive item to replace, it's the damage that occurs after the blowout due to loss of control and collisions with other vehicles or stationary objects that significantly increases the claims cost.
I'm sure all our readers will agree, it's much better to to keep our motorhome tyres maintained and check them regularly than put ourselves at risk, so here's our motorhome tyre maintenance checklist for you to use before each journey.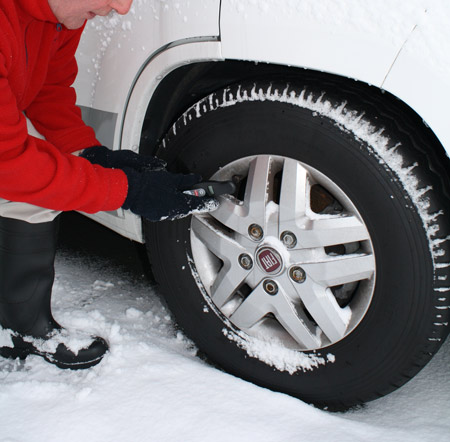 Check your tyre tread depth! – The legal tread depth for a tyre in the UK is 1.6mm across 3/4 of the tyre's surface, however, you should be aware that the less tread you have, the less grip you will have and this will affect your stopping distances and ability to control the vehicle.
Check for signs of ageing – if you only use your motorhome a few times a year, it's unlikely that you'll need to change your tyres due to tread wear. However, even a tyre with plenty of tread can still deteriorate, with cracks appearing in the sidewalls and the rubber becoming perished. Any signs of ageing are an indication that the tyre should be replaced as any weak spots will leave the tyre vulnerable to a blowout. If you've bought a second-hand motorhome, you can check the age of the tyres by using this guide (see point 8).
Check your pressure – Tyre pressures should be checked regularly – preferably every week if the motorhome is used often – and always when the tyres are cold. Warm tyres will not give an accurate reading. Ensure the pressures in your front and rear tyres comply with your vehicle manufacturer's recommendations as having under or over inflated tyres can cause issues with your steering and even braking.
Consider pressure monitoring systems – fitted to your motorhome, these monitoring systems will alert your to any loss of pressure in your tyres whilst you are travelling. Armed with this information, you are able to find a safe place to pull over and address any issues. It will also give you peace of mind on longer journeys.
Many motorhome owners will only use their motorhome for holidays a few times a year, so it's easy to think that the tyres will rarely need replacing or checking. However, just like a vehicle you use everyday, tyres can become damaged and be subject to deterioration. So, to avoid being in our motorhome claims statistics next year, take the time to check your tyres before each journey. Safe travelling!
Cost to insure: *
---
factfile
| | |
| --- | --- |
| Model | |
| Base vehicle | |
| Axle type | |
| Dimensions | |
| Shipping length | |
| RRP | |
---
Search our blog
---