It's getting lighter and brighter out there, which means it's time to get those motorhome wheels moving – if you haven't already!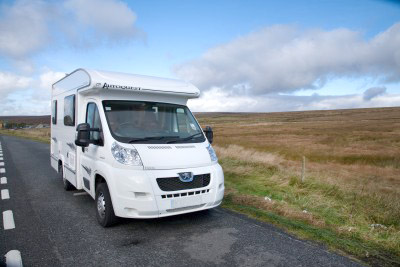 Here's our top 10 Spring checklist to make sure your first motorhome trips get off to a good start and so your vehicle is in tip top condition when it hits the road.
Tyre check: Examine all your tyres for any damage, bulges and cuts and make sure they're correctly inflated as this can effect acceleration, braking, steering and fuel consumption and more importantly help to prevent a blow-out.

Check the pressure on all your tyres, including the spare, and consider fitting a tyre pressure monitor to give you that extra peace of mind that your pressure is being constantly monitored. Also check the tyre tread depth, making sure it's at least 1.6 mm (the legal minimum) across three quarters of the tyre surface, as well as tightening the wheel torques to avoid wheel detachments. Try the 20p test by inserting a 20p coin into the tyre's grooves at several points across and around the tyre. If the outer band of the coin is visible whenever you check the tread, your tread depth may be illegal and you should have them checked by a qualified tyre specialist.

Flush the water system: Flush out the water system to get rid of any bacteria and use a drain and pipe cleaner specifically for motorhomes (like Olpro Fresh & Clear) by adding it to your water tank and running it through your pipes.
Windows, doors and seals: Let the hose loose on the motorhome to make sure the seals and windows are keeping out water and check them over to make sure they haven't suffered any damage over the winter months, paying particular attention to skylights. Don't use a jet washer for this! Check for any damp or mould and if it smells a bit musty be sure to give the vehicle a good airing and use a dehumidifier. There are also moisture traps that will absorb moisture in the air. Treat mould by wiping with a damp cloth and using an anti-mould cleaner. Dry thoroughly and then spray with clove oil mixed with water. Leave for 20 minutes and then wipe dry.
A spring clean – inside and out: Get out the specialist cleaners, ladders, bucket and brushes and with some good old elbow grease you'll have it sparkling for the new season. Here's our cleaning guide for some more tips.

Battery check: If your motorhome has been layed up over winter and you haven't been giving it a little trickle charge or have not had it hooked up to a solar panel then it's likely to be flat. Disconnect it and charge it up, then re-connect and use some of your appliances to make sure it holds enough charge.
Gas: Make sure you gas bottle or LPG tank is full. Test all appliances are working correctly, making sure the flames on the gas cooker are blue and that all gas hoses are still in service and are not damaged. High pressure rubber hoses should last for five years and will be stamped with the date of manufacture.

Lights: Try out the motorhome lights, outside and inside and replace any bulbs. Check the signal and brake lights are all working.

Alarms: Make sure intruder and smoke alarms are working, as well as the carbon monoxide detector and change the batteries if needed. Check the fire extinguisher is still in date.
Check the levels: Make sure you have enough oil, coolant, windscreen wash and water and top up or replace.

Tracker: Make sure your tracking device is still working by taking your motorhome for a spin, pulling over and giving your tracking device company a call to check they can highlight the location of your van' and to prove the device is still working properly.
Finally and most importantly, is your motorhome insurance up-to-date? If you are looking for cover, why not call us for a quote or see more about our discounts.
Before you set off on your travels, plan your journey carefully, giving yourself plenty of time to arrive and making sure you get plenty of rest stops. Also check out our full pre-departure motorhome checklist.
If you have any top tips of your own and would like to share, feel free to leave a comment below. Happy motorhoming!
Cost to insure: *
---
factfile
| | |
| --- | --- |
| Model | |
| Base vehicle | |
| Axle type | |
| Dimensions | |
| Shipping length | |
| RRP | |
---
Search our blog
---