It's the one big thing caravan owners dread – the smell and sight of damp!
The colder and wetter winter months when your caravan might have been left standing for a while can be an opportunity for the dreaded damp to grow and spread. Or, water ingress, after a spot of accidental damage to your caravan's bodywork. It might be something as simple as a screw-hole that hasn't been fully sealed, or some DIY work that hasn't been properly sealed and finished.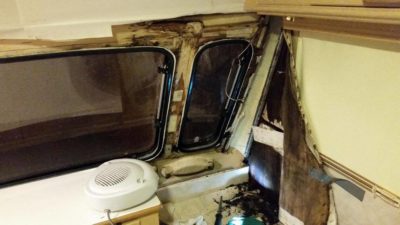 Faulty seals around windows, doors and rooflights are other areas where water can seep in. And, awning rails can be at the centre of a damp problem.
Damp can build up over time in a caravan and can also be caused by a build-up of condensation from equipment and people.  Left alone, water ingress and damp, can quickly cause quite a bit of damage to your caravan. But act quickly and the problem can be easily sorted. An annual caravan service should always include a check for damp or water ingress, as well as checking for damp in your caravan yourself.
In this video, we will share some tips on preventing damp in your caravan:
Preventing damp in caravan
Prevention is always better than cure so here are our tips on preventing damp in your caravan.
Curb condensation and let the airflow
Ventilation is key and one of the best ways to avoid damp is by using your caravan or motorhome as often as you can throughout the year. Failing that, on a monthly basis fling open the doors and windows for an hour or so, to let some fresh air in. Never be tempted to block any air vents, these are there for a reason, such as if there's a gas leak.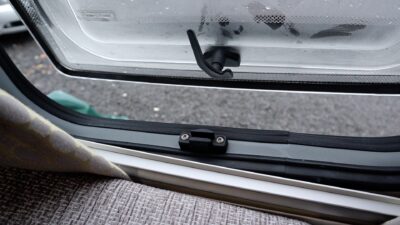 Sleeping: If you find a build-up of condensation on windows and walls, particularly in areas close to people sleeping, then open the windows and give them a good wipe down with a clean microfibre cloth.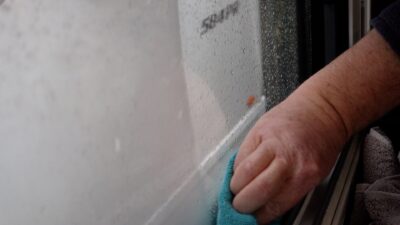 Winter caravanning: Condensation is not uncommon when caravanning in the winter months, especially when the caravan is warmed up for the first time. In those instances wipe down the back of cupboards, ceilings, and walls where condensation has built up. In all cases, improving air circulation and maintaining a steady level of heating will reduce the condensation build-up.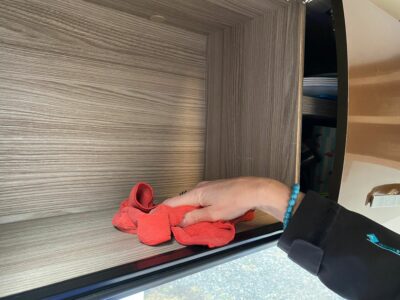 Cooking: If you enjoy cooking in your caravan, keep a window or skylight slightly open to remove any steam buildup, and if possible, use lids on saucepans to limit the amount of steam. Once cooking and washing up has been completed, wipe down any walls, surfaces, and cupboards where moisture might still linger.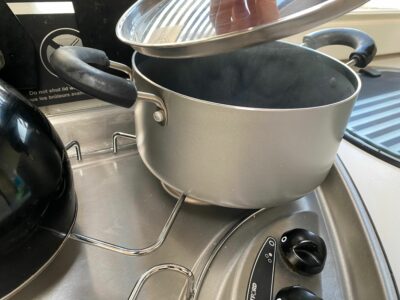 Wet clothes and pets: Avoid bringing wet items into your caravan. Wet coats, swimsuits, and any damp clothing should be stored in the awning (if you have one) or make use of any laundry facilities on the campsite. Dry down any wet dogs before they enter the caravan using a large towel, this will also reduce the mud factor too!
Washrooms: The most amount of moisture comes from your caravan's washroom. When showering, keep the washroom window and skylight slightly open, and the door closed to avoid steam getting into the rest of the caravan or motorhome. Wipe the walls down when you're done. If you can, air and dry damp towels outside, before returning to the washroom, or hang close to heating outlets.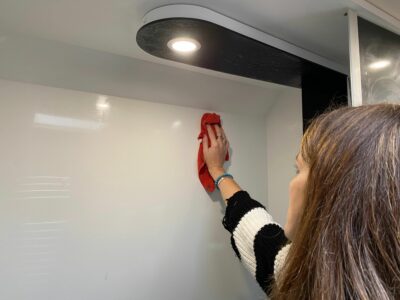 Storage: When storing your caravan for long periods, particularly in the colder months, open all cupboard doors and remove bedding, towels, cushions, clothing, and even mattresses.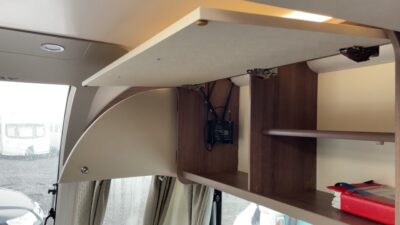 Use moisture traps to reduce the effect of damp in areas with minimal air circulation.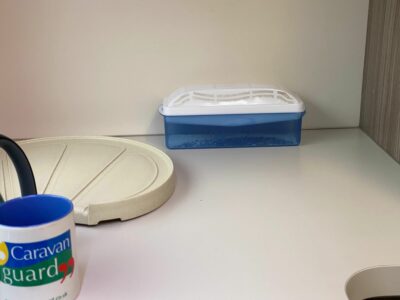 Pull furniture away from the sides of the caravan, again to promote air movement, and if possible remove cushions to store in a dry place if you're not going to be using your caravan in the winter months.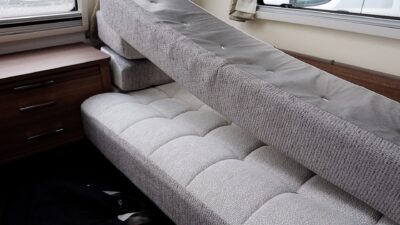 Caravan cover: A waterproof but breathable cover when in storage will help prevent water ingress along with regular checks and door-opening visits. When checking up on your caravan in storage, turn on the heating for a short time with the windows open. This will let the air move around inside the caravan.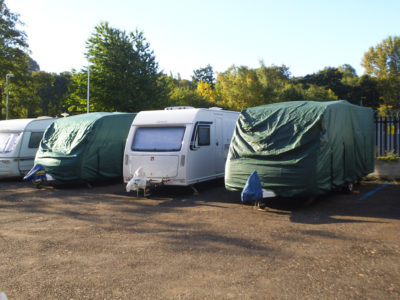 Checks for leaks
As well as an annual habitation check or service, you should always be checking for any signs of water ingress or damage to seals.
Check seals around windows, doors and rooflights regularly, as well as where the caravan roof meets the side panels, by awning rails, and around any fitting on the outside of your caravan, such as a TV aerial or solar panel. It's also worth paying close attention to heater or fridge flues.
Cleaning: Keeping the caravan clean inside will help to keep damp to a minimum and might also detect early signs of trouble!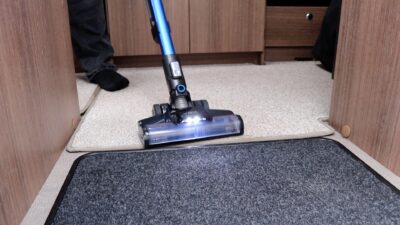 Mop or wipe up any spills quickly and don't store damp objects in lockers or wardrobes. When cleaning the outside of your caravan don't use a power wash as this can damage seals and cause water ingress. And if you do spot a leak after washing the caravan or a heavy downpour, don't ignore it. A quick repair could save you lots of expense in the longer term.
Be constantly on the lookout for any signs of damp, particularly at the end of the season. Make sure you check under the beds, the backs of cupboards and lockers, and even under the beds.
Recognising damp in a caravan
Use your nose! A musty, foisty smell is usually the first sign of damp
Check for signs of black residue around windows, doors, and rooflights, as well as blue or pinkish staining to the wallboards. Soft walls can also point to serious damp trouble underneath
If you're buying a second-hand caravan, look out for any unusual-looking alterations, such as different interior wallboarding, as it can point to a past damp issue
A creaky floor, or a spongey feel underfoot, is often a sign of delamination – again, where water or damp has got in. It can be very expensive to repair if you don't catch it in time
A damp meter is always a good investment and can give you an early heads-up before the problem spreads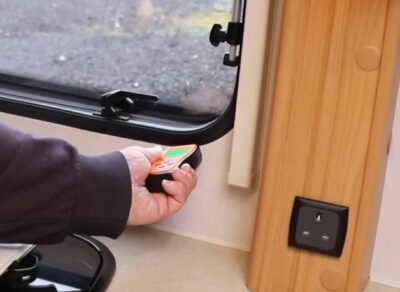 Treating damp and mould in caravan
Remove patches of mould and mildew with a mould removal spray. Once dried use a mixture of clove oil and water and spray the area, leaving it for 20 minutes before wiping dry.
If you can't treat mould yourself or it has spread too far then it's best to call for some expert help.
Once any timber framework is affected by damp it can be tricky to sort out. Ideally, the wood needs to be thoroughly dried out and then the bodywork re-sealed. It can take time and you need to make sure you thoroughly dry out your caravan using heaters and/or dehumidifiers. It's probably the time to call in the professionals too. An approved repairer or workshop will be able to carry out a full inspection and will be well-equipped to tackle the problem.
Will my caravan insurance pick up the bill to repair damp?
We're unable to provide cover for damage caused by damp or rot issues, which is why it's important to regularly check your caravan for any leaks or water ingress, particularly around seals, seams, windows, doors and skylights.
Over to you
Do you have any hints and tips on preventing or treating damp in a caravan? Please share any advice or experiences of dealing with damp below.
Cost to insure: *
---
factfile
| | |
| --- | --- |
| Model | |
| Base vehicle | |
| Axle type | |
| Dimensions | |
| Shipping length | |
| RRP | |
---
Search our blog
---