It's seemingly in German manufacturer Knaus's DNA to give us something to challenge our caravan perceptions. Over the years (nay, decades) we've had the Sport&Fun, Caravisio, Deseo, Travelino, as well as innovative models like the T@B and Weinsberg CaraCito from Knaus's subsidiaries.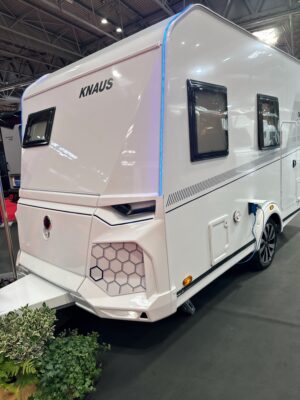 For 2024 it's come up with the Yaseo – heralding it as "the first caravan for e-mobility." There are two Yaseo models, initially with this, the 340PX, the smaller. Both are designed for use in conjunction with electrically powered towing vehicles. That's not just towing (although the 340 PX is commendably light), but also in terms of the power it can take from the car to power the caravan's equipment.
Your towing vehicle needs Vehicle-2-Load (V2L) technology – a system that allows power accumulated in its batteries to be used directly on external devices – in this instance, the Yaseo, and all its appliances.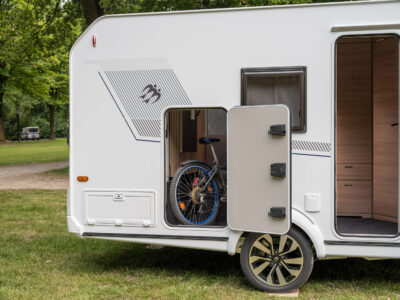 That means the likes of Hyundai's Ioniq 5 Ultimate, Kia's Niro EV and EV6, Mitsubishi's Outlander PHEV, various MGs, Volvo's XC90 Recharge and more are all suitable matches.
The Knaus Yaseo body design (there's a 10-year construction warranty, by the way) might be boxy from some angles, but don't let that fool you. The front is significantly tapered to allow superior aerodynamics and more energy-efficient towing, for starters.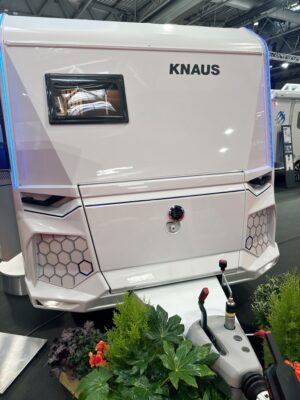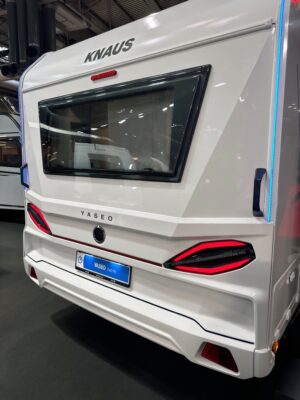 And the windows configuration is more than a hint of something radical happening inside.
A two-berth caravan, it's certainly a different kind of floorplan. What looks like a rather neat wooden slats-lined front wall is in fact the underside of a 2.00m x 1.60m Murphy double bed (wall bed), ready to hinge down at night and still allow easy access to the kitchen, washroom and wardrobe, as well as the entrance door.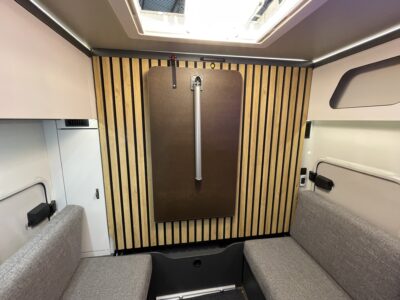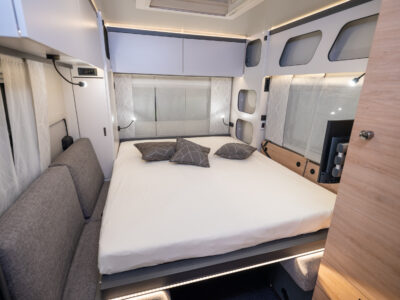 A table is attached here too, for dining at while sat at the inward-facing settees in the mid-'van area.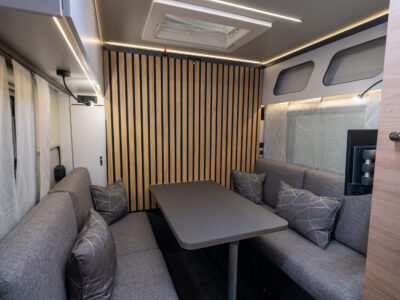 The lounge's flexibility is enhanced by the facility to adapt those settees to create space – accessible from outside either side (albeit as an option) – so you can house the likes of bikes etc for secure transport.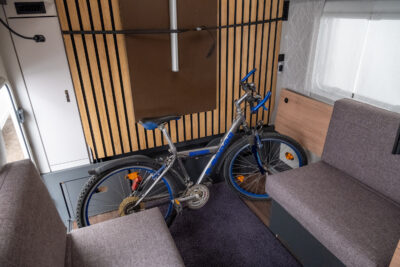 It's hard to believe there's less than 3.50m of internal body length in the Knaus Yaseo caravan, such is the clever design work throughout. Across the front is the kitchen, with the washroom taking up the nearside corner.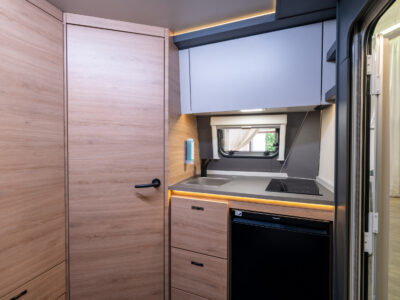 The Yaseo is gas-free (although a gas system is optional, if you really insist). It's also designed to hook up conventionally to mains electrics. Hence the kitchen has an induction hob set over a Dometic 92-litre compressor fridge, as well as a microwave option. The depth of the kitchen unit means the hob sits longitudinally, freeing up worktop space between it and the sink, while also optimising storage capacities below.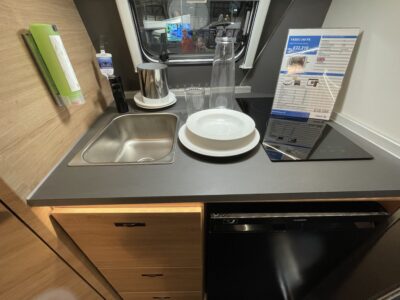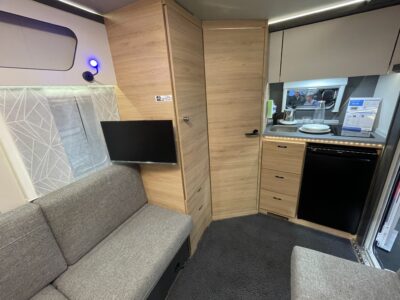 Heating and air conditioning are via Dometic's Freshwell 3000, with blown air. Truma's 230V Therme provides hot water. A 45-litre fresh water tank is standard.
The Knaus Yaseo's washroom, too, is noteworthy for the variety of storage options available – everything from conventional lockers around the swivel-bowl toilet to high-level open shelving, mirrored locker and a box, plus insets in the work surface next to the basin. Plus, there's an opening window and a folding clothes rail. But a shower is extra.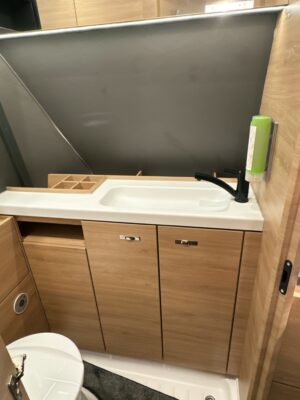 It's not the cheapest starting price (but what are you comparing it with?). Nevertheless, there's plenty you'll want to add from a long optional extras list, starting with various Packages that offer some value for your money – Plus (sunroof, heavy-duty corner steadies, flyscreen door and more), Design (smooth sides, drawbar cover etc), Transport (flexible seating, garage door, lashing rails etc), Connected Security (including velocate GPS tracker with lifetime licence). There's plenty more.
To find out more about insuring a Knaus Yaseo or your current caravan visit our caravan insurance page.
---
Verdict: Pointer for an all-electric future
Plus: High on innovation, clever format, quality build, light weight
Minus: Already high price rises with "essential" options, for electric towcars only
In-a-nutshell: Car friend's electric
Alternatives: Swift Basecamp Evo (concept vehicle)
Cost to insure: £335*
---
Knaus Yaseo 340 PX factfile
| | |
| --- | --- |
| Model | Knaus Yaseo 340 PX |
| Base vehicle | |
| Axle type | |
| Dimensions | 5.49m L, 2.20m W, 2.60m H |
| Shipping length | |
| Internal length | 3.48m |
| Berths | Two |
| MTPLM | 1,100kg (upgradable to 1,300kg) |
| MIRO | 905kg |
| Payload | From 195kg |
| RRP | from £22,210 on the road |
| Safety & security | Al-Ko chassis with semi-trailing arm, shock absorbers and servo-assisted handbrake, AKS stabiliser |
| Key options | Design Package (£1,230), Transport Package (£964), Plus Package (£964), Socket Plus Package (£274), Connected Security Package (£801), chassis upgrade (£115), front window (£496), LED silhouette lighting (£504), additional garage door (£432), rear window (£496), TV holder (£199), carpets (£219), Al-Ko ATC (£939), washroom shower (£261) |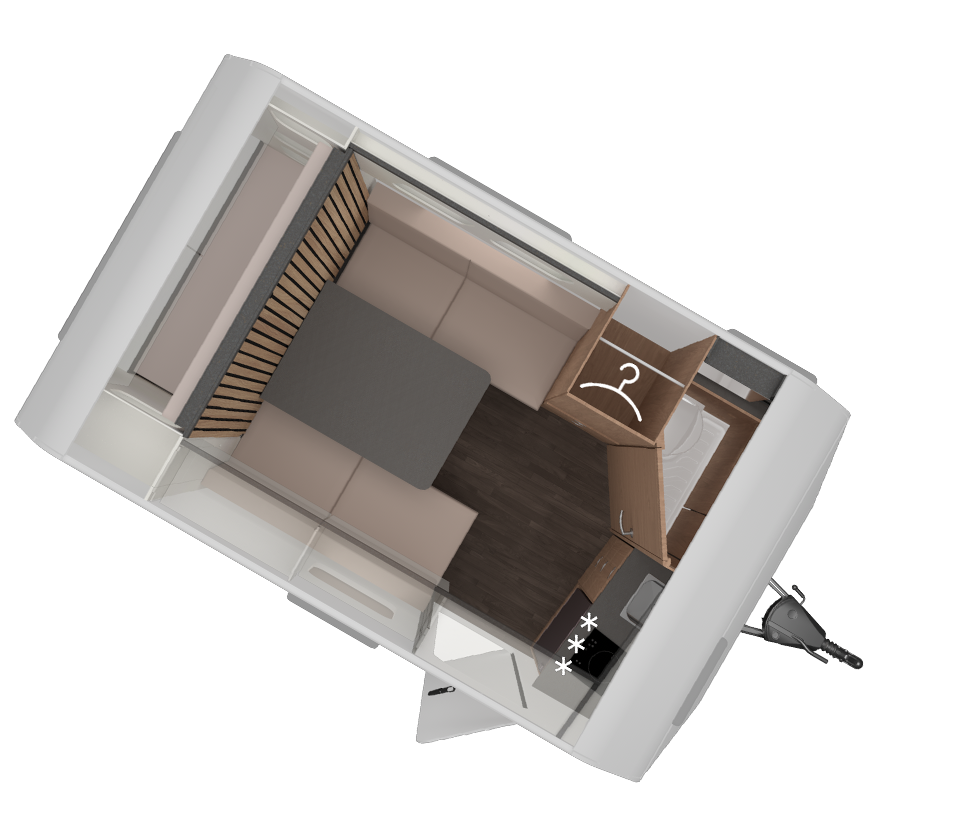 ---
Search our blog
---