In this video, we go through 10 simple steps for cleaning your caravan. Although it can be a daunting task, washing and cleaning your caravan regularly will keep it in good shape for longer.
To film our caravan cleaning guide we visited Lowdhams in Huddersfield, where we cleaned one their staff member's Bailey Senator caravan, which had been left under a tree and had plenty of black streaks, green algae build up and general dirt around the bodywork. In a few hours, our team had it spick and span and ready for lots of family trips in the new season.
Before you start cleaning your caravan here's the kind of equipment you'll need: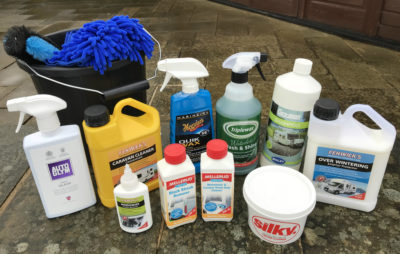 Hose
Two buckets
Portable pressure sprayer
Sturdy step ladder (Important: Please use a ladder taller than the one pictured with high handrail)
Telescopic long-handled brush and mop
Rubber gloves
Noodle wash mitts
Microfibre cloths
Small paintbrush
Alloy wheel brush or sponge
Mellerud black streak remover
Silky cream cleaner
Fenwicks caravan cleaner
Care-avan caravan cleaner (suitable for Bailey Alu-Tech bodyshell)
Triplewax Waterless Wash and Shine
Meguiars Quik Wax
Autoglym Fast Glass
A helper with plenty of elbow grease!
We used a variety of different products on different parts of the caravan but did use specialist cleaners. It's always worth checking your handbook in case your manufacturer advises against the use of certain cleaning products.
So, here's out 10 steps showing you how to clean your caravan.
Step 1
Clean the roof
Starting with the roof, dilute a specialist caravan cleaner, like Fenwicks in a bucket of warm water. To reach the roof, get someone to help you up and down the step ladder and to pass you the equipment you need. Unlike in the video, we would advise using a much taller platform ladder with a high handrail or even a platform. Also, it's advisable to get someone to hold the ladders at all times. Always take care when working at height.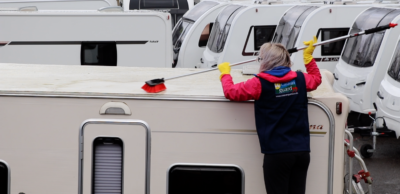 Using a telescopic long-handled brush, and plenty of soap and water apply enough pressure to remove dirt and debris from the roof. Work from the back of your caravan to the front, carefully moving the step ladder as you go and regularly dunking your brush into the cleaning solution. Make sure you pay particular attention to the skylights and any vents or fittings. If you can reach, try using a paintbrush or long-handled flat mop doused in plenty of water and cleaning mix to clean underneath or around fixings.
Step 2
Rinse down
Starting from the top, give your caravan a good hose down to wash away any loose dirt. Rinse the roof and thoroughly wet all the sides to remove any grit or residue. If you don't have access to water and a hosepipe in your storage location, use a garden pump sprayer to rinse your caravan down. Don't use a high pressure jet washer as this could be harmful to the caravan's sides and seals.
Step 3
Remove the streaks and stains
Next pay attention to any black streaks which every caravan seems to suffer from! Using a black streak remover, like Mellerud, dab onto a microfibre cloth and then rub over the black streaks.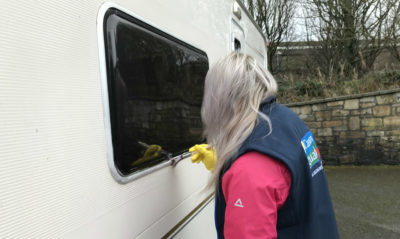 If you have a build of green algae around the windows or trim then a cream cleaning product like Silky is great at getting rid of these dirty marks. Simply use a small paintbrush dipped in the pot to get into those nooks and crannies, agitating the affected areas with the paintbrush.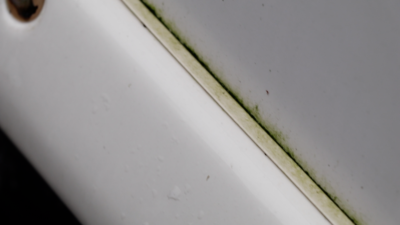 Take care around lockers or external fixing points as you could remove some of the sealant. Also be careful not to snag window edges and the bodywork when working in small gaps – wrapping some tape around the paintbrush will help to prevent this.
Remove any green build up in the caravan joins with the cream cleaner applied to a cloth or paintbrush.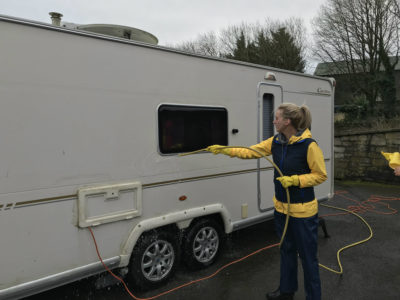 Leave the products to work for a short time and then rinse off once again with a hosepipe or garden sprayer, making sure all the product is washed away. Keep the paintbrush and microfibre cloths handy to help remove the product.
Step 4
Time for a clean!
Using a specialist caravan shampoo, like Care-avan, dilute it into a bucket of warm water, and working in sections clean the caravan with a noodle wash mitt to remove the last bits of dirt from all areas of the caravan.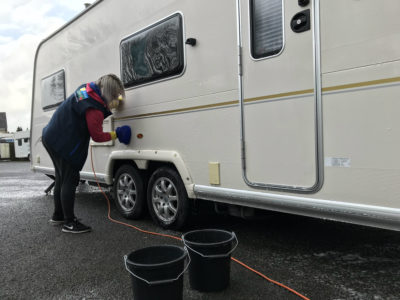 Using the two bucket method, where you have the cleaning product and warm water in one bucket and a second bucket filled with cold fresh water, soak the wash mitt into the shampoo bucket to clean the side of the caravan and then rinse in the cold water to remove any grit from the mitt before dunking it back into the soapy water. Repeat this, working around the caravan's bodywork in sections, but avoiding the windows.
Step 5
Be wise about windows
Be careful with the caravan's acrylic windows as they can scratch very easily. Using your bare hands, dip them into the cleaning product and wipe over the windows generously. This way you can feel for any grit and you'll reduce the risk of causing any scratches.
Step 6
Tyres and wheels
If you have alloy wheels use an alloy wheel brush dunked in the cleaning product to clean all the brake dust and residue off the wheels.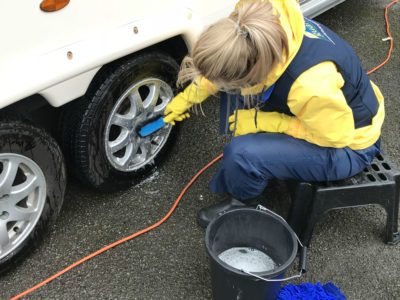 If you have hubcaps, remove them and use a microfibre cloth or sponge to give the wheels a thorough clean.  Then give the tyres a wipe over and rinse down.
Step 7
Rinse again
Now give the caravan another good rinse and final wash down. Start at the top to force the water to run off the side of the caravan. Again work in small sections from the back of the caravan to the front.
Step 8
Wipe down
Using clean and dry microfibre cloths, wipe down the caravan surface from the top to the bottom, making sure you remove any excess water, so it's clean and dry.
Step 9
Glass cleaning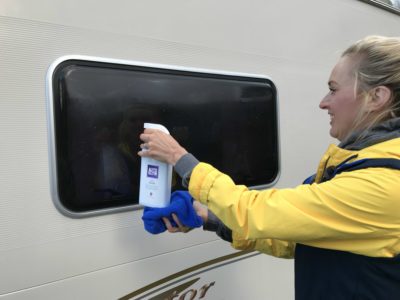 Using a glass cleaner which is suitable for acrylic windows, such as Autoglym's Fast Glass, spray directly onto the windows and then buff it off to a deep shine with a dry, clean, microfibre cloth.
Step 10
Wax and polish
Finally, to give the caravan's bodywork some protection and a shiny finish use a specialist wax product. Apply by either spraying directly onto the caravan sides or onto a microfibre cloth and then wipe onto the bodywork. Allow it to cloud over and then buff up with a clean cloth until you get a deep shine.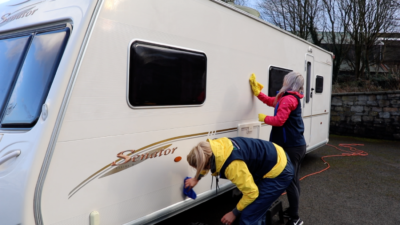 There are more caravan cleaning tips in our previous guide.
IMPORTANT DISCLAIMER: During the making of this video our team were not using a suitable step ladder to reach the roof of the caravan. We would advise using a much taller platform ladder with a high handrail or even a platform. Also, it's advisable to get someone to hold the ladders at all times. Always take care when working at height. We hope this error doesn't detract from what otherwise is a very helpful video.
Over to you…
Do you have any tips on cleaning the exterior of your caravan that you want to share? As always, please comment in the box below.
Search our blog
---