When buying a new caravan or motorhome, you usually find that interior design styles, upholstery, fixtures and fittings are chosen by the manufacturer.
Increasingly though, consumers are given the opportunity to pick and choose how certain parts of their unit will look; whether it's a colour scheme, the materials used or even the layout.
To get your thoughts on the matter, last month we asked if  you think manufacturers are getting it right when it comes to interior design? Or whether you think the buyer should have more input before a sale is agreed?
Chris was one of the first to get in touch: "Some of us don't want to be reminded that we're in holiday accommodation, some of us like home away from home and at home we don't put wood, steel, textile, glass, granite look along with garish patterns and colours in one room – I'd prefer it not to be in my caravan. Accessories seem to be missed too: covers, throws, mats don't seem easily available."
Craig, on the other hand, is satisfied with his caravan's interior: "The layout is the main reason we bought our Elddis; the extra wide side dinette makes a reasonably sized double bed instead of the usual bunk. As for the colour scheme, it's quite neutral which allows splashes of colour to be added and the walnut cabinets will stand the test of time. Ultimately though it's the layout that makes a caravan work, the colour scheme is secondary." 
The results are in…
With almost 300 votes, it's finally time to reveal your verdict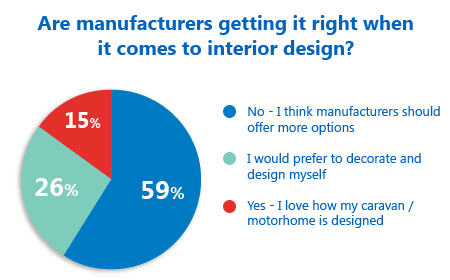 A massive 59% of you voted in favour of more being done, telling us that manufacturers should offer greater choice.
The second most popular choice with a respectable 26%, came from those who'd prefer to design and decorate their unit themselves; whilst 15% of voters praised manufacturers' interior design choices.
Let's take a look at more of your comments
Andrew Harcourt says it's easy enough to change caravan and motorhome interiors: "I recently bought a new motorhome, our first priority was length, then layout and the interior design did not come into it at all. Firstly each manufacturer offers several interior trims and upholstery choices, secondly they don't matter anyway. If you don't like any of them, just go to a specialist upholstery company and spend £500-£1000 and get exactly what you want. You can change the upholstery, you cannot change the length or the furniture layout."
Margaret, however, like 26% of voters, prefers to do it herself: "I am looking to replace the flowery curtains and headboards in our lovely new caravan. I think they spoil the modern look of the caravan."
Click here to read all the comments in full.
Cost to insure: *
---
factfile
| | |
| --- | --- |
| Model | |
| Base vehicle | |
| Axle type | |
| Dimensions | |
| Shipping length | |
| RRP | |
---
Search our blog
---