All UK caravan manufacturers have released a super-sized 8 foot wide caravan for the 2019 season, but just how popular are they going to be with caravanners?
In last month's community poll, we asked our readers if they'd consider an 8 foot wide caravan or if they already had one.
The comments came flooding in and with more than 300 votes.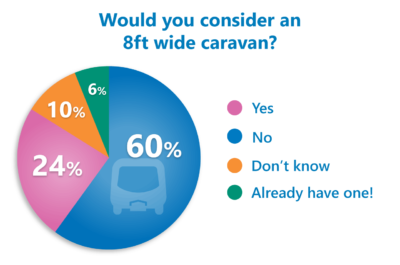 Sixty per cent of voters said "no" to the extra width, with many telling us their tourer was wide enough and many UK roads, service stations and campsites were not suitable for the extra width. Plus some had fears over towing a wider caravan and a common opinion was that an 8 foot wide caravan is best suited to a seasonal pitch.
But it wasn't all bad news for the super-sized caravan, with almost a quarter of caravanners who voted, saying "yes" they would consider a wider tourer. Another six per cent of voters already had an 8ft wide caravan and were very happy with the extra space. Meaning 30% were in favour of wide units. And a further ten per cent were undecided and voted "maybe". So it certainly seems there is a big enough market for such caravans.
We certainly agree an 8 foot wide caravan would be fantastic for those who book a seasonal pitch – the extra living and storage space will be most useful.
Your comments on 8ft wide caravans
Peter Long said his 7ft 5 inch Swift Challenger SE was just perfect: "If we don't buy them then hopefully they won't build them," he said. " 8ft is far too wide, and just goes to show the people who design tourers haven't got a clue."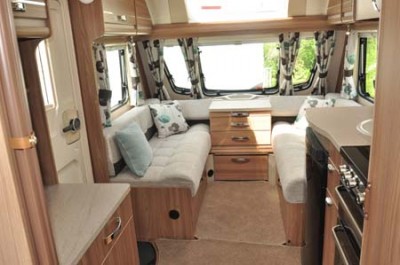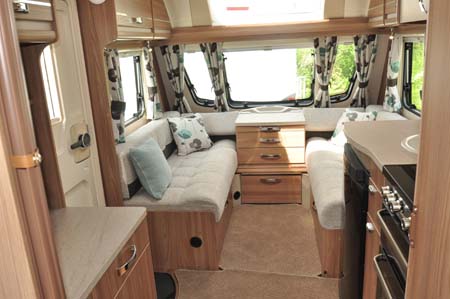 John Morgan said 8ft was too big for him and many others, given the traffic on today's roads.
David Lomas said his 7ft 6 inch wide Lunar was plenty wide enough: "8ft would make it even more stressful on narrow, UK roads," he added. "Also on site you have to factor in that extra width on your pitch when putting up your awning and parking your car on the other side of the caravan. So sorry manufacturers, there is no way I would buy or tow an 8ft wide caravan on UK roads thanks."
Many agreed, with the majority of comments being that 8ft caravans were best suited to a seasonal pitch.
"I'd like to see more choice in narrower caravans that won't demolish road furniture or overhang road lanes," added Lindy Margach.
Dick would also like to see more choice for small "full facility 'vans instead of full road width fixed bed monsters!" and John Phelps said the future of touring caravans was "smaller and lighter – not larger".
Ian Boyd said 8 footers were too big, too heavy and too expensive: "When is it going to be possible to buy a good quality family caravan with a flexible family friendly layout, i.e. dining room front and back – no fixed beds, that can be towed with a car that doesn't cost more than your house and can be towed on British roads without wiping out the oncoming traffic or the dry stone wall along the scenic routes that we like," said Ian. "The average age of campers on sites and the rise in popularity of mobile homes is a clear indication that young people are being priced out of caravanning. It's no longer a cheap holiday when you can buy a one bedroom apartment in Spain for less than the price of a modern caravan and the Tonka truck needed to tow it!"
Graham Griffin was worried about the extra cost for tourers.
"Totally agree that 8ft wide is best left to seasonal pitching and having said that, buy a static if you want BIG," said Graham. "Bigger caravans need bigger pitches, equals more site development, equals more expense for tourers. UK sites are already expensive so why invite more expense?"
But Andy Culley thought the extra width was minimal, however, if he could afford one he'd get one.
Cost to insure: *
---
factfile
| | |
| --- | --- |
| Model | |
| Base vehicle | |
| Axle type | |
| Dimensions | |
| Shipping length | |
| RRP | |
---
Search our blog
---