A windbreak when camping has many uses – keeping the wind off your pitch, providing an enclosure for dogs, or making your outdoor space a bit more private.
Last month, we asked our caravanners and motorhomers if they used a windbreak to make their pitch more private.
And after more than 1,000 votes, more than half – 55 percent – said they did.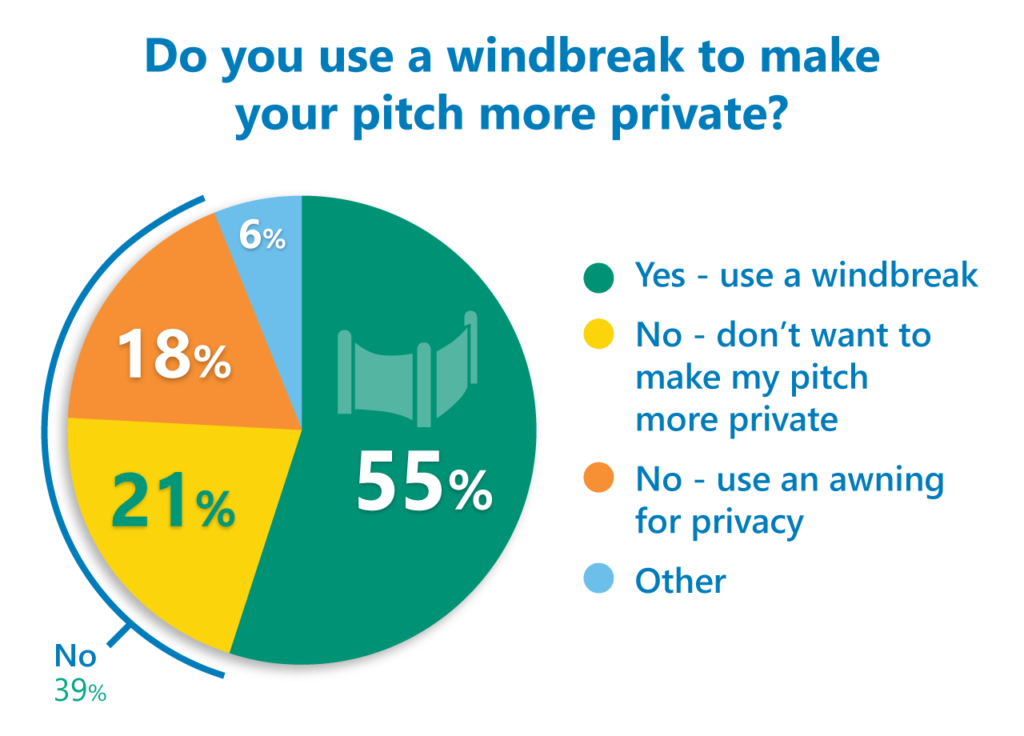 But 39 percent of voters don't use a windbreak for privacy – with 21 percent saying they didn't want to make their pitch more private – and 18 percent using an awning for privacy instead.
A handful of voters said they used a gazebo or tarp for privacy.
Your windbreak comments
The use of a windbreak got caravanners and motorhome owners talking too with many saying they used one as its name suggests – to provide shelter from the wind, particularly when cooking.
Jocelyne Smythers said: "We use a windbreak mostly to shelter from the wind (the clue is in the name). It helps when cooking on the Cadac and stops my light ingredients from being blown away from the table. When it rains, it's a perfect combination with the wind-out awning. Otherwise, we don't bother with either to socialise with our fellow campers and their dogs. I must say that even with the windbreak, we still have a chance to chat to passers-by. We're not enclosed like in an awning."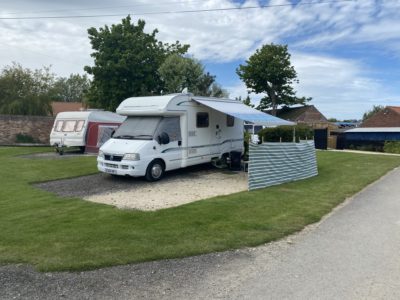 Christopher Wells also used their windbreak to shelter from the wind whilst cooking and socialising – not to be private.
David White didn't think a windbreak offered privacy: "We have seen people sat behind one and it looks ridiculous!" he commented. "Keeping a child or dog restrained – great. Privacy – rubbish!"
As caravanners and motorhomers are a friendly bunch many said they didn't like to use a windbreak for privacy as they enjoy chatting to fellow campers.
Andrew Smith said: "We use a canopy and don't really get the 'privacy' thing. We like fellow campers to come and enjoy the company when allowed. We have used a windbreak to try to give some shelter to the barbecue if we use one. But that is a rarity."
Sally Ann Carpenter has a small windbreak but only used her awning last year. "Just loved speaking to other holidaymakers," she commented.
Neal Miller questioned the need to make your pitch private: "Why go to a social site and then 'lock' yourself away?" he asked. "Windbreaks are for what the description says, keeping the wind off, not your neighbours!"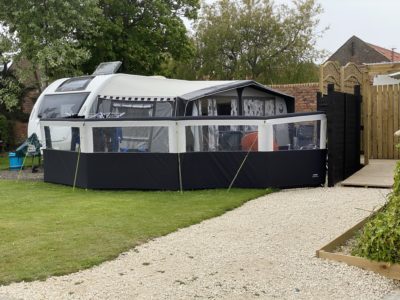 But Barry Carter has used a windbreak for privacy as well as shelter.
"It's a fabric-sided windbreak to shelter from the wind whilst sitting outside and used in conjunction with motorhome's sun canopy, we've also used it for privacy when children have stopped with us and are sleeping in a pup tent," he commented. "We find the windbreak helps to protect the tent's guy ropes by preventing people tripping over them and also acting as additional protection along with the sun canopy for the pup tent."
And Ronald Halls told us he used a windbreak to stop their dogs from being disturbed.
Thanks to everyone who voted and if you're in the market for a windbreak why not see our latest windbreak gear guide with a look at a number of star players.
Cost to insure: *
---
factfile
| | |
| --- | --- |
| Model | |
| Base vehicle | |
| Axle type | |
| Dimensions | |
| Shipping length | |
| RRP | |
---
Search our blog
---