Windbreaks are perfect to protect you and you guests from gusty weather, and for keeping the breeze off your barbecue, but can also be fantastic for providing a bit of extra privacy on your motorhome or caravan pitch.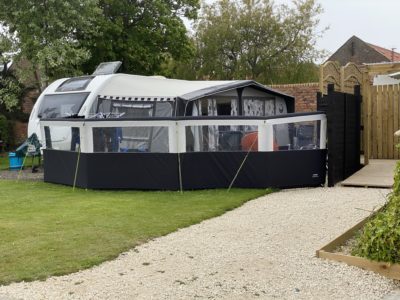 Here, we take a closer look at just some of the huge variety of windbreaks and other alternatives that are out there. Do also see our articles on safecations and awnings alternatives respectively.
Considerations when choosing a windbreak

As ever, do consider weight and bulk of your chosen accessory for transportation.
Windbreaks are ideal for keeping children and pets in check, making sure they don't inadvertently wander "off-pitch".
Windbreaks also live up to their name – helping to give protection from unwanted breezes, for example when you're cooking outdoors.
Sometimes, also, the presence of a windbreak will prevent your dog barking at strangers as they pass.
Check for site policies, especially regarding gazebos. You might be charged extra for these.
Don't forget, although privacy and security (including social distancing) are important, you can still be friendly. A wave and a socially-distanced chat is sometimes all it takes!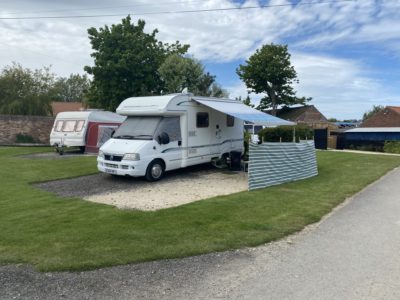 Star Player #1
Outwell Windscreen Air
An inflatable windbreak – Outwell prefers to call it a windscreen – that goes up in seconds and can be attached directly to an Outwell caravan awning if desired or, more likely, can be free-standing.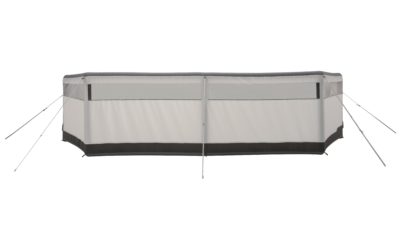 Not only does it give you extra security and privacy, its features include two window sections – so you can still see what's going on around you, even when you're sat down. Total length is 800cm and height is 140cm, with flexibility between the four interconnected sections meaning you can shape it to any configuration you wish.
It weighs 8.3kg and packs down to 80cm x 31cm x31cm.
Key features Polyester fabric, pre-formed air tubes, supplied with guylines, carrybag, two-year warranty
Expect to pay £390
Star Player #2
Outdoor Revolution Oxygen Windbreak
The clever feature for this windbreak is that it can fit directly to the existing awning rail on a caravan or motorhome. It assumes you don't have a full awning attached, of course, although it is also free-standing.
Using inflatable poles, it's a three-panel design, but you can zip in optional panels if you want.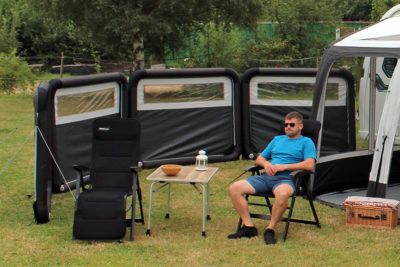 It uses Outdoor Revolution's Oxygen Air Frame system (as in its awnings) for single-point inflation, with guylines for extra support, window panels in each section and a mudwall to the base.
Offering some 5m of length as standard, it sits 140cm high. Pack size is 67cm x 46cm x 44cm and it weighs 5.6kg.
Key features 600D Oxford polyester fabric, reflective guylines, carrybag.
Expect to pay £289/£109 (extra section)
Star Player #3
Quest Windshield Pro
As Quest stresses, this is no ordinary windbreak…
For starters, it's modular, i.e. it can be extended to pretty much any size you want (without spilling over onto your neighbours' pitches, of course) – by adding extra panels or even whole units; or even a canopy.
There's more. For 2021, a dog panel has been introduced – a solid bar that prevents pets from scrambling under the windbreak and also adds to overall stability.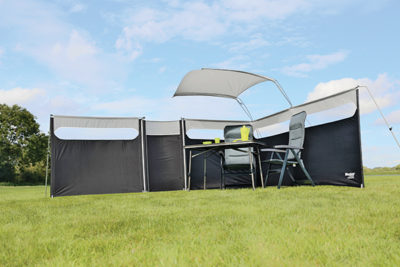 It all starts with the main unit, measuring 480cm x 140cm and weighs 6kg, which Quest says can be pitched by one person in 15 minutes. It can be freestanding or slipped onto an awning channel.
Key features 150D polyester fabric with 50+ UV treatment, patented frame system, guyrope-free design, small pack size (110cm x 25cm x 15cm), zipped carrybag.
Expect to pay £172 (main three-panel unit)/£67 (additional panel)/£59 (door panel)/£79 (canopy)
Star Player #4
Isabella Mega Granite Windscreen
A premium windbreak that's designed to complement any unit that's pitched for the whole season. Choose between four- and six- sides models here (the latter is typically around £100 more).
Isabella's Stabilo system ensures full stability. It's a "double base" system comprising plates that fit flush to the ground.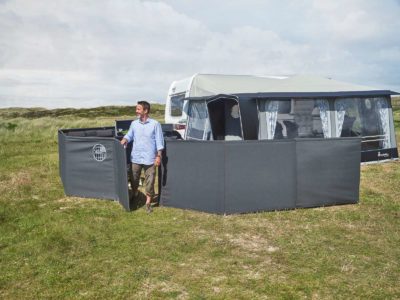 Zinox is the term for the aluminium/zinc/steel pole construction and such is the overall stability there's not always a need to use the guylines (even though they are supplied).
Height is 120cm. Weight is 9.5kg (or 13.6kg if you go for the larger version). An interesting option for this year is a gate (as shown here), for access, which also allows you to connect two Windscreens for a complete wrap-around effect and still have easy access.
Key features Acrylic fabric, steel/aluminium poles (including rafters),
Expect to pay £290
Star Player #5
Vango AirBeam Modular Windbreak
From a considerable portfolio of windbreaks, Vango itself suggests this is the best model for creating your own private area. It lives up to its Modular name because you can alter the shape as well as add extra panels. A new option for 2021 is a gate.
In standard format, it has three panels, each with windows, giving a total length of 490cm and a height of 125cm.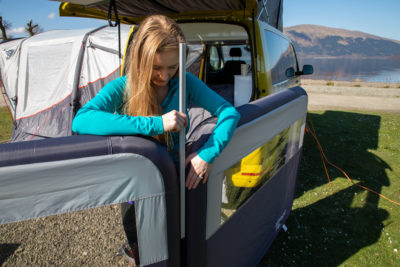 An inflatable unit, its starting weight is 5.9kg and it packs down to 82cm x 24cm x 24cm.
Key features Sentinel fabric, AirSpeed valve system (supplied with adaptor for use with any pump), steel pegs, carrybag.
Expect to pay £225/£96 (additional panel)/£84 (gate)
Star Player #6
Easy Camp Windscreen
A straightforward windbreak that could be all you need – especially as it only weighs 2kg. Its 60cm x 11cm diameter pack size is all very neat, too.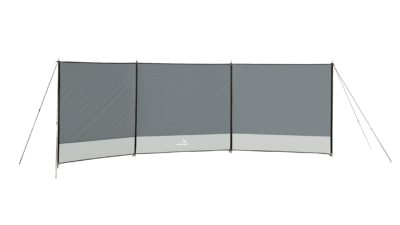 In three connected, hinged panels, it's some 500cm long and 140cm high.
Key features Polyester fabric, steel poles, guyropes.
Expect to pay £46.99
Star Player #7
OlPro Beach 4 Pole Compact Windbreak
A traditional windbreak design with a very modern look. Each pole is in three sections, helping it pack down to 66cm x 12cm x 12cm and a very lightweight 3.4kg. When up, total length is 480cm, and height to the top of the fabric is 125cm.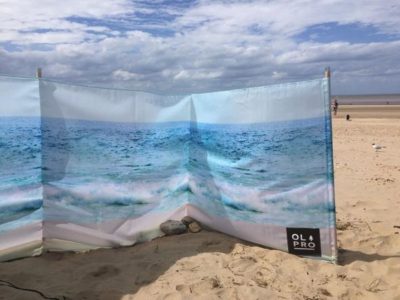 Key features Polyester fabric, collapsible steel poles, guyropes and pegs
Expect to pay £35
Star Player #8
Quechua Fresh
A bargain basement tarp that's ideal for a bit of extra pitch protection. Anything up to some eight square metres of it, in fact. It's a simple design
Protective fabric means you won't be harmed by the sun's rays, including reducing any heat, whilst also offering extra shelter from rain.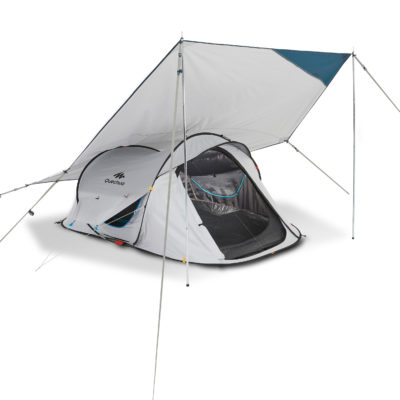 It's easy to set up – just peg it to the ground, or any nearby trees (in which case you can also alter the shape), even. It offers a canopy of some 285cm x 285cm, with pole height of 180cm.  Packed dimensions are 54cm x 20cm x 10cm.
Key features PU-coated polyester flysheet with 50+ SPF protection, taped seams, total weight 2.3kg, steel poles, supplied with ground pegs and strap guylines, carrybag.
Expect to pay £29.99
Star Player #9
Robens Trail Wing Tarp
A wing tarp like this offers different pitching options to a straight forward tarp…
New for the 2021 season, noteworthy here is Robens supplies just the tarp itself – order poles as an option. The thinking is, you can use this tarp in conjunction with walking poles and/or any nearby structure like a tree. Or just throw it on yourselves for instant protection from any inclement weather.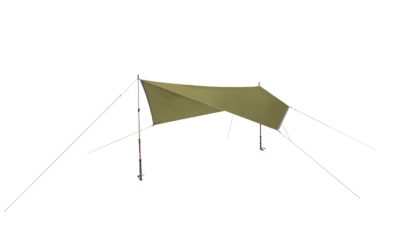 All that explains the sub-1kg weight. It also has a unique pentagonal shape, measuring 280cm at its wides points, tapering to 150cm, with a maximum depth of 300cm.
Key features 75D ripstop polyester, taped seams, 0.7kg total weight
Expect to pay £55/from £28 (pole options)
Over to you…
Got any advice on making your motorhome or caravan pitch private, or using a windbreak, that you'd like to pass on to fellow Caravan Guard blog readers? We'd love to hear your thoughts. Simply add a comment below.
Cost to insure: *
---
factfile
| | |
| --- | --- |
| Model | |
| Base vehicle | |
| Axle type | |
| Dimensions | |
| Shipping length | |
| RRP | |
---
Search our blog
---