Some caravan and motorhome campsites are in remote locations, often with narrow lanes to negotiate or one wrong turn and it's a major detour!
Luckily, when making your booking many site owners will give you detailed instructions so reaching your holiday destination is as stress-free as possible.
In our recent poll we asked caravan and motorhome owners to vote for their top wayfinding accessory to get to their chosen campsite.
With four main options to choose from there was one stand-out winner in what one of our most popular polls this season.
The results…
After totting up almost 600 votes, topping the polls in first place was a portable sat nav with 43 per cent of the votes – some even commented that a sat nav had saved their marriage! There were also lots of readers who used a sat nav in conjunction with a map to double check they're on the right track.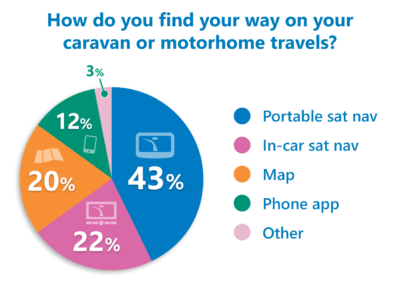 In second place was an in-car sat nav with 22 per cent of the votes. But it was followed closely by a good old fashioned map with a fifth of the votes (20 per cent) – again some using Google Earth street view too to check the road accessibility before they set off.
Just 12 per cent of voters said they used a phone App, with a variety of different Apps mentioned.
Due to the popularity of sat navs we take a look at three star players in recent gear guide on caravan and motorhome journey planning tools.
Your comments…
Many readers rely on a multitude of tech and paper to plan their caravan and motorhome travels.
George Wade said he uses a good, old fashioned, map plus Google Earth street view to have a look at the type of roads. "That way I know what's coming and can change route if necessary," he said "Never had a problem."
Clare also uses a road map, Google maps and directions from the campsite with her pre-journey planning and Rob was similar: "I use a map initially, plus maybe Google street view if unsure of access, then Tom Tom sat nav on route," he said. "Works for me."
Stephen Wills said: "I ultimately use a sat nav. The route always has influence from the site directory and checked on Google maps before pinpointing the approach to the campsite with via points on the sat nav."
Caravanner Walkingbry uses a Garmin sat nav with a caravan setting and sites already installed: "Works so well – we often leave it in caravan mode to avoid narrow lanes with no turning points and damaging brambles," he added.
Motorhomer Joh Baughan said his motorhome has an in-built satnav which uses "lorry" settings and knows the size of the vehicle to make sure they don't end up stuck in narrow lanes. "We always have a map book and the site instruction as well, because most site instruction tell you which routes to avoid."
But John Burrell likes to use a map, his memory and the campsite's instructions to get to the last couple of miles of his destination.
Mike Pearn uses a phone app called Navigator and states he's driving a truck. "Works brilliantly," he commented.
Over to you…
What do you make of the results? Feel free to add you comments below.
Cost to insure: *
---
factfile
| | |
| --- | --- |
| Model | |
| Base vehicle | |
| Axle type | |
| Dimensions | |
| Shipping length | |
| RRP | |
---
Search our blog
---