Making your caravanning a bit posher doesn't necessarily mean shelling out thousands of pounds. Here are some ideas on taking things to the next level…
We've already got the whole of the great outdoors, but guess what? There are plenty of things you can do to make your caravan holidays an even posher experience.
Posh caravanning gear
You might not be able to install an Alde central heating system, but there are plenty of things you can do to make your caravan just a little bit grander. And it doesn't have to cost the earth. Even upgrading to softer, "hotel-grade" towels, for instance.
In fact, we've taken a calculated look at the following 10 top products to work out how you can get the best possible bargains for your money for some posh caravanning.
Just watch your payload allowance. All those extra goodies mean weight gains as well as pound sterling losses!
Just chill
Truma's Aventa Compact roof-mounted air conditioners could be just the thing to take the edge off the heat when caravanning this summer (and beyond). Two versions are available, with the more powerful Plus variant pushing out some 2,200Watts of pure chill.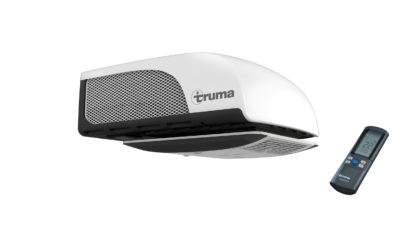 Don't forget, also, if you have Truma's iNet option (or can upgrade to it), you can use your Truma or Alde heating system in conjunction with an Aventa air conditioner, for a truly warming or cooling experience, including operating it all remotely.
Ask your local dealer for availability and fitting, but expect prices to be in the region of £1,800-£2,000 for an Aventa. Not cheap, admittedly, although if you do want a lower priced, portable alternative, run a check over the £110 Caleta from Outwell.
Find out more at www.truma.com and www.outwell.com
Light up your life
Switching any 12V light bulbs in your caravan over to LEDs will see you go instantly upmarket (and for minimal investment). But, how about a little something extra for your awning?
The Luci String Solar String here has 20 LEDs in 10 nodes in some 5.5m (18ft) of kink-resistant braided nylon cord, all with a dust/water resistant rating of IPx4. It's a warm white colour too, rather than the harsh hue you still sometimes get with LEDs.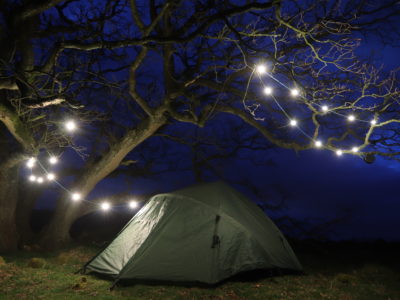 There are four lighting modes and it's all solar-powered – charging up in 12-14 hours via direct sunlight or six-eight via USB – with each LED lasting up to 20 hours on the lowest setting. Recommended selling price is £39.95.
LEDs use far less power than other types of lights, of course. They last longer, too, saving you money in the long term.
Just note, if you want to include a dimmer switch in your circuit – for even more luxury – you need to make sure you have dimmable LEDs.
Find out more at www.firstascent.co.uk
For an increased sound sensation
No doubt posh caravanning also includes extra TV and music systems, but surely you'll want to enhance your sound system, too? That's where this soundbar from Avtex comes in.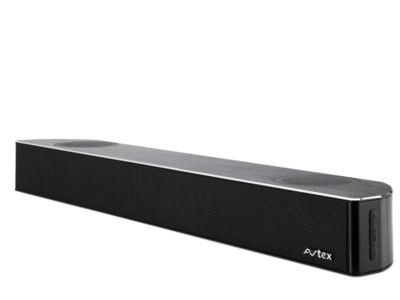 It's model SB195BY, a 12V/230V soundbar that also doubles as a Bluetooth speaker, so you can stream music from your phone or other device. It couples up to any TV via HDMI, coaxial or aux cables, all supplied. It also has a USB connection, for memory sticks or portable hard drives.
Power output is two x 10Watts and it comes with EQ settings and a remote control.
Expect to pay around £150. Add popcorn made in your microwave oven and surely you have enough to satisfy your cinema soul.
Find out more www.avtex.co.uk and  www.capitaloutdoors.co.uk
Get it all on your TV screen
Upgrade to a full satellite TV system in your caravan? Why not, if you never want to miss a programme, or prefer to stay within your own comforts rather than venture out to a busy bar etc?
The Remora Pro from Maxview is a kit for watching TV wherever your roam. It comprises a 40cm aluminium dish, suction mount, 5m of coaxial cable and can be set up manually (fully instructions are provided, along with a storage bag for when you take it all down).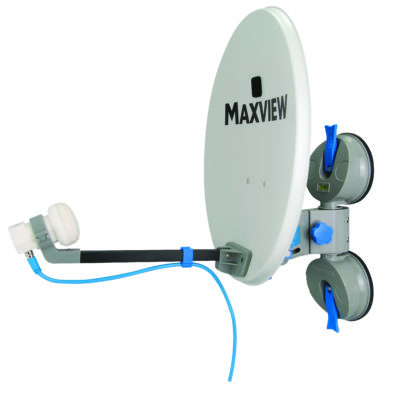 At less than 1.5kg, it's particularly light. It's keenly priced, too. There are two versions – single LMB is £114.98, twin LNB is £134.99.
Find out more at www.maxview.co.uk
A separate wine cooler?
In case you haven't enough room in your fridge… Dometic's DW6 Wine Cooler has space for up to six bottles of wine and has operating temperatures of 5-20degC – the perfect travelling mini bar for posh caravanning!
It's the lowest priced of a range of wine chillers from Dometic, selling for around £250, and comes with an interior light, panel to show temperatures, transparent door with magnetic lock, and three removable shelves, plus a drip tray.
It operates from 12V and 230V.
Find out more at www.dometic.com
Take it ever so easy
Could this be the ultimate in outdoor furniture? Definitely posh, ENO hammocks are perfect for pure relaxation.
The difference? ENO has been specialising in hammocks for over 20 years now, with a portfolio that also includes all kinds of related accessories – from mosquito nets to frames to shaped quilts.
The hammocks themselves are available in singles or doubles, in a variety of styles, typically for folk up to 6ft 2in tall. You can get retailer information via the website below.
Find out more: www.eaglesnestoutfittersinc.com.
Take a (better) shower
With many campsites now requesting campers use their own facilities, if possible, you might want to look at upgrades to your caravan's washroom. One simple enhancement is to switch your existing showerhead to one from Ecocamel.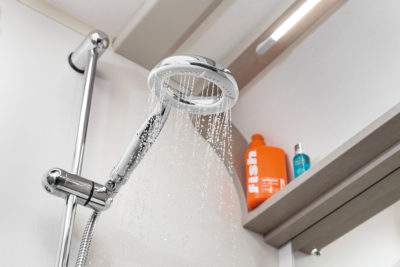 Its Jetstorm E replicates the feel of a domestic power shower whilst also saving water. It works by sucking air into the water supply, giving you a particularly pleasant (dare we say, posher?) shower experience, all for as little as £30.
Find out more at: www.ecocamel.com and www.primaleisure.com
Clean up in the toilet department
Whilst we're in the washroom, how about a posher, more environmentally-friendly loo? Again, it needn't cost that much because we're not looking at a whole replacement. Rather, the Ventilation Extractor Fan Kit from Thetford. It's suitable for its C250 and C260 cassette toilets and the initial outlay is around the £125 mark.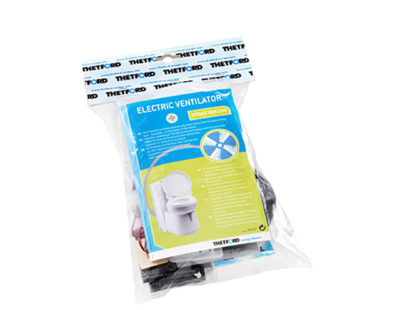 It uses charcoal filters (around £20 for a pack of eight) as part of the cassette tank ventilation and subsequent smell-free system, meaning no more unpleasant odours, including chemicals, permeating your 'van. And that's pretty posh!
Find out more: www.thetford.eu and www.primaleisure.com
How to power it all – go lithium?
Your caravanning poshness should know no limits – coffee maker, hair dryer, electric toothbrush, the list is endless…
Seriously, if you are thinking of upping your game with even more electrical gadgets, the next logical step – especially if you fancy going off-grid, away from mains hook-ups – is surely a lithium leisure battery.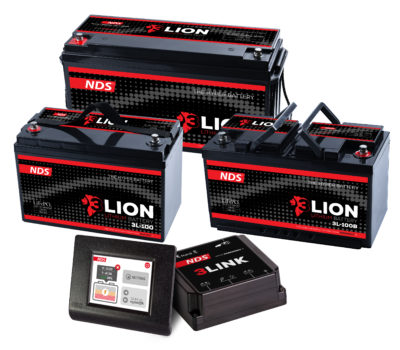 Specialist supplier RoadPro has also produced a guide to lithium battery power. It's free via the website below and it's packed with useful advice.
Find out more: www.roadpro.co.uk and www.dometic.com
Don't forget your pets need pampering, too…
How about extending the posh caravanning love with a new bed for your dog (or cat?). New from Pets Love Scruffs is the Velvet luxury dog bed range. They come in a choice of four suitably grand colours – silver, ice, berry and pewter. All machine washable at 30 degrees.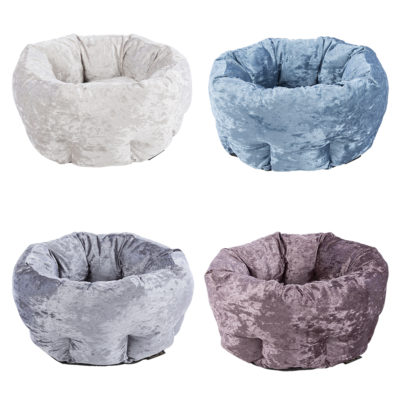 And they're only £39.99. Surely, a small price to pay for your posh pet…
Velvet beds are 45cm in diameter and are designed for small dogs only.
Check out the website below for an extensive portfolio of doggie beds, including orthopaedic models, and more.
Find out more: www.petslovescruffs.com
So there you have it, several items and gadgets to make your caravanning more comfortable. But don't forget if you do buy these items for your caravan to include their value in your caravan's insured values.
And finally…your posh caravanning tips
Feel like getting even posher in your caravan, whilst not spending overmuch? Tell us how by adding your comments below.
Cost to insure: *
---
factfile
| | |
| --- | --- |
| Model | |
| Base vehicle | |
| Axle type | |
| Dimensions | |
| Shipping length | |
| RRP | |
---
Search our blog
---