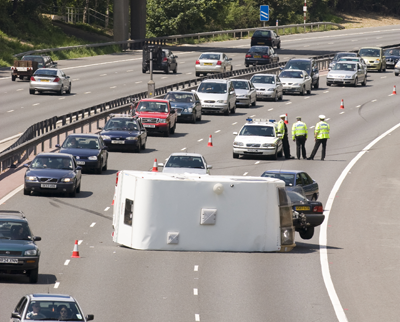 Caravan Guard are encouraging caravanners to fit safety devices which promise to reduce the risk of 'snaking' or tyre blowouts, after seeing a 30% increase in such caravan insurance claims since 2008.
Over the last few years, the cost of a caravan snaking claim has averaged over £6,000 – in many cases caravans have had to be written off having flipped over onto their sides whilst been towed. The average claims cost for blowouts in the same period was over £1,200 as there is often severe damage to the caravan wheel arch and floor if the tyre becomes detached from the hub.
Caravan Guard's Claims Liaison Team conducted the research, and explain how some safety devices can dramatically reduce the risk,
"Safety devices such as the Al-Ko ATC [Automatic Trailer Control] reduce the risk of a caravan becoming unstable and swerving independently to the car by applying brakes electronically to the caravan's wheels – this happens as soon as the device detects any 'snaking' beginning to occur."
Another device which tackles the separate, but serious problem of caravan blowouts are Tyron Bands. Our Claims Liaison Team explains,
"Tyron bands are safety devices which can be fitted inside a caravan's tyre directly over the wheel hub and prevent the tyre sliding off the hub in the event of a sudden flat tyre or blowout – this greatly increases stability and allows the driver time to pull over safely."
As part of a drive to encourage caravanners to fit these devices, we are offering a 5% caravan insurance discount for customers who fit 'Tyron bands' to their tourer's wheel hubs and a 5% discount for a recognised electronic anti-snaking device such as the Al-Ko ATC or BPW iDC. Of course many new caravans have the ATC fitted as standard, so if you're the lucky owner of such a caravan make sure you claim your discount. ATC can be also retro fitted to many older caravans.
"Tyron bands are an excellent safety device and as such Caravan Guard have taken the decision to offer customers a discount for having them fitted to their caravan. It's one of a wide range of security and safety discounts which we offer as a reward to careful caravanners."
We would also like to reiterate that fitting Tyron Bands or anti snaking devices is no substitute for good tyre maintenance especially in the prevention of blow outs.
"It's always important to check your tyre pressures and look for cracks in the tyre walls regularly and especially if your caravan has been stood still for long periods. Replacement of tyres over 5 years old is recommended regardless of tread wear." To read more about good tyre maintenance please view our article on caravan tyres.
See our caravan insurance page for a full list of discounts.
Cost to insure: *
---
factfile
| | |
| --- | --- |
| Model | |
| Base vehicle | |
| Axle type | |
| Dimensions | |
| Shipping length | |
| RRP | |
---
Search our blog
---