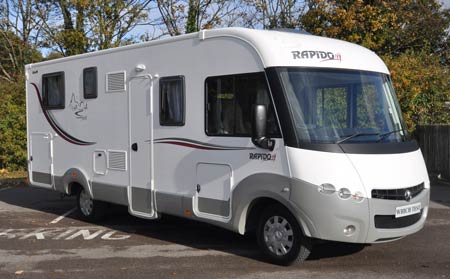 Who'd have thought it would be a French company that would give us here in the UK an A-class motorhome based on Germany's Mercedes Sprinter – with a starting price of less than £60,000?
To put that last figure into some perspective, that's something of a bargain if you're talking brand new A-class vehicles – the particular type of motorhome that's effectively a wheel caravan body added to a chassis cowl (rather than a chassis-cab).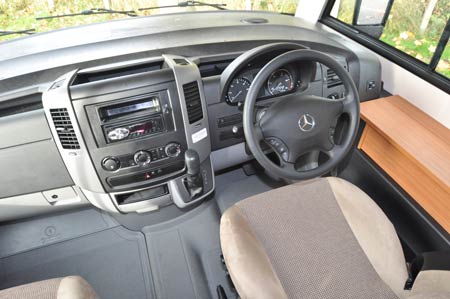 It's all a lot more complex than that, of course, but the gist is you really are getting a vehicle that lives up to the motorhome moniker.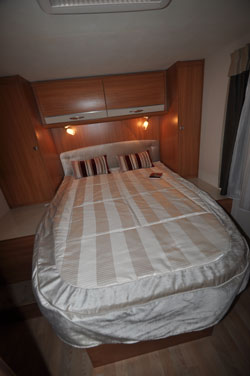 In particular it's in the cab zone that you'll see the major differences – great views out for those in the front seats, a certain king/queen-of-the-road feel as you travel, far more lounge space when you're parked up with those same seats swivelled, and a full double bed that simply drops down into position when you want it.
That's all here in this Rapido, of course. Plus it boasts another ready-to-go double at the back, where the rear area is home to an island (aka Queen) bed.
But, yes, first impressions are indeed immediately drawn to that familiar three-pointed star on the front grille. And then the price tag. It's all looking rather favourable.
In truth, despite improvements of late, the Mercedes Sprinter offers a softer ride to its most obvious rival, Fiat's Ducato. There's also a bit more "lean" when cornering. There's no complaints about performance, though, with some 163bhp on tap..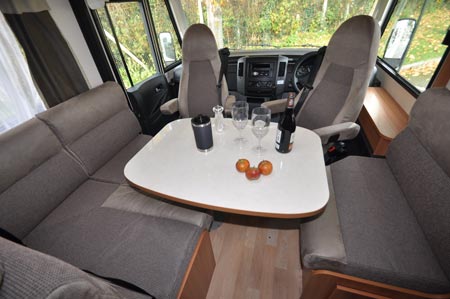 There's no holding back as far as build quality is concerned, either. The bodywork is GRP-clad, a material that's gradually finding favour over more traditional aluminium (which tends to dent so easily) whilst, inside, the cabinetwork is very impressive.
It's the £399 2013 Pack 8M that eases you over the £60,000 barrier. But frankly, it's worth it – giving you a passenger airbag, cruise control, electric mirrors, CD/radio with MP3 connection, kitchen extractor and the facility to use the main heating system whilst travelling (great for keeping the living quarters warm for your arrival on site) – not least because, individually, these items could have otherwise added well over £2,500.
As ever, there's a pretty extensive options list, including plenty of different upholsteries.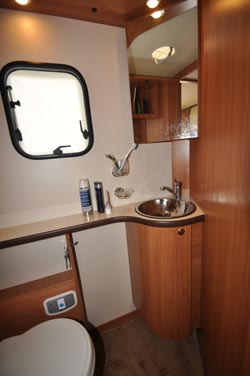 There is, as you may have guessed, some fairly obvious paring back as far as kit is concerned on the standard offering. The window blinds are low-rent sprung items, rather than superior concertina versions. The cab seat bases have trimwork that's simply held on by Velcro. The kitchen isn't the most extensive, despite being L-shaped. And the head restraint for rear-seat passengers doesn't seem the most robust.
There's plenty to like here, however. Washing facilities include a separate shower cubicle and a truly excellent toilet room that's also home to generous storage as well as the usual swivel-bowl toilet and (slightly more unusually) a circular sink in steel.
The beds are, of course, a might draw, with a choice of those two doubles meaning you could use this Rapido as a full four-berth or, more likely, for couples who'd happily have a large, comfy bed each.
There's plenty of other opportunities to pack everything away, too, including generous underbed storage in the GRP-lined area accessible from exterior hatches either side or by hinging up the bed itself.
Verdict
Very well-made model with the bonus of Mercedes underpinnings and a class-leading price
Plus: Keenly priced. Quality bodywork.
Minus: Short on standard specification.
In-a-nutshell: Value-able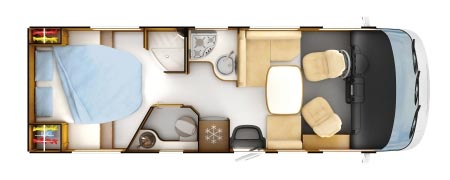 Price from: £59,700
Cost to insure: £337.50*
Fact file 
Rapido 891M, based on Mercedes Sprinter 316CDI, 2.2-litre, 163bhp, Euro V
Dimensions 7.52m L, 2.35m W, 2.82m H
Maximum weight 3880kg
Payload 750kg
Key options 2013 Pack 8M £399, corner steadies £90, automatic transmission £2330, heated waste water tank £210, box for third battery £120, flyscreen door £230
Security and safety Remote central locking to cab door, ABS, driver's airbag
Further reading Which Motorhome January 2013
MPG estimate 26-28
More info Rapido (www.rapido.fr)
*Insurance premium for this motorhome based on 2013 Rapido 891M, £59,700. Fitted with Manufacturer's Immobiliser and Caravan Guard approved tracking device. Kept on driveway at home at TD9 8ED. Insured & spouse, 50 years old, professionals, with no claims, convictions or health conditions in last 5 years. 5 years transferred NCD, 5 years motorhome driving experience. Members of motorhome club doing less than 5000 miles annually. European insurance cover for motorhome costs extra – please call for quote. European Breakdown is £43 extra. Premium includes Insurance Premium Tax (IPT) at 6% and is correct as of 15.12.12.
Cost to insure: *
---
factfile
| | |
| --- | --- |
| Model | |
| Base vehicle | |
| Axle type | |
| Dimensions | |
| Shipping length | |
| RRP | |
---
Search our blog
---