Caravan wheel clamps come in all different shapes and sizes, the smaller ones tend to clamp around the wheel in a single position and do not cover any of the wheel nuts, whilst the larger clamps attach to the wheel in more than one position and incorporate a disc that covers the wheel nuts, there are also axle wheel locks which lock through the wheel and attach to the caravans axle and chassis.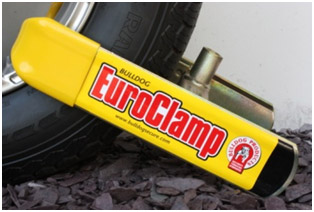 Insurance Approved caravan wheel clamps
Of course many caravan insurance companies' security requirements will vary but a common theme is that most will need a wheel clamp for theft cover to be in force. It's rare that an insurer will insist on the device you choose to have any type of security testing accreditation such as Sold Secure (see below) or Thatcham. And it's unlikely they will promote any particular brand or model of wheelclamp, however they will usually have some basic requirements. For one they will usually insist that the wheelclamp is of proprietary make (not home made), and they may insist that the wheelclamp covers at least one wheel nut so theives can't simply remove the caravan wheel to bypass the  wheel clamp.
The most common way to meet Caravan Guard's minimum security requirement is to fit a wheelclamp and hitchlock. The wheelclamp must be of a proprietary make and cover at least one wheel nut and part of the tyre – apart from the Bulldog Euroclamp which is acceptable providing there is a locking wheel nut.
Ease of fitting the wheel clamp to your caravan

An important factor to consider when choosing a wheelclamp is just how easy it is to fit, if it is difficult then the chances are it will end up in the corner of the garage in a heap.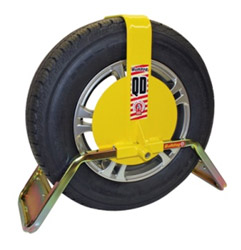 Some clamps require the use of tools to tighten them against the wheel whilst others that are manufactured to suit specific sized wheels can be simply positioned on the wheel and locked in place.
It is always a good idea to ask the caravan dealer for a demonstration of the clamp prior to making a purchase, this way you will be able to familiarise yourself with what is entailed in fitting the clamp, rather than having a nasty shock trying to fit it when its pouring down with rain.
Caravan wheel clamp Specification
Some of the basic wheelclamps use padlocks to secure them in place, whilst others have integral locks. Should you choose to buy one that requires a padlock it should ideally be of good quality, hardened, and have a closed shackle to reduce the chance of it being bolt cropped.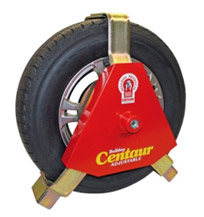 If the wheelclamp has an integral lock then it should have a minimum of 10 pins and feature a central hardened pin to deter attempts to drill the centre of the lock. If the lock itself is not hardened then it should be installed in a hardened housing or shielded by other metal components so it cannot be easily sawn or broken off.
Attention should also be given to the arms that secure the clamp to the wheel. The material should be substantial in order to resist any attempts to lever the clamp from the wheel. Lighter gauge materials should also be case hardened to ensure they are capable of resisting attacks made with a hacksaw.
Once in place the clamp should fit closely to the wheel, both at the front and around the back, as the closer the fit the more difficult it is to remove.
Appearance
The appearance of a good quality wheelclamp should be enough to put off the most determined thief, make sure it is highly visible and always ensure you follow the manufacturer's fitting instructions, a poorly fitted wheelclamp is an open invitation to a thief to steal your caravan.
Sold Secure approval of wheel clamps

When purchasing a wheelclamp or hitchlock, we do recommend you look for the Sold Secure logo. Products that bear the Sold Secure logo have been attack tested by a Sold Secure technician. The technician will have imitated criminals by trying as hard as they can to break, hacksaw, lever, pick or using brute force wreck the security product being tested.
Sold Secure have close ties with a number of constabularies and insurers who provide regular information regarding the methods of theft and the tools utilised by criminals in their areas. This helps to maintain up to date specifications and means security products can be assessed in the light of the risk they are likely to encounter when in use. Each product that carries the Sold Secure logo has to be audited annually to ensure they are capable of withstanding the lastest attack methods. For an up to date list of Sold Secure approved products visit www.soldsecure.com
The above article was written by Bulldog Security Products Ltd, one of the UK's leading manufacturers of caravan security devices and locks. For more information visit www.bulldogsecure.com.
Cost to insure: *
---
factfile
| | |
| --- | --- |
| Model | |
| Base vehicle | |
| Axle type | |
| Dimensions | |
| Shipping length | |
| RRP | |
---
Search our blog
---