Nick Harding is a professional caravan journalist who regularly writes for leading UK caravan publications such as Practical Caravan and Caravan magazine.
Here Nick gives his roundup of the three touring caravans he thinks are going to prove most popular in 2013.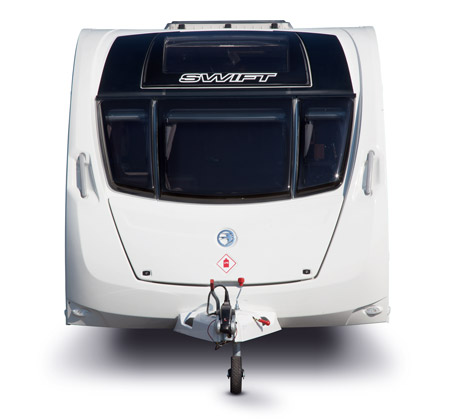 2013 Swift Challenger SE 580
Meet the first of three tourers that are already defining the season ahead. Our passion for fixed beds unabated, it seems caravanners are now looking at full-size end washrooms to complement the comfort. Plus, if you want walk-around access to all three sides of the bed, you need to look at an arrangement like this.
Swift is pumping up the Challenger SE range to ten models for 2013, but few would bet against the 580 retaining top spot as the best seller of the lot.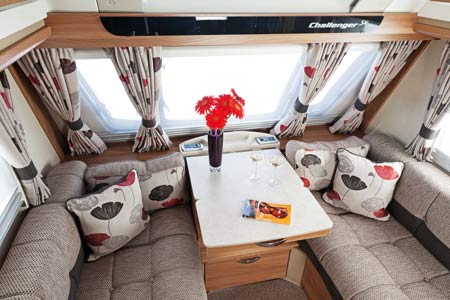 The company has performed minor miracles of late, enhancing a sector-leading specification yet cutting overall weights.
Some of the items to look out for in the very latest offerings are solar panels, fridge with removable freezer compartment, lift-up sink extension, improved underbed access, standard fit tracking device (which means big insurance discounts) and plenty more.
If this is all too much, literally, don't forget there's a lower-specification alternative in the Challenger Sport range, as well as sister label Sterling's Eccles SE Quartz and Sport 584.
Cost to insure: £375* (would be £267 with the optional AL-KO Secure axle wheel lock – which the caravan has a receiver for).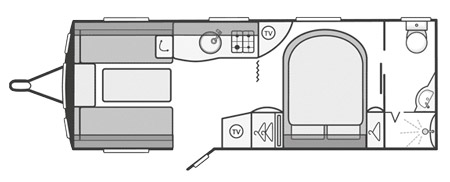 Fact file
Prices from £20,765
MTPLM 1566kg
Dimensions 7.48m L, 2.25m W, 2.65m H
Safety and security: Al-Ko ATC system, Tracker Retrieve (Battery Powered), shock absorbers, Receiver for Al-Ko Secure wheel lock, Thatcham-approved tracker
More info www.swiftgroup.co.uk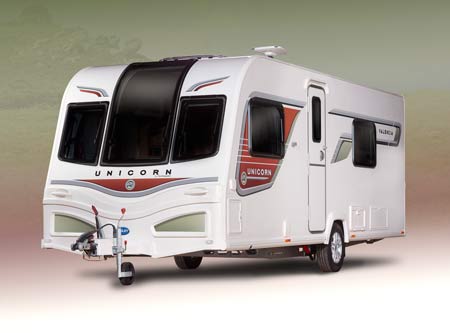 2013 Bailey Unicorn Valencia
From Bailey's flagship Unicorn range, the Valencia is the chart-topper in terms of popularity, and looks set the stay that way for a long while yet.
Middle model in the five-strong line-up, even if that on-the-road price crosses the £20,000 border, you'll find it's worth it.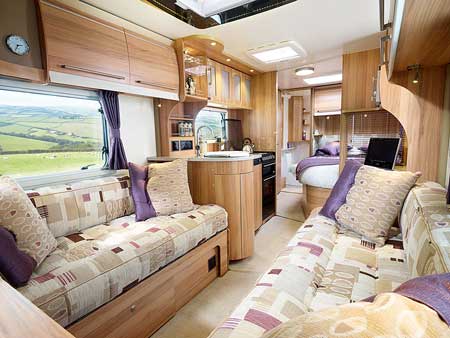 Unicorns were sharpened up last September, adding significant detail changes and further specification to the sector-leading Alu-Tech bodywork. The list of updates is extensive, ranging from a new, central location for the gas locker to opening front sunroof/skylight to tweaks to the interior lighting, and much, much more. A tracking device remains a standard fit so owners can expect insurance premium savings!
The floorplan hasn't changed, of course, with a permanent double bed and full-width washroom beyond, but with all kinds of angles and shapings designed to really optimise not just the space, but the whole ambience.
Alde heating is but one of a number of high points here, along with the usual "home entertainment" trappings we've come to expect from a luxury tourer.
Cost to insure: £264*

Fact file
Prices from £20,560
MTPLM 1497kg
Dimensions 7.34m L, 2.28m W, 2.61m H
Safety and security: Al-Ko ATC system, Tracker Monitor, shock absorbers, Al-Ko Secure axle wheel lock, high-security door lock
More info www.bailey-caravans.co.uk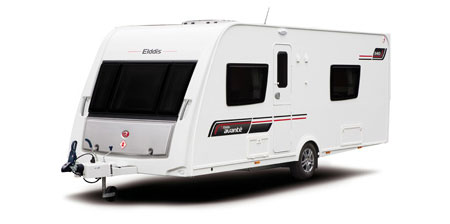 2013 Elddis Avanté 540
From an eight-strong Avanté line-up for this season, the 540 is one of a quartet of four-berths. The floorplan is very much what is already being hailed as the "layout of 2013" – with a full-width end washroom beyond a nearside fixed double bed.
Key stand-out build features are the SoLiD bodywork construction that's being used on all Elddis tourers now and is backed by a ten-year water ingress warranty. That's allied to a BPW Swing Vtec chassis.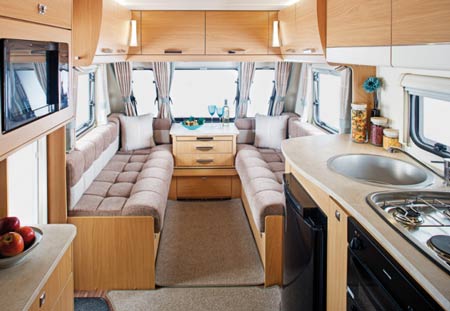 The interior is packed with goodies as standard, too. There's all manner of entertainment, such as 16in TV with Freeview, DVD facility, CD player, USB port and more. Plus a stereo CD/radio.
The chef certainly doesn't go short, either, thanks to fittings like the microwave oven and full cooker (hob with three gas rings and electric hotplate, separate oven and grill).
When it comes to bed time, that fixed double is some 6ft 4in in length (1.93m x 1.31m maximum width), with the lounge making a second double, 2.07m x 1.60m. Full comfort? Take it as read.
Cost to insure: £349* (would be £278 with the optional BPW Diamond axle wheel lock – which the caravan has a receiver for).
Fact file
Prices from £16,994
MTPLM 1473kg
Dimensions 7.30m L, 2.24m W, 2.72m H
Safety and security: Winterhoff stabiliser
More info www.elddis.co.uk
*Caravan insurance cost based on listed prices. Fitted with as standard security plus hitchlock, and wheelclamp or axle wheel lock where stated. Kept on drive at HX4 0BE. Caravanners over 30 years old, claim free for 3 years and a member of a caravanning club. Quote includes 10% online discount and 6% Insurance Premium Tax and is correct as of 15.12.12.
Cost to insure: *
---
factfile
| | |
| --- | --- |
| Model | |
| Base vehicle | |
| Axle type | |
| Dimensions | |
| Shipping length | |
| RRP | |
---
Search our blog
---