Last month we asked for your thoughts on whether motorhomes should have the same number of seats as berths. Motorhome seatbelt regulation is a hotly disputed topic so it came as no surprise to see that many of you had something to say on this.
It's not entirely clear why the ratio of berths to belts isn't always matched across all new models, but with leading manufacturer Elddis making its "belts = berths" pledge we think more manufacturers could follow suit.
It's now time to reveal the result of your votes!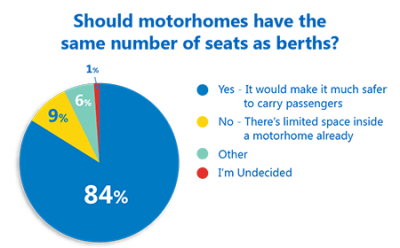 With a huge 84% majority verdict, you told us that yes, having the same number of seatbelts as berths would make it much safer to carry passengers.
Only 9% of you voted against an equal berth to belt ratio citing limited space inside the motorhome as your reason.
Just 1% of voters were undecided which to us suggests that this is a topic that you all feel very strongly about
Let's take a look at  your comments…
Geoff got in touch to say, "I can't see the logic of not having enough seatbelts to match berths. People will be breaking the law without realising it, and putting lives at risk."
Alan agrees telling us, "Yes! The number of berths in a motorhome should equal the number of seats with belts. My van is a four berth van but only has two designated travel seats. I risk breaking the law if I take more than one passenger with me. Manufacturers should be made to supply enough travel seats to allow owners to comply with the law."
EJB says, "Rearward facing seats should not require belts and this is usual nanny state laws out of step with reality. Statistically, fewer people are injured or killed in motorhome accidents each year than on trains or buses. Does every passenger on a bus or train have to wear seat belts…"
John, however disagrees, telling us, "We have a Bailey 740 which can sleep 4 with its fixed double and convertable lounge. It has just 2 belted seats. We have what is technically a four berth but intended really for couples, and we like it that way. If we were forced to have 2 extra belted seats in order to get this layout we'd be less satisfied. I am not in favour of this legislation because it takes away choice."
Like the majority of you though, Mike supports the idea of having an equal number of berths to belts, "Yes the number of berths and seatbelts must be equal. Manufacturers must accept a duty of care to their customers, there will always be some owners who think that the number of berths signifies that the Motorhome is designed to carry people safely without the use of seatbelts. Similar to a bus, where even standing is allowed.
What do you make of the results?
Scroll down to leave a comment  or to read more of your comments on the belt to berth debate, see the poll article in full here.
Cost to insure: *
---
factfile
| | |
| --- | --- |
| Model | |
| Base vehicle | |
| Axle type | |
| Dimensions | |
| Shipping length | |
| RRP | |
---
Search our blog
---