If even the mere thought of putting up an awning elicits frowns and groans, then Caravan Guard's correspondent at large, Dave King, has some suggestions for you.
This report covers a couple of roll-out awnings suitable for touring caravans and a wild card! The models tested were manual roll-outs not wind-out versions using a telescopic handle. They are fitted by unrolling the awning and sliding luff into the caravan's awning channel and then secured in the channel with end plugs to ensure that they don't move in the rail. One of the objectives of the test was to demonstrate the flexibility of a rollout awning; it can be used just as a canopy or using various accessory panels you can have a multipurpose awning, thus negating the need for the porch awning, the sun canopy and the full awning that take up space in my garage and in yours too, perhaps?
Roll-out awnings have been popular on motorhomes for years, and envied by some caravanners for their ease of use, as there is neither a heavy bag of poles of assorted dimensions, nor a big bag of canvas to lift. In simple terms, you roll out the fabric, extend the built-in legs, pour a G&T and enjoy the view.
They alleviate that mental and physical struggle to remember which pole goes where and in what order. Experienced caravanners I know went away for a weekend and forgot the bag of poles; we arrived to join them and were greeted with the words "don't mention the awning." They are still married.
Fiamma Caravanstor ZIP
The first roll-out we tried was the Fiamma Caravanstor ZIP.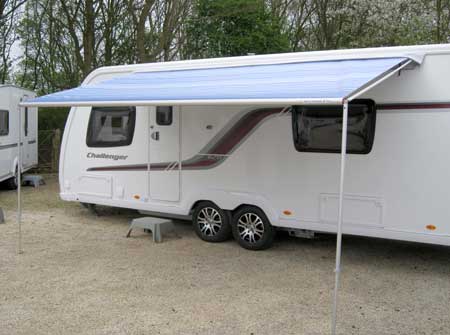 It's available in five sizes from 2.80m to 4.40m, with prices from around £635 to £785 including VAT and is sold complete with all the panels you need to convert the roll-out into what the company call a privacy room. The fabric is heavy duty PVC and not very flexible; using strong zips the side panels zip onto the roll-out roof and the front panel slides into the lead rail of the awning. Please note however that the Caravanstor awning obscured the awning light on the Swift Challenger and came below the awning light on the Bailey Unicorn Valencia so may not be the best choice of awnings for these two caravan models.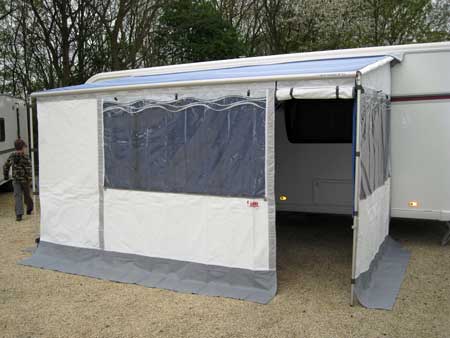 There are windows in each of the panels and the side panel windows can be rolled up leaving an insect net in place, which we thought was useful and gave good ventilation. It was a good watertight enclosure with exterior mud flaps but we felt a little claustrophobic and discovered that location of roll-up door can't be changed. The side panels can be used independently, but you can buy easy and quick to use rainblocker sides.
Thule Omnistor Caravan Style
Next to test was the Thule Omnistor Caravan Style awning.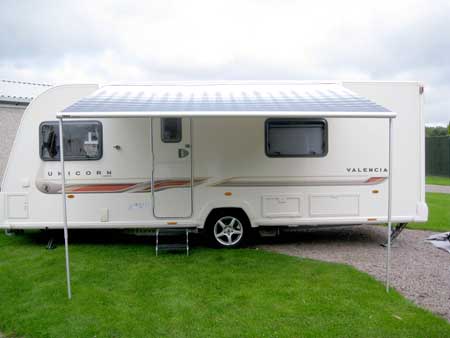 The awning is available in six sizes from 2.3m to 4.5m in length and is priced from around £257.00 to £528.00 including VAT. The Safari Style room that is also purchased separately and suitable for awnings from 3.5mtrs is priced around £506.00 to £528.00. The front and side panels are made from a breathable fabric that is lightweight but very durable and easy to handle and prevents condensation. They can be used separately or combined to provide a fully weatherproofed enclosure.
Instead of zips a clip system is used to attach the roof to the sides and it proved to be very quick and easy to fit. There are large windows in the front and sides giving an open and airy feeling. Ventilation is provided by two high level vents and a vent in the front panel, plus the ability to roll up both front doors and the front panel if you wish.
Rain and wind blocker sides are available, however if you have the Style room the sides are so quick and easy to fit they may not be necessary.
Isabella Transit
The last awning is a wildcard, a new awning from Isabella called the Transit that meets the objectives although it is not a rollout.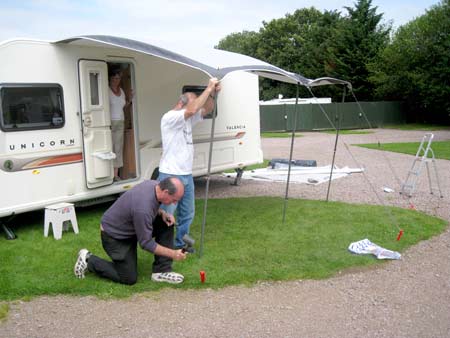 Made from high quality fabrics that we expect from this manufacturer and using lightweight carbon fibre poles. It consists of a roof section with poles, two side panels with their poles and front panel with its poles. In its basic form slide the roof section into the awning channel and using three poles and guy ropes you have an open canopy.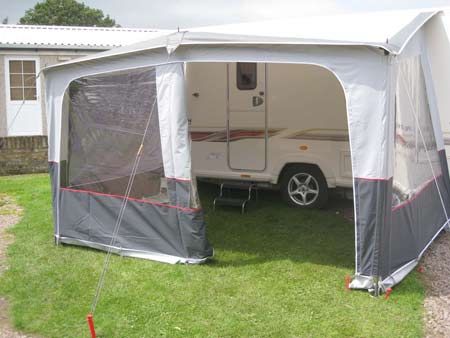 Add the sides and front using all the poles and you have a fully enclosed room. It is designed for reasonable weather but not really suitable for winter use, however it is the lightest of the three awnings. this is a product that may appeal to traditional users.
Product details for comparison for a 3.5mtr awning including sides and fronts. Prices are taken as an average from dealer web sites.
Fiamma ZIP 360: Price £735. Total weight 28.8kgs. Awning canopy weight 9.5kgs. Privacy room weight 19.3kgs.
Thule Omnistor Caravan Style: Price £754. Total weight 26.5kgs. Awning canopy weight 14.5kgs. Style room weight 13kgs
Isabella Transit: Price £809 Total weight 21kgs.
Verdict
All three awnings met the objectives however for quality, ease of use and value for money I would choose the Thule Omnistor Caravan Style awning and Safari Style room.
If you are considering purchasing one of these awnings please go to the manufacturers' websites for up to date information, as these products are constantly evolving.
Insurance tip: When buying a new awning make sure you adjust your insured sum on your caravan insurance policy to take into account the cost of the awning. If you are currently insured by Caravan Guard this can be done quickly and easily over the phone at any point during the year.
www.fiamma.com
www.thule.com
www.isabella.net/uk
Special thanks to Oxford Caravans and Highclere Farm Country Touring Park for their help in producing this article.
Cost to insure: *
---
factfile
| | |
| --- | --- |
| Model | |
| Base vehicle | |
| Axle type | |
| Dimensions | |
| Shipping length | |
| RRP | |
---
Search our blog
---