We all like a bit of luxury, especially in our caravans. Here are some ideas for your pure indulgence.
Luxury caravan touches
Want the very best? Then you're going to have to pay for it! We've picked seven super luxury caravans – plus the upmarket features that really make them stand out.
Here's our ABC to some of the very best luxury caravans on the market today and the single stand-out feature for each.
Star Player #1
Adria Alpina Mississippi – streaming success
With two models in its portfolio-topping Alpina line-up, the single axle, transverse island bed, end washroom Mississippi has more modern touches than many – not least its futuristic styling both outside and in.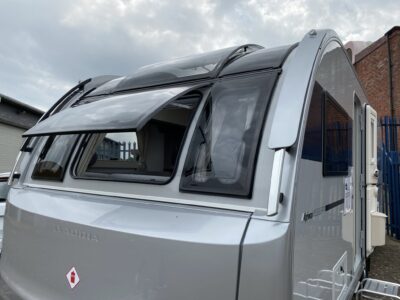 There's everything from the predominantly silver exterior and aerodynamically styled leading edges to a larger-than-average kitchen (with its space-efficient hob and sink combination, handy storage rails and more) to some really clever lighting – removable spot lights, stand-alone lamp etc.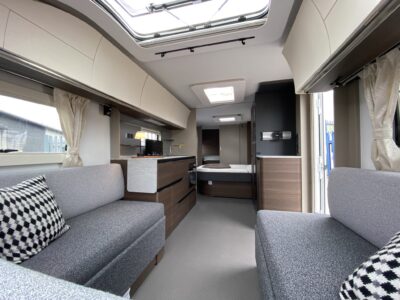 It's not for the faint-hearted!
Top luxury feature
There are loads of luxury touches here, but you might want to focus in on one little item fixed to the underside of one of the lounge lockers.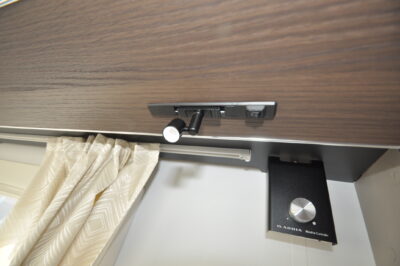 It's labelled the Adria Media Controller and as well as a control knob it has (on its underside) a USB and aux in ports plus an on/off switch. And that's all you need to relay your favourite music, news or more – connecting up directly to any device or, more likely, using Bluetooth. 
Berths Four
Width 2.46m
Expect to pay: From £37,510
Star Player #2
Airstream Missouri – made from riveting stuff
Three otherwise all-American models adapted specifically for use in the UK and Europe. The Missouri is the baby of the range as well as being the sole single axle model.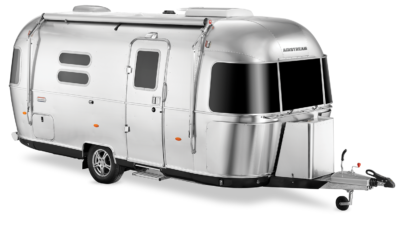 The Airstream style includes fittings like the aluminium window frames, black tinted windows, alloy wheels and ZipDee roll-out awning, while the almost as distinctive interiors come with Italian light ply furniture, Corian worktops and Duvalay mattresses. Absolute caravanning luxury, as it might say on the tin!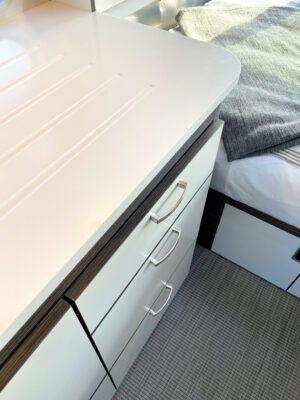 Top luxury feature
That iconic aluminium bodywork is the instant stand-out here. Double-skinned, it's riveted, by hand, as has been the way since the very first Airstreams of the 1930s, a huge proportion of which survive to this day.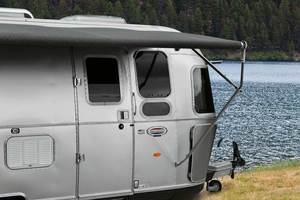 It also explains why no two Airstreams are exactly the same.
Berths Four
Width 2.29m
Expect to pay: From £81,000 (Tourer 534)
Star Player #3
Bailey Alicanto Grande Porto – it's a top cellar!
Take a look at its price list and it's easy to think Bailey doesn't do luxury caravans. But that's missing the point. Luxury doesn't necessarily mean a massive outlay. And competitive pricing has always been the Bailey way.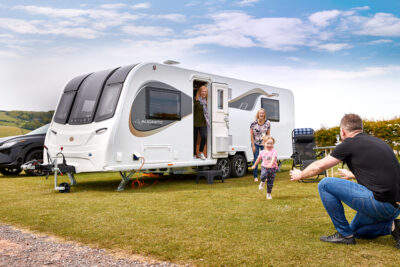 The Porto tops the Alicanto Grande range, the only one of four to have a twin axle chassis and accommodating a lengthways island bed in its extra-wide body.
Needless to say, it's not short on luxury caravanning kit. Alde heating, Truma 100Watt solar panel, Dometic 153-litre fridge/freezer with double-hinged door, USB sockets, DAB radio/CD/MP3 player, Russell Hobs microwave oven etc all come as standard
Top luxury feature
It isn't all about grandstanding when it comes to luxury caravans. But how many caravans do you know that can boast having a wine rack onboard? Bailey's Alicantos do… and the Porto's takes three bottles! Cheers!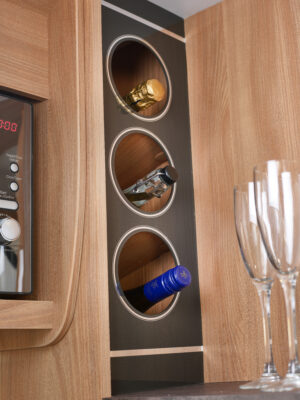 Berths Four
Width 2.45m
Expect to pay: From £35,644
Star Player #4
Buccaneer Commodore – on the level
A new bodyshell and interior walls aren't the only features to look out for on 2022 season Buccaneers, the upmarket brand from Elddis. Like its four sisters, the Commodore can point to absolute luxuries like underfloor heating from Alde.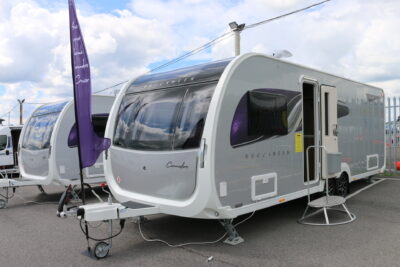 The Buccaneer Commodore is an extra-wide, twin axle, four-berth with a rear transverse island bed.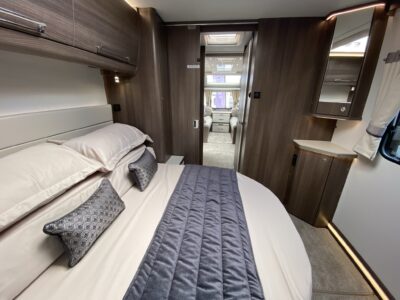 All the trimmings are certainly here – Thetford K1520 full cooker, Omnivent, Russell Hobbs microwave oven, soft-close drawers, deep-pile carpets, Dometic 155-litre fridge/freezer, 100Watt solar panel, Pioneer stereo system are just part of a long list of standard kit.
Top luxury feature
Buccaneers aren't the only luxury caravans to boast self-levelling, but they certainly make the most of the E&P system, now with latest Level C touchscreen to make operating it even easier.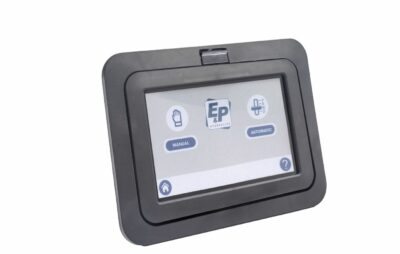 All corner steadies down and spirit-level straight in two minutes, is the proud claim.
Berths Four
Width 2.45m
Expect to pay: From £39,044
Star Player #5
Coachman Lusso I – a table-topping tourer
Expect something special when Coachman says it's going to launch a new model at the top of its already formidable range. The initial Lusso, a twin axle, certainly didn't disappoint – hot on its heels for 2022 came the single axle Lusso I.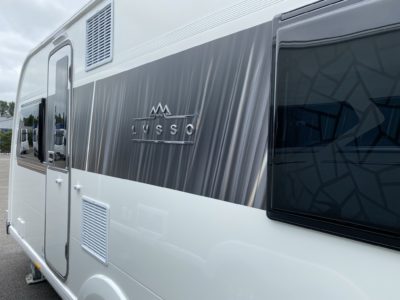 Lusso's standard kit extends to 10-spoke alloy wheels, remote control E&P self-levelling system, Alde central heating and hot water system, 100Watt solar panel, extensive LED lighting, Dometic safe, on-board wi-fi, mobile phone charging unit on the front bulkhead, Pioneer stereo system with speakers in the bedroom and lounge… all set in the ever-popular transverse island bed/full-width end washroom floorplan.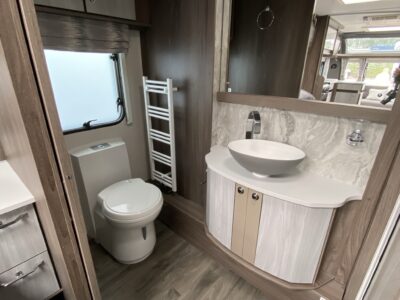 Top luxury feature
There's no doubting the extensive overall Lusso specification, but there's one smaller but highly significant feature to consider. When Coachman announced the Lusso I for the 2022 season, it addressed one major factor that apparently wasn't endearing itself to would-be buyers. What was originally a fixed, pedestal leg dining table is now a removable free-stander.
Luxury? It's what's in the eye of the beholder.
Berths Four
Width 2.44m
Expect to pay: From £41,255
Star Player #6
Knaus Südwind 580 QS – brilliant berths
It's certainly a different floorplan here. With its central, U-shaped seating and rear bunk beds, plus permanent double across the front – offering accommodation for up to seven.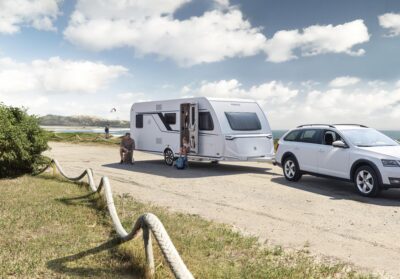 There's plenty of flexibility on how you'd like your Südwind specified, too – items like an upgrade to Alde heating, Knaus's own premium (wider) main door and the Cozy Home package are on the options list, but – if you'll excuse the phrase, it's in the bedroom that the 580 QS excels. Plus of course, coming from Germany overall build quality is excellent.
Top luxury feature
Normally, we'd be enthusing about the ServiceBox – an exterior access hatch behind which you get access to main electric and water points, as well as space for ancillaries like your mains lead.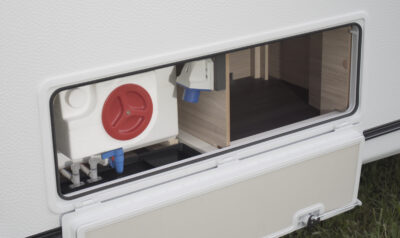 But here it's got to be those beds.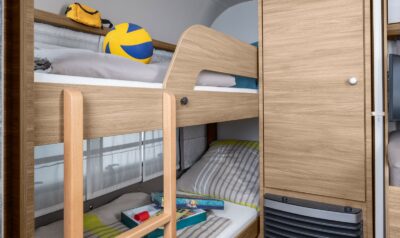 Kids just love bunks (all three of them) and that still leaves a permanent double for the parents and 24-hour seating mid-'van – unless you also want the option to turn this into another double!
Berths Six
Width 2.50m
Expect to pay: From £32,285
Star Player #7
Swift Elegance 845 – feel warm from the floor up
Sitting atop one of the most extensive portfolios, from the UK's largest manufacturer of touring caravans, a name like Elegance has plenty to live up to.
Luckily, it's something the three-model, twin axle, 8ft-wide range for 2022 does with ease. All are twin axle, wide-bodied models with island beds, with the 845 also boasting a full-width end washroom.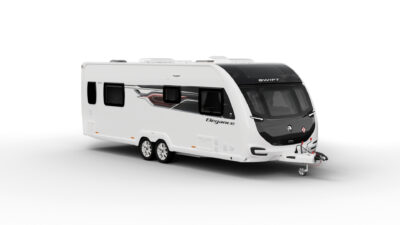 As for the stand-out caravanning luxury fitting, could it be the Brisa "ultraleather" upholstery? The Dometic "flat-bed" microwave oven? Flush-fitting windows? The Slate Weft worktops? The Duvalay Duvalite Apollo Luxe mattress with Freshtec airflow feature?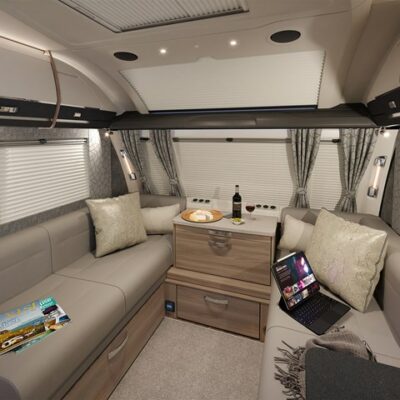 Top luxury feature
Just as Alde's "wet" central heating system has become the norm for any premium tourer, there's the next step up – underfloor heating. All 2022 season Elegances have it.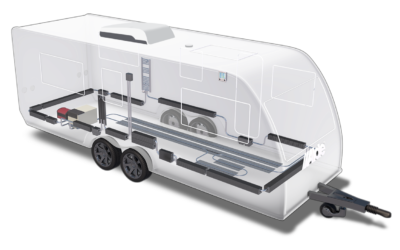 Berths Four
Width 2.45m
Expect to pay: From £38,390
Over to you…
Got any thoughts on luxuries you'd like to see in your tourer that you'd like to pass on to fellow caravanners? Or any other luxury caravans you've seen on your travels? Please feel free to add a comment below.
Cost to insure: *
---
factfile
| | |
| --- | --- |
| Model | |
| Base vehicle | |
| Axle type | |
| Dimensions | |
| Shipping length | |
| RRP | |
---
Search our blog
---