Many caravanners and motorhomers have no trouble sleeping when on their holidays. But who comes out on top of the bedding debate – duvets or sleeping bags?
We put it to the polls and after 1,300 votes, the battle of the caravan and motorhome bedding results are in!
Top of the motorhome and caravan bedding
Top of the snoozers was the duvet, with more than three quarters (76 percent) of leisure vehicle owners telling us they used one to snuggle down at night.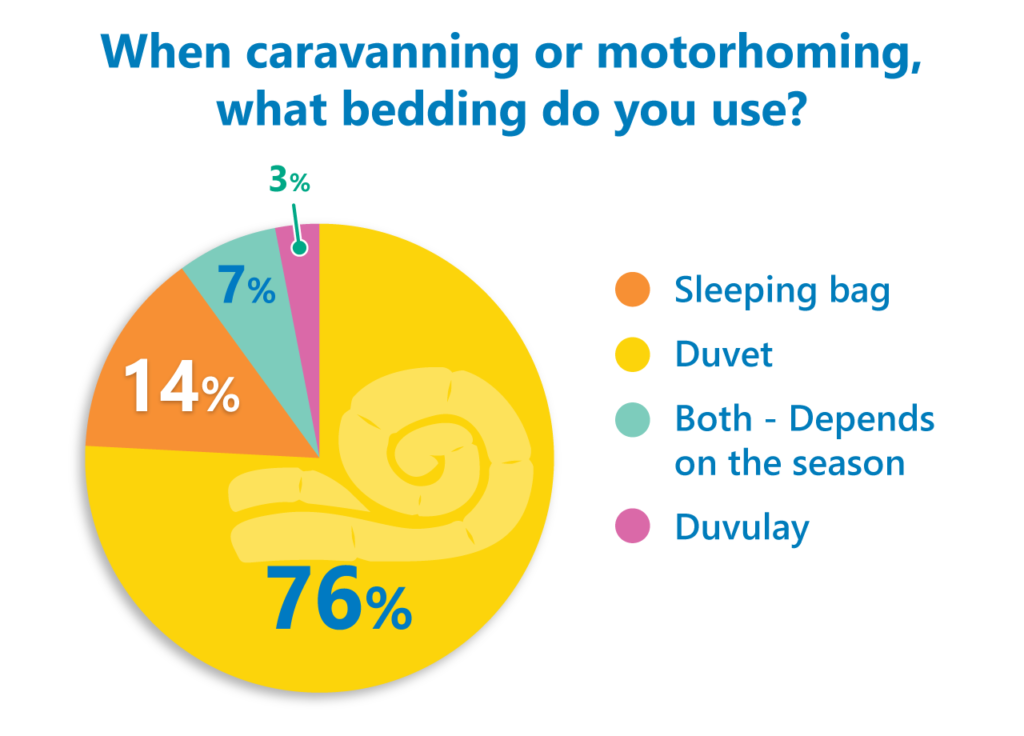 The humble sleeping bag was used by just 14 percent of the caravan and motorhome owners polled. Seven percent of pollsters used both, depending on the season and three percent used a Duvalay.
When it comes to snoozing in a leisure vehicle sleep specialists Duvalay know everything about the comforts of a caravan or motorhome bed.
Liz Colleran, of Duvalay said it was no surprise that duvets topped the leisure vehicle bedding poll.
"A caravan or motorhome is like a home from home so it's no surprise that many owners want to snuggle up in their leisure vehicle bed as they would at home, with a cosy duvet," said Liz. "Caravanners and motorhomers can have the comfort of home whilst away in their vehicles with bespoke shaped duvets and mattress toppers, or have the best of both worlds with our Duvalay, which combines a mattress topper with a duvet cover."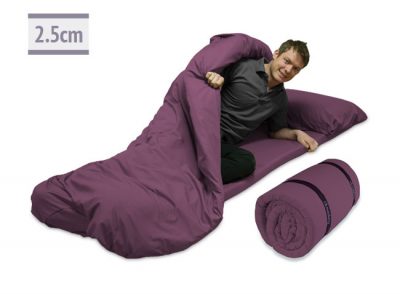 Your motorhome and caravan bedding comments…
It seems many leisure vehicle owners use a duvet for both on top of their motorhome or caravan bed and to sleep under.
Mike Dover said he used two duvets: "A light and a heavy one – the duvet on top depends on the season."
Trevor uses a Duvalay, and said he wouldn't use anything else: "Can open it up if warm, or add a blanket if cold," he commented. "Easy to get in and out; and very comfortable."
Auto-Trail motorhome owner, Barry Carter, has a rear U-shaped lounge/king size double bed.
"When cushions in place for sleeping it's topped with a 30mm memory foam topper and we use various tog rated duvets for summer and winter use," he said. "When not in use we store in over cab bed space as easy to get at. If long-distance touring between sites leave bed made up and use dinette area for day lounging."
Tony Harris and Greg Haigh have fixed beds in their leisure vehicles so the bed is made up all the time with a fitted sheet and duvet.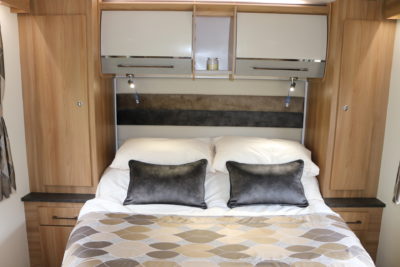 Steve and Josie Manson told us: "When sleeping separately for short breaks away, we use the Duvalays. Easy to roll up to then use the seating area as normal. When staying for longer and the awning is up to use as a sitting area, we make up the double bed and have a conventional set up of bottom sheet over a mattress topper and a duvet."
Richard Braithwaite said he uses a five tog duvet as it light enough for sleeping and easy to store in small space. Plus two flat sheets.
But Bob Britton uses sleeping bags as he said duvets tend to slip off the narrow bed. "Also we find sleeping bags are easier to roll up and store," he added.
Over to you…
What do you make of the motorhome and caravan bedding results? Let us know in the comments below.
And don't forget to check out our guide to motorhome and caravan bedding if you're looking for some snooze busting kit.
Cost to insure: *
---
factfile
| | |
| --- | --- |
| Model | |
| Base vehicle | |
| Axle type | |
| Dimensions | |
| Shipping length | |
| RRP | |
---
Search our blog
---