It's time to believe again with the arrival of the fifth-generation Bailey Unicorn caravan range this autumn.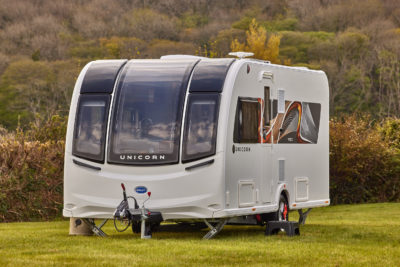 The Bailey Unicorn Series 5 line-up sees the return of two favourites to the seven model range and will be available from September 2021.
Bailey launched the new generation Unicorn caravans at an online live event, hosted by its brand ambassador Lee Davey and Marketing Director Simon Howard, which also featured interviews with their product designers.
The news
The Unicorn Merida and Valencia models have been discontinued for 2022 but two former end washroom favourites – the Unicorn Seville and Madrid – make a comeback.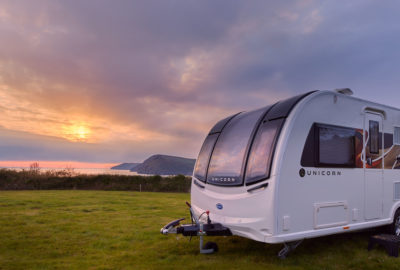 A new vertical front infinity window transforms the interior of the new Bailey Unicorn caravan and "provides a view like no other outdoors" – 50% bigger – and with an aerodynamic front profile.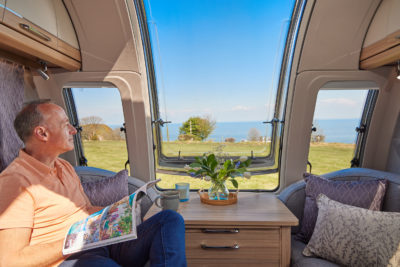 What's different?
The 230v hook-up point has moved to the offside with a high-level service light.
New Bailey "Light Oak" furniture with contrasting 'cashmere' finishes, plus "Nebula silver" laminate worktops, add a touch of style.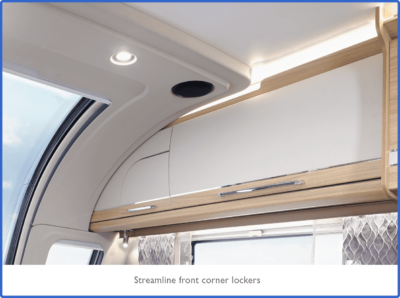 New streamlined overhead lockers have closed corner sections and backrests and seat bases are fully sprung.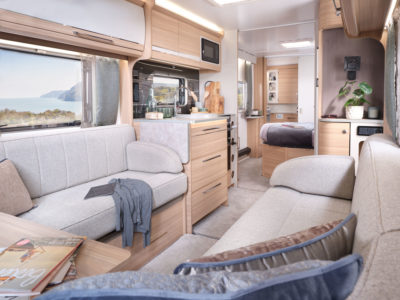 There are also new perspex kitchen and washroom splashbacks, plus a Dometic flush-fit 700 microwave oven and four-bottle wine rack.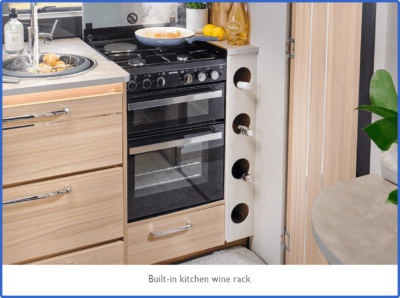 Bedrooms have full-width fabric headboards, twin USB charging points and 12v LED ambient, mood lighting. Bailey Unicorn caravan models with an island bed layout have new dual-shaped wardrobes to create wider fixed double island beds, plus practical cubby holes in wardrobe bases.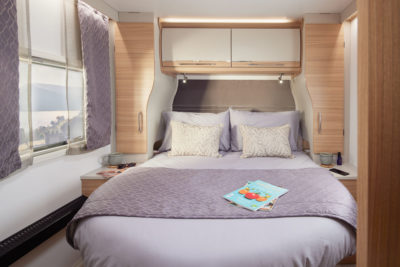 New Unicorn V caravans are now pre-wired for WiFi installation, with a roof-mounted Status 570 digital TV aerial, external satellite connection point and wall-mounted TV bracket to make sure "everything is set up for your evening entertainment".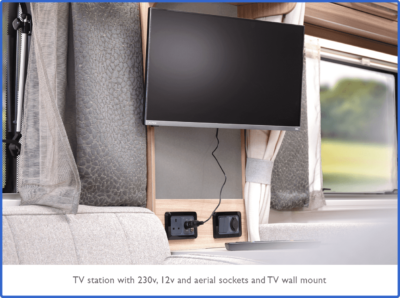 You'll find a Belfast-style hand basin in the bathroom of the new Unicorn caravan, as well as a backlit mirror on some models and "cashmere" finish worktop laminate.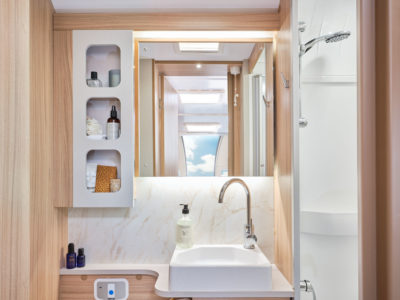 Externally there's a new, flush-fit single-piece rear impact resistant bumper with integral light cluster and new graphics scheme, plus 'silver' alloy wheels.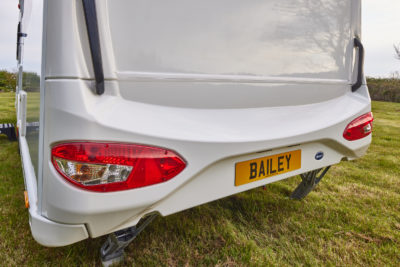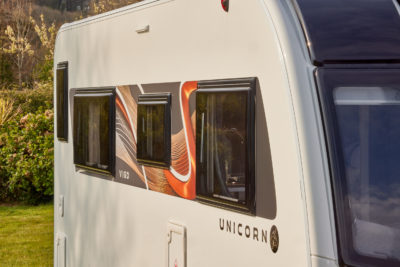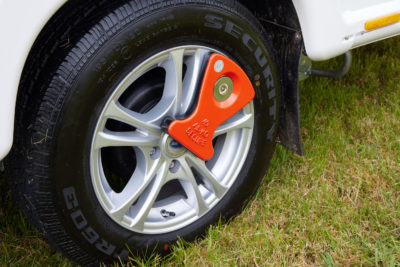 To boost caravan security there's a new high-security exterior door lock.
The Unicorn Cabrera and Pamplona have a rear through-boot exterior storage.
The Bailey Unicorn Series 5 caravan line-up
The line-up will be as follows:
Unicorn Seville: Single axle, 2-berth end-washroom. RRP Price £26,799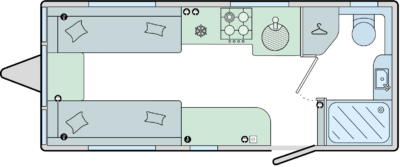 Unicorn Madrid: Single axle, 4-berth end-washroom. RRP Price £27,799

Unicorn Cadiz: Single axle, 4-berth twin single bed, end-washroom. RRP Price £27,799

Unicorn Vigo: Single axle, 4-berth transverse island double bed, end-washroom. RRP Price £27,799

Unicorn Cabrera: Single axle, 4-berth longitudinal double bed, centre-washroom. RRP Price £27,799

Unicorn Cartagena: Twin axle, 4-berth transverse island double bed, end-washroom. RRP Price £30,699
Unicorn Pamplona: Twin axle, 4-berth longitudinal island double bed, centre-washroom. RRP Price £30,699

What Bailey says
Commenting on the latest series of Bailey Unicorn caravan models, Managing Director Nick Howard said: "The introduction of the fifth series Unicorn heralds the arrival of the next-generation of Alu-Tech construction caravans. A striking new appearance both inside and out makes this the best-looking Unicorn yet and this combined with enhanced specifications, accessible unladen weights, plus a competitive retail price means there is every reason to believe in Unicorns again."
There's more information on the new Unicorn caravan range on the Bailey website.
As before, the new Bailey Unicorn caravan is packed full of safety and security features for trouble-free touring and which will attract a healthy discount on your caravan insurance. These include as standard, Al-Ko ATC trailer control, Al-Ko Secure wheel lock, and TRACKER Monitor stolen vehicle recovery system with an internal intruder alarm.
To find out more about insuring this or your current caravan visit our caravan insurance discounts page.
Search our blog
---