When insuring your tourer, many insurers will ask you to fit some caravan security items. At Caravan Guard we ask owners to fit a wheel clamp and hitchlock as a minimum level of security, and although not compulsory it's best that these are of a Sold Secure standard.
However, there are more items that can be added to your caravan to make theft or break-in even more difficult. And it's not unusual for caravan insurers to ask for extra security to be fitted when the caravan is of high value or known to be targeted by thieves.
In this video, we take a look at a number of security products that can be easily installed onto a caravan.
Axle wheel locks 
Caravan Guard highly recommends the Al-ko Secure wheel lock on modern caravans and offers an insurance discount for owners who fit this kind of wheel lock.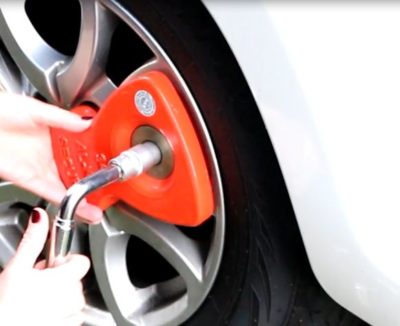 To fit one of these wheel locks you'll need an Al-ko receiver on your caravan as the lock is inserted through the wheel and attached to the caravan chassis. For some caravans this might not be available, so a good quality wheel clamp should be used instead.
Caravan wheel clamps
Look for caravan wheel clamps that cover some of the wheel bolts to make wheel removal difficult. These should be able to be fitted on alloy or steel caravan wheels.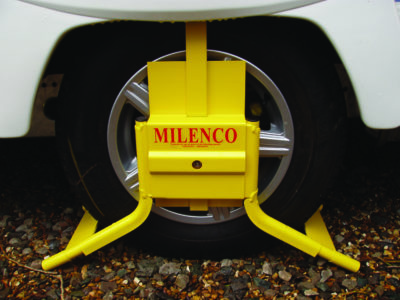 Caravan hitchlocks
Fitting a hitchlock is usually a requirement of your caravan insurance policy. There are a number of products on the market, which lock the hitch handle to prevent it from being raised and stop a tow ball being inserted into the hitch head.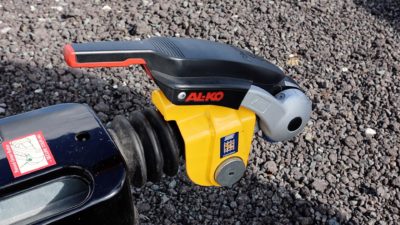 Again, look for a caravan hitchlock which has a Sold Secure standard and make sure you fit the hitchlock to your caravan whenever it's not connected to your tow car.
Corner steady locks
When a caravan is sited or stored, it's a good idea to lower the corner steadies and lock them in place.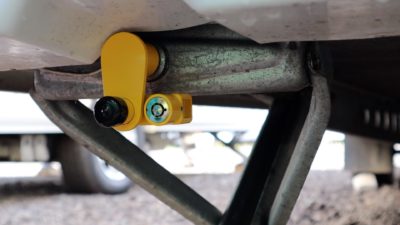 There are many corner steadies' locks on the market that prevent the corner steadies from being raised.
Window locks
Caravan windows usually use plastic latches to hold the window secure, but the design of these windows means the latches can sometimes be manipulated from the outside.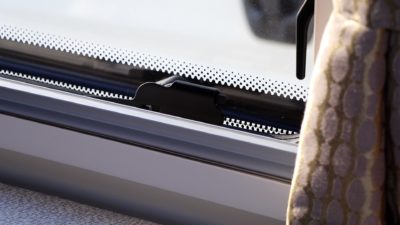 Adding some simple covers and protectors to the window latches reduces the possibility of unauthorised entry into the caravan.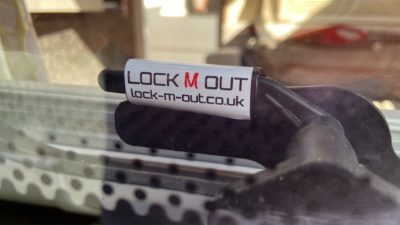 These window locks come in different shapes and sizes depending on the window latch style and can be easily installed within a few seconds.
Caravan security door lock
Adding an extra lock that either covers the existing door lock or the door frame prevents the door from being opened.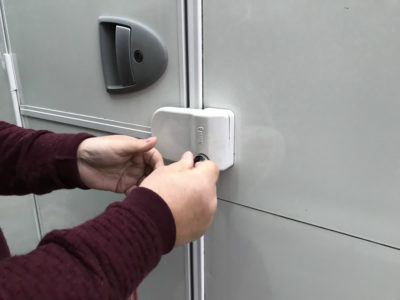 Caravan door locks come in a variety of styles, either with a lockable handle, or as an extra cover over the lock.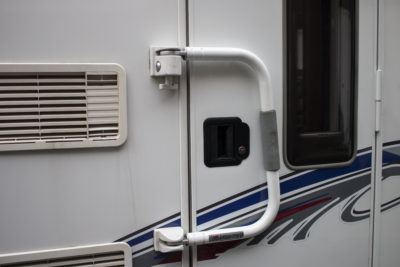 The lockable handle design also creates an extra grab handle, perfect for anyone that has limited mobility or requires extra stability when entering or exiting the caravan.
Hitch post
For those who are storing their caravan at home, a hitch post is a great addition to your property.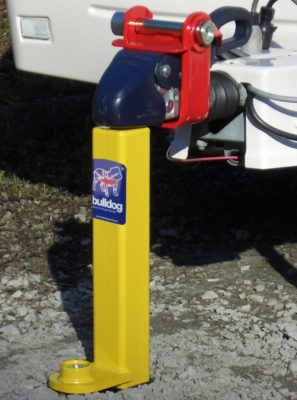 These posts are installed into the ground and provide a lockable post to connect the caravan hitch onto. Once connected, use a hitch lock to prevent the caravan from being removed. A standard drive post can also be a useful security measure when storing your caravan at home, however, these are usually only effective if your driveaway has a narrow point of entry.
Caravan alarms
Many new caravans come ready-fitted with an alarm, but these can be upgraded to incorporate extra features such as extra sensors and connectivity to trackers.  Caravan alarms have a few sensors by default, either by a tilt or motion sensor, a passive infrared sensor, or physical switches on areas such as corner steadies, hand brakes or wheels.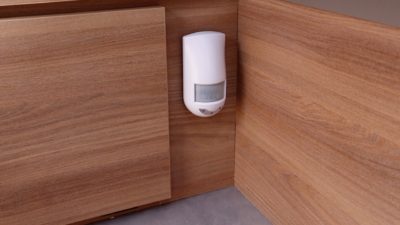 Caravan tracking devices
There are a number of caravan tracking systems on the market but always check which are approved by your caravan insurer. Generally for an insurer to recognise a device it will need to be professionally monitored (not self-tracked only) and Thatcham approved.
We'd always advise caravanners to look for a proactive tracking system which links to a motion sensor, virtual geofence, or alarm, so the device will inform the operating centre if it's disturbed whilst the tracker is activated.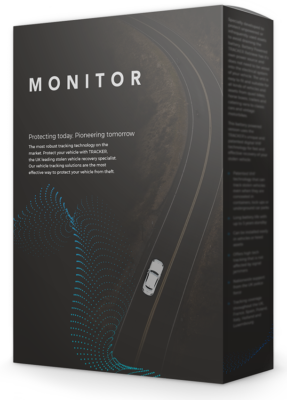 The alternative is a device that relies upon you to notify the tracking device provider that your caravan has been stolen to start the tracking process.
If you keep your caravan in a secure storage site or even at home, it can't be 'watched' 24 hours a day and an early warning of unauthorised movement from a proactive device could be the difference between a police recovery within 30 minutes and never seeing your caravan again.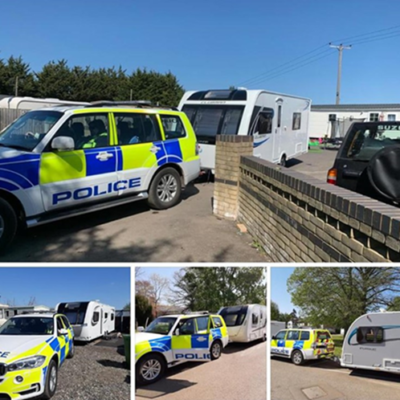 For your tracking device to be monitored by a professional operating centre, you'll have to pay an annual subscription to the device provider. And it's important to make sure you have enough charge in your leisure battery to keep it activated when your caravan is not in use.
Caravan security and insurance
Don't forget to tell your insurance provider what security devices you have fitted to your tourer when setting up or renewing your caravan insurance policy, as some of these could attract a sizeable premium discount.
And remember to always fit your hitchlock and wheel lock when leaving your caravan unattended.
Search our blog
---