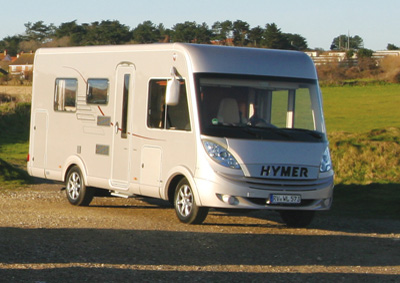 This motorhome not only looks good but classy too. The build-quality is faultless and those Hella headlamps are a bespoke touch that renders other A-class motorhomes' one-size-fits-all lighting a bit obsolete.
Then there are the coach-style mirrors, and while the bonnet provides the usual letterbox-like engine access, Hymer do at least recognise the need for regular topping up of the windscreen washer reservoir, and site the filler accordingly.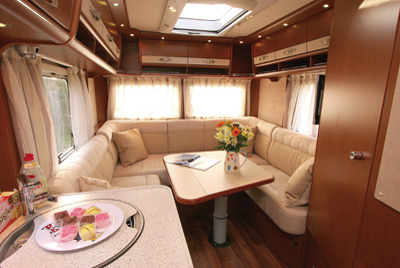 Then there's the cab door, which shuts with the solid 'thunk' of an upmarket car. Not only that, but the door triggers an automatic step to make access effortless for the less athletic customer. Indeed, the only missing feature (found on some prestige A-classes, like the Niesmann Arto) is double-glazed side windows.
But we could only stand and admire the B534 for so long. What we needed to do was get driving, get packing and get camping. It was immediately apparent – once again – that Hymer have set new standards in on-road refinement for motorhomes.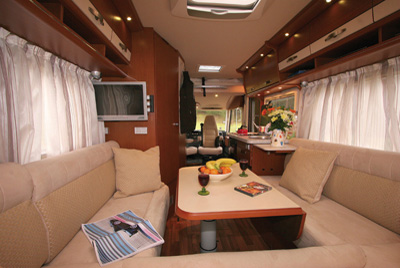 The windows are not big enough to give you the goldfish bowl feel of some end lounge models, but combined with stylish net curtains you can enjoy a little more privacy in here.
There's a big wind-up sunroof overhead too, and a vast array of mostly LED lighting. Uniquely, the rear wall has two separate windows with a bar between them – a bit like a 1950s VW split-screen camper in reverse!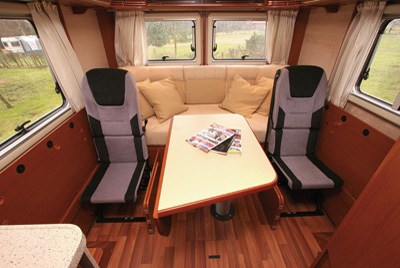 With matching scatter cushions and a well-placed TV on a swivelling arm, the lounge is pretty much perfect. There are even little shelves on which to rest a drink, while heating is ducted 'twixt backrests and walls and the radio's tunes are repeated back here despite the lack of any obvious speakers.
Shame then that you can't have the radio on on-site because to do so means turning the ignition on, which in turn switches on the daytime running lights – unless you get the radio re-wired before you take delivery!
There's a second seating area up front, in the shape of two – very shapely – Aguti captain's chairs, which rotate to face the rear.
In between seating and sleeping – come the kitchen (on the offside) and the washroom and wardrobe (on our nearside). And the galley, just aft of the Baur habitation door (with electric step, concertina flyscreen and deep fixed window), continues the theme of high-quality fittings along with a splash of innovation.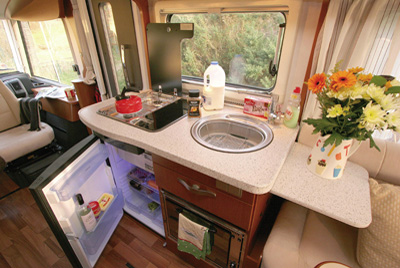 Here, the novelty is Dometic's latest 8-Series fridge – a modern, black-fronted installation with three-way operation (but not automatic energy selection).
Its cleverness is concealed within, where the freezer compartment is simply removable. Slide out what is basically just a shelf with door attached and you have more fridge space when you don't need a freezer, which is probably quite a lot of the time.
The hob is another Dometic fitting and seemed a top-notch item, while alongside the fridge is a familiar European fitting – a Smev combined oven and grill, with rotisserie.
That doesn't leave much room for storage below the countertop – just a large cutlery and utensils drawer – but additional worktop space is provided by a flap at the galley's right-hand side. The worktop itself is one of those posh marble-like surfaces that you see in £100k motorhomes and domestic designer kitchens; it even has a lip to catch spillages.
Verdict:
The Hymer B534 marks a welcome comeback for the rear-lounge A-class motorhome with its classy looks and great build quality.
Fact-file:
Price from £72,775
Berths 4
Travel seats (inc driver) 2
Dimensions: 6.50m L, 2.35m W, 2.90 H
Beds: Drop-down cab double 1.93m x 1.45m (headroom 0.82m), rear all-over double 1.99m x 1.77m/190m or over-garage single 1.99m x 0.77m and low-level single 1.99m x 1.02m/1.15m
Insurance cost: £376.50 *
* Motorhome insurance cost based on 2011 Hymer B534 valued at £72,775. Fitted with manufacturer immobiliser and approved tracking device, kept on driveway at home at TD9 8ED. Motorhome owners – professionals over 50 years old with no claims, convictions or health conditions in last 3 years. 4 years no claims bonus mirrored from car policy and 2 years motorhome driving experience. Members of motorhome club doing less than 7000 miles annually. £250 excess applies. European cover £19 extra, European Breakdown £43 extra. Premium includes Insurance Premium Tax (IPT) at 6% and is correct as of 18.08.11
Source: outandaboutlive.co.uk
Cost to insure: *
---
factfile
| | |
| --- | --- |
| Model | |
| Base vehicle | |
| Axle type | |
| Dimensions | |
| Shipping length | |
| RRP | |
---
Search our blog
---