Fed up with struggling whilst setting up your caravan awning? Our reporter Dave King finds and tests out a product that's multi-purpose and easy to set up.
Awnings; you either love them or loathe them. For some caravanners an awning is a necessity, to increase living space, or perhaps for the children to play in out of the rain or sun, just as a storage area, or somewhere for the dogs to sleep.
Years ago, a favourite campsite pastime was sitting in a caravan, or an awning, watching other caravanners put up an awning. That seems to have been superseded by watching the palaver of somebody setting us a satellite TV system.
The disadvantages of using an awning varies from caravanner to caravanner; some citing they only caravan for a couple of nights at a time so don't need one, others state that they have nowhere to store one, or that they are big, cumbersome and heavy, or the awning channel is uncomfortably high to reach, especially on some new caravans with straight sides and bonded roofs, without taking a step ladder too!
Over the last few years we have been disinclined to use an awning too, for reasons stated by many caravanners; health reasons. As anno domini hits us all, so do those niggling and nagging aches and pains, and other more serious issues that indicate to us that we need to make changes to our lifestyle.
We like to use an awning so decided to look for multi-purpose one that was easy and quick to erect and take down, can be used as a full awning or a sun canopy but it needed to be rigid and condensation free. We looked at "bag type" roll-up awnings that are a semi-permanent fitting in an awning channel, but rolling them back into the bag which is at the same height as the awning rail didn't fit our criteria of easy and we would have needed to take "his'n'hers"step ladders with us.
Enter the new range of Omnistor caravan awnings, made by Belgian company Thule. We quickly realised that these ticked the boxes despite being prototype models. Much R&D has been done by the company in bringing new products to the market  including a roof mounted cassette awning and a wall-mounted version, both of which are wind-out style and a compact design.
The roof mounted cassette model 6200, has securing plates that are bonded to the roof using modern adhesives, thus no drilling into the roof panel. The wall mounted model 4900 bolts onto the side wall of the caravan. Both need to be installed at a caravan workshop rather than as a DIY job but do check with your caravan's manufacturer that the build construction is suitable for this type of awning and that the warranty won't be invalidated.
They have side and front panels, rain blocker sides or wind blocker sides available as accessories; just the kind of flexibility that we wanted.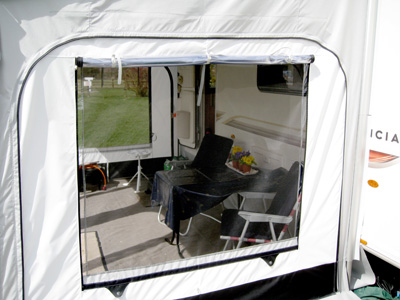 We liked both models but the 6200 does have the added advantage of leaving the awning rail clear, should you ever need to put up a larger standard type awning, and it can be transferred to another caravan; the securing plates are left in-situ, you just need to buy a set of securing plates.
We saw the new Panorama room prototype, as a high quality top-of-the- range product, in the style of what one expects of a high quality, modern traditional awning rather than the "plastic" box look reminiscent of a bad flat roof extension. It's made from a light weight synthetic fabric with aluminimised Quick-dry coating. The pole system is aluminium extrusions and is currently heavier than we'd like to see, but Thule has an on-going development programme and it is possible that the pole system may become lighter. At present we would strongly recommend that these travel in your tow vehicle and not in your caravan.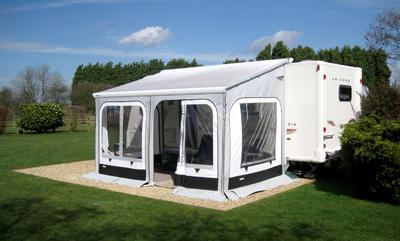 For those with or anticipating a reduced mobility, these wind-out awnings are certainly worth considering; in many other ways caravanners have made caravanning easier for themselves by the use of motor movers, or extended drills to wind the legs down so why not do the same with an awning? By making caravanning life easier you have the opportunity to carry on caravanning for more years than you may think possible. We've used the 6200 for some months and are delighted with it; it just takes only one of us to wind it out, or back in, and it takes merely a few seconds. The Panorama room withstood very high winds, gales, lashing rain, sleet and a hail storm in just 11 days. We found no condensation on the interior at all.
For further information visit the Thule awnings page. https://www.thule.com/en/gb/products/rv-accessories/awnings-and-accesories
Awning storm damage insurance is included in Caravan Guards touring caravan insurance policy – details here 
Cost to insure: *
---
factfile
| | |
| --- | --- |
| Model | |
| Base vehicle | |
| Axle type | |
| Dimensions | |
| Shipping length | |
| RRP | |
---
Search our blog
---