As a rule, diesels make better tow cars than petrols. But they're also more expensive to buy. If you don't cover enough miles to justify the extra outlay, cars like the Mazda 6 2.0 165 Sport saloon show that petrol power doesn't necessarily compromise towing ability. In fact, earlier this year it was awarded the Best Petrol caravan Tow Car at the 2013 Tow Car Awards.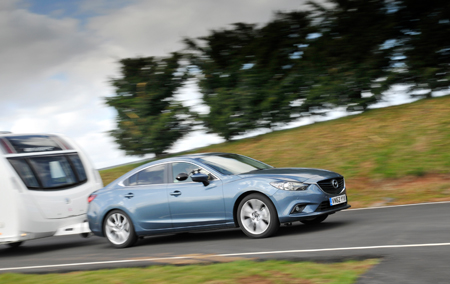 Priced at £23,495, the 2.0 165 Sport is £1600 cheaper than the equivalent diesel, but still musters enough oomph for towing a suitably matched caravan. With 155lb ft of torque, the Mazda's petrol engine can't deliver the same mid-range punch as a diesel, but it doesn't feel underpowered when towing.
It's a question of adapting your driving style as much as anything – rev the engine harder and change gear a bit more often and it's not hard to overtake or hold speed uphill. Pulling a caravan weighted to 85% of the car's kerbweight during testing for the Tow Car Awards 2013, the Mazda accelerated from 30-60mph in 15.5 seconds. That's just a couple of seconds slower than the 6 diesel Estate.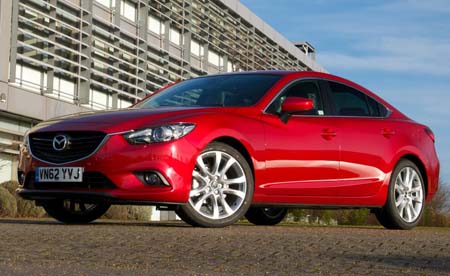 You might expect fuel efficiency to suffer from having to work the engine hard, but the 6 returns respectable economy when towing. Driving a mixed route of town roads, A-roads and motorways, the Mazda achieved 22.7mpg. Admittedly, you'd expect a 6 diesel to do rather better but it would need a big improvement and a lot of miles to make up that £1600 difference in price.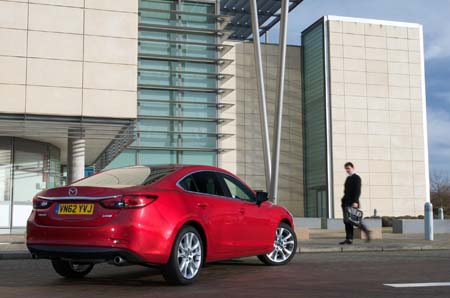 Stability at speed is a definite strong point. On a breezy day the odd steering correction might be needed but nothing untoward. In an emergency lane-change manoeuvre the 6 feels grippy, confident and in control.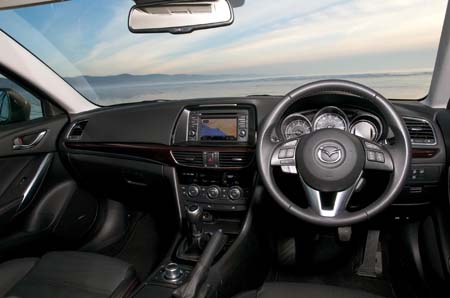 Cars which cope well with an emergency swerve when towing are usually poised without a caravan, too. That definitely applies to the 6, which is one of the most enjoyable family saloons to drive. The steering is accurate and direct, and the Mazda's low weight (the kerbweight is just 1457kg) contributes to agile responses for such a large car.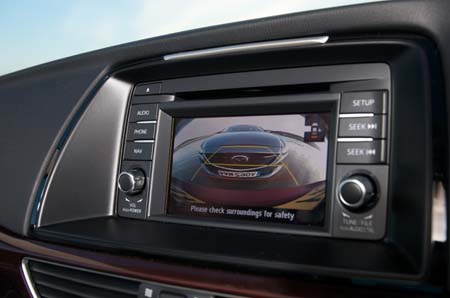 The flipside to such a sporty drive is a firm ride. A Volkswagen Passat does a better job of smoothing over rough roads, and will be quieter at motorway speeds, with less wind and road noise than in the Mazda. The 6 isn't a noisy car by any means, but it doesn't match the hushed manners of the class-leading VW.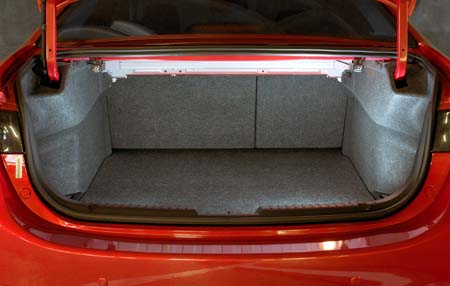 The driver and front-seat passenger have plenty of room to stretch out, and those in the back should be comfortable enough provided they're not too tall, as the sloping roofline does steal some headroom.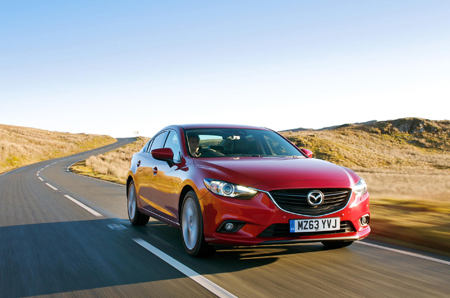 A bigger boot would also make the 6 more practical. There's 483 litres to fill, which is less than a Ford Mondeo or VW Passat offers.
These criticisms aside, the 6 is a very impressive car. For high mileages or towing a heavy caravan, the diesel equivalent is still a better bet. But for low-mileage drivers or pulling a lightweight tourer, the Mazda 6 shows that petrol powered tow cars can hold their own.
Verdict: A very capable family caravan tow car, even with petrol power
Plus: Handling; stability; competitive price
Minus: Firm ride; limited boot space; rear headroom
In a nutshell: Proof that petrol cars can tow well
In summary:
Mazda 6 2.0 Sport 4dr
Price £23,495
Kerbweight 1457kg
85% match 1238kg
Braked towing limit 1500kg
Noseweight limit 75kg
Combined fuel economy 47.9mpg
Carbon dioxide emissions 135g/km
Check out our towing guide and download a caravan pre-towing checklist for more helpful hints and tips.
Visit the Mazda website for more information on the Mazda 6 2.0 165 Sport Caravan tow car.
Cost to insure: *
---
factfile
| | |
| --- | --- |
| Model | |
| Base vehicle | |
| Axle type | |
| Dimensions | |
| Shipping length | |
| RRP | |
---
Search our blog
---