Want a caravan you can pitch up in for the season?
Here's our handy guide
 to seasonal pitch caravans…
Don't fancy towing, yet want to lead a life of caravanning luxury? Or have you simply found your favourite campsite and fancy settling down for the long-term? 
There's much to be said for the prospect of a seasonal pitch touring caravan, such as putting your unit on a pitch for the main touring months (usually, April to October), ready for you to roll up to whenever you want. As well as having your holiday home waiting for you on arrival and ready to use – you'll have saved fuel and time by not having to tow long distances. Plus many sites provide winter storage also.  
You can also keep extra gear with your caravan that would otherwise entail lugging around.  
A seasonal pitch means you can come and go, making as many visits as you want, less the hassle of towing to your destination and home again. Often, it also means you're camping with fellow caravanners who have become friends via staying on the same campsite together over a number of years.  
Or, other members of your family can use your caravan, should you wish (although many sites do not officially allow sub-letting when it comes to financial gain). But our caravan insurance policy extends to use by family and friends, with the same extensive cover.  
Size doesn't matter – generally you can book any caravan onto a seasonal pitch – although with our choices below we've taken a "bigger is better" approach.   
Top Tips
The big advantage of seasonal pitch caravan

is… you always have a pitch! 

 

Consider what you're going to do 

about

 storage through the winter months. Many seasonal pitch campsites will also offer to sto

re

 your 'van for you. 

Often, the service extends to taking your 'van out of storage and 

putting

 it onto your pitch for you.

 

There 

might 

be waiting lists. Typically, the most popular holiday locations will book up fast. 

 

You're not allowed to stay in your

seasonal pitch 

caravan all-year-round. Typically, 

for legal reasons, 

28 days is the maximum allo

wable length for a single stay. Plus check your caravan insurance policy for the maximum limit of days you can use your tourer for.

 

If you're using an awning, check it's suitable for seasonal pitching (see also our

gear guide to seasonal pitch awnings

). Alternatively, be prepared to put 

up

 and take down 

your awning each time you visit.

 

Don't forget your security. You'll need to have a

t least a

 wheel clamp and

 a

hitchlock and if your insurer may also review security at the site. There

might

 be restrictions on the use of an alarm when you're

 away from your 'van.

A proactive tracking device which can alert you if your caravan is disturbed could be a wise investment.

We always advise you have an annual service for your caravan, even if it's not going out on the road. This is to keep a check on the safe working of essentials such as the gas and electrical systems, as well as any sig

n

s of water ingress to the bodywork. 

 
Here we take a look at five ideal seasonal pitch caravans costing between £23,000 and £50,000. We highlight their key selling points, aka KSPs. 
Swift Sprite Super Quattro EB
Part of the family 
Think Sprite for cost-effective caravanning. Think Super for extra-wide units like this. The Quattro EB is a new model for 2020, a four-berth that keeps the beds at either end of the unit, for some essential extra privacy – transverse island double at the back, 2.25m x 1.63m double made up from the settees at the front – also benefiting from upgrades announced for the whole Sprite range that help keep things very contemporary.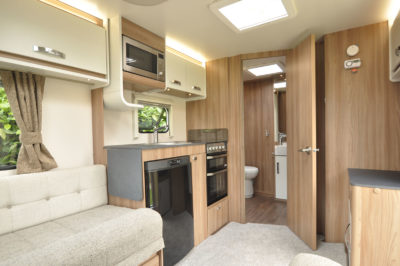 Along the offside mid-'van area, the kitchen comes with three-ring hob and a separate oven and grill, although it's a rather small fridge. Also, the full-width washroom is generous in size, with a fixed basin, swivel-bowl toilet and part-circular shower cubicle.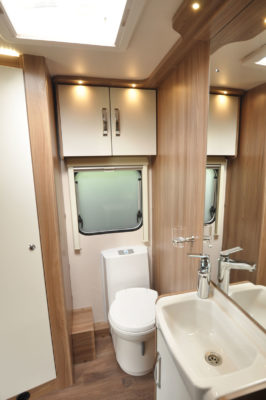 You'll be wise to budget for the £610 Budget Pack, at least, from the options list (it alone adds alloy wheels, AKS stabiliser, Al-Ko Secure wheel lock receiver and plenty more).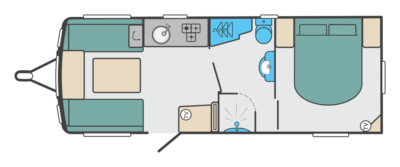 Dimensions 7.98m L, 2.46m W, 2.59m H 
Internal length 6.27m 
MTPLM 1,705kg 
MIRO 1,500kg 
Payload 205kg 
KSPs: The Sprite name (of course), extensive living space, Thatcham S7 tracker for that added peace of mind and a caravan insurance discount, lightweight for an extra-wide model. 
Price from £22,985 OTR 
More info: www.swiftgroup.co.uk  
Bailey Alicanto Grande Faro
Fourth in line 
This is the most recent addition to the Alicanto line-up of extra-wide caravans from Bailey that the company describes as its most luxurious models ever.  
True, it's still a touring caravan, but this is the kind of unit you might want to pitch for the season at your favourite campsite. It's up to you, although judging by kit such as Al-Ko's ATC and stabiliser hitch supplied as standard, Bailey also wants this to be seen as a touring unit. 
Wherever you go, what you do get with models like this – the UK's widest if you're towing with a car – is the most spacious of interiors.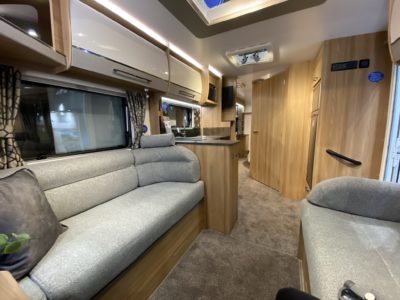 Here, the formula of a permanent bed at the back and a lounge that converts to a transverse double bed at the front means optimum night-time privacy.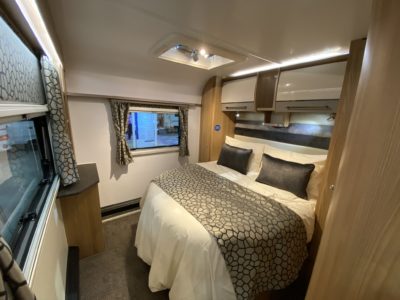 The L-shaped kitchen includes a full cooker (a microwave oven is also standard) as well as superior storage and worktop area, whilst across the corridor is a generous 153-litre fridge/freezer.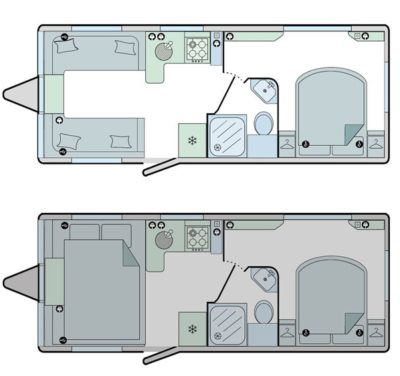 Dimensions 7.86m L, 2.45m W, 2.61m H 
Internal length 6.34m 
MTPLM 1,790kg 
MIRO 1,630kg 
Payload 160kg 
KSPs: Separate rear bedroom transverse island double, lots of living space 
Price from £30,564 OTR 
More info: www.baileyofbristol.co.uk  
Buccaneer Aruba
Super-size, super spec' 
Elddis's luxury brand Buccaneer really does represent a no-holds-barred approach to luxury caravanning. And if you like a lot of lounge space, this could be the model for you. It also provides six-person accommodation. 
This twin-axle tourer comes with two seating areas – a two-settee lounge and a not-so-traditional central double dinette – as well as a French bed and washroom at the back.  
A hydraulic self-levelling system is but one of many standard features across the Buccaneer range.  
There's more. Like the Alde central heating system and floor warming, Pioneer stereo system, 100Watt solar panel, tile-effect shower cubicle. It's an almost endless list.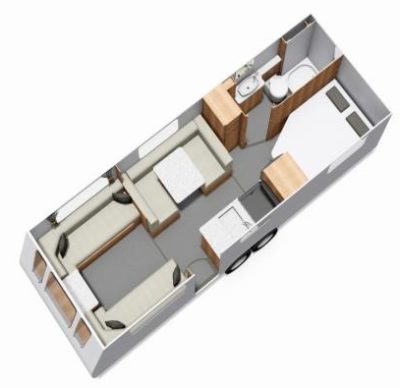 Dimensions 8.16m L, 2.45m W, 2.64m H 
Internal length 6.39m 
MTPLM 1,983kg (upgradable to 2,000kg) 
MIRO 1,804kg 
Payload 179kg 
KSPs: Exorbitant equipment levels, lots of seating,  
Price from £34,994 OTR 
More info: www.elddis.co.uk   
Coachman Laser Xcel 875
Flying the flagship 
One of two range-toppers for 2020 from Coachman, announcing its first move into extra-wide caravans. They were never going to be cheap, but they certainly look the part externally, thanks to features such as 3D graphics, silver sides and black trim.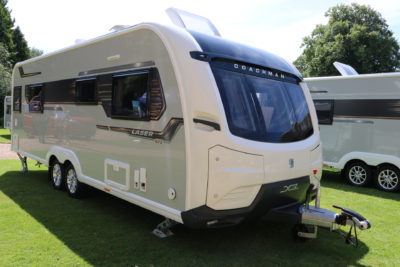 Despite being dubbed a four-berth, it would be no surprise if the main buyers for the 875 are luxury-loving couples who enjoy open-plan living. There's a retractable transverse double bed, beyond which is a full-width washroom.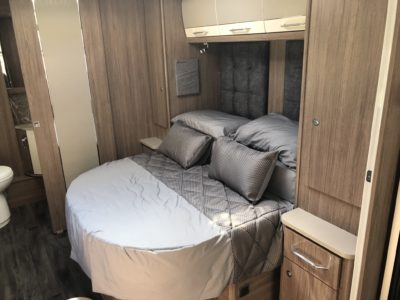 Overall equipment includes Alde heating and hot water, E&P Levelling System and a Pioneer stereo (DAB/FM/AM, Bluetooth, USB etc), touch-sensitive dimmable lighting, and, when weight really is no issue, you can always opt to upgrade the chassis to 2,000kg.  
Other caravan insurance-saving features include two Al-Ko Secure pre-fittings and a Phantom Vanguard remote control PIR alarm with tilt sensors (with a Phantom Pro 3 tracking system among the options).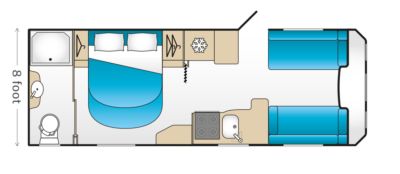 Dimensions 7.90m L, 2.44m W, 2.65m H 
Internal length 6.27m 
MTPLM  1,885kg 
MIRO 1,725kg 
Payload 160kg 
KSPs: Coachman cache, stunning looks, cut-above build quality 
Price from £35,945 OTR 
More info: www.coachman.co.uk 
Adria Astella 754 DP
Coming our way to stay soon? 
Will it be worth the wait? There's no doubting the stunning presence of this flagship that's not due here until 2021 season, at the earliest.  
It certainly promises to be worth the wait… and, indeed, weight.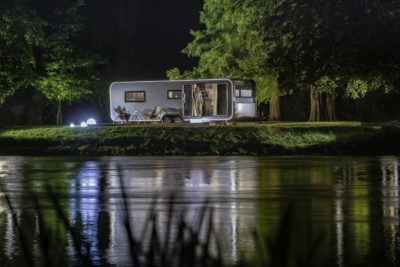 And if the minimum 2,500kg doesn't get you, the length and width probably will. As well as looking like some kind of modern-day studio apartment, the Adria Astella, the inside is just as futuristic. Although you'll take comfort from recognisable caravan features such as Alde heating, Thetford toilet, 167-litre Dometic fridge etc.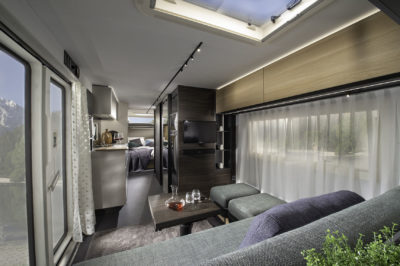 The floorplan will sleep four, with the stylistic front lounge converting into a second double bed – but, again, it will appeal to couples who really want contemporary caravanning.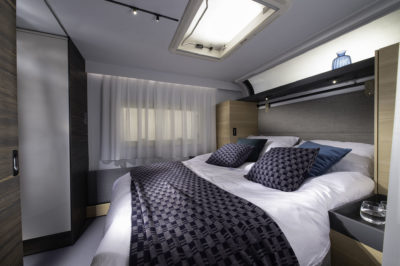 Even UK prices are in the "to be confirmed" category. We've already estimated it could be as high as £50,000. Meanwhile, you can keep up with developments at the website below. 


Dimensions 8.09m L, 2.52m W, 2.62m H 
Internal length 7.47m 
Berths 4 
MTPLM 2,500-3,000kg 
MIRO 2,370kg 
Payload 130-630kg 
KSPs: Utmost modern styling, Adria build quality, a non-touring tourer! 
Price from £tbc 
More info: www.newastella.com  
Over to you… 
Got any advice on seasonal pitch caravans or caravanning you'd like to pass on to fellow Caravan Guard blog readers? Please feel free to add a comment below. 
Cost to insure: *
---
factfile
| | |
| --- | --- |
| Model | |
| Base vehicle | |
| Axle type | |
| Dimensions | |
| Shipping length | |
| RRP | |
---
Search our blog
---