From cracked windscreens to collisions with garage doors, animals and even an ice cream van – it's amazing what can lead to a motorhome insurance claim.
As campsites re-opened after months of lockdowns in April 2021, many owners took to the road and picked up their pride and joy from storage.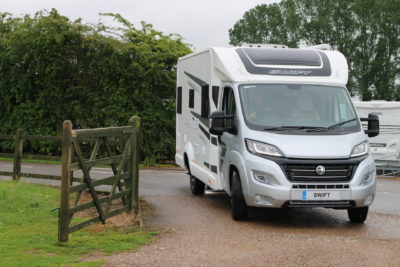 We've looked at our settled claims from April 12th to August 31st, 2021 for the most common ones – highlighting the importance of motorhome insurance and how your policy covers common issues – and some more unusual mishaps!
Top three motorhome claims
Motorhome claims come in all different shapes and sizes and here we reveal the top three we've settled with payment.

Window damage
The top motorhome common claim was for window damage – accounting for a massive 89% of all claims.
Broken, chipped or cracked windscreens are incredibly common motorhome claims for owners, often caused by stones or other road debris, but window damage can also happen when manoeuvring into tight spaces at home or in storage; we've had claims for windows damaged by gate posts or by falling branches.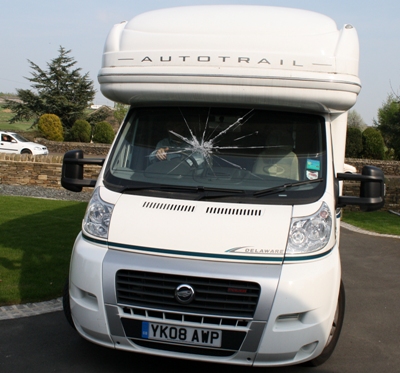 Windscreen claims can vary in cost depending on the type of motorhome. For example, van conversions and coachbuilt windscreens are just a few hundred pounds to repair or replace but larger A-class and American RVs replacements can run into the £1,000s.
2. Accidental damage
The second most common reason for putting in a motorhome claim was for accidental damage, making up 9% of settled claims, with an average cost of £2,305!
Reversing damage claims were very common, from reversing into garage doors, walls, posts and even a flowerbed!
Narrow roads have also been to blame for a handful of accidental damage claims, with scrapes from other vehicles when motorhomers pull in to let other vehicles pass.
And one owner got a surprise when an ice cream van collided with the back of their motorhome at the traffic lights!
Deer claims!
Collisions involving animals can be traumatic and costly. One motorhome collided with a deer causing £3,500 of damage.
There was even one policyholder who had handbrake trouble and their motorhome rolled into a garage wall causing £1,372 of damage!
Parking woes
Car parks and petrol stations can be common accident sites for knocks and scrapes with other vehicles, or even barriers, with claims for damage caused when pulling in or out of parking bays. It's important to remember to leave yourself enough room to "swing" your motorhome out of a space when parking up.
3. Motorhome theft is costly
Although a small percentage of claims were for theft during the touring season, it still made the top three.
Average theft claim costs were £27,417, and the most expensive settled motorhome claim was for a stolen motorhome, with the claimant receiving nearly £70,000 to replace the motorhome which was taken from their drive.
Wheely tyred!
We also dealt with a small number of tyre and wheel claims, caused by tyre blow-outs.
Calm before the storm!
Only 0.5% of motorhome claims have been for storm damage since April. But one claim cost £9,000 after an awning flipping onto the roof of a motorhome during stormy weather, created two holes in damage.
Award-winning motorhome insurance
To make sure you're protected against the unexpected, with windscreen and UK breakdown cover included as standard, why not check out our award-winning motorhome insurance for your leisure vehicle. Click here to find out more about our great value cover with savings for security-conscious owners.
Cost to insure: *
---
factfile
| | |
| --- | --- |
| Model | |
| Base vehicle | |
| Axle type | |
| Dimensions | |
| Shipping length | |
| RRP | |
---
Search our blog
---