The coolest caravans are here. Here are our 12 favourite cool caravans.
Caravans are cool. They've always been so. But, some are cooler than others. Here, we look at a dozen tourers that are trendy enough to be classed as cool.
See also our videos celebrating caravans that are just a bit cooler than the rest: https://www.caravanguard.co.uk/news/video-a-look-at-2020-two-berth-caravans-21677/ and https://www.caravanguard.co.uk/news/video-a-look-at-four-mini-caravans-19303/.
Adria Action 361 LT: Time for a cool caravan?
Again, there's no denying the looks, especially on the outside. Inside, this cool caravan has a typical end kitchen two-berth layout, albeit given a more modern treatment.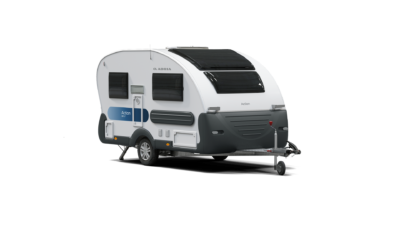 Needless to say, it's virtually unchanged for the 2021 season ahead, apart from subtle graphics tweaks and a redesign of the rear wall to allow it to take a bike rack.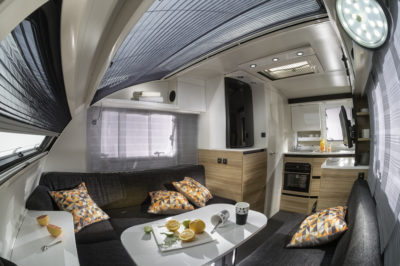 History is certainly on the side of the Action. It first came to the UK in the mid-2000s and, despite plenty of mini make-overs, its basic design remains the same.
Model: Adria Action 361 LT
Dimensions: 5.22m L, 2.20m W, 2.55m H
MTPLM: 1,100kg (can be upgraded to 1,300kg)
MIRO: 985kg
Payload: From 115kg
KSPs: Modern eye-catching looks – still, lightweight, practical
Price from: £17,995 OTR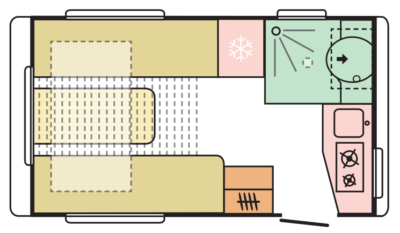 Airstream International 534: Rivetting stuff
This is the lowest of four models for 2021 available in the UK via sole agent Lowdhams (with branches near Huddersfield and Nottingham).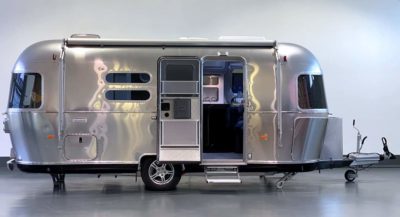 Like many of the cool caravans in our listing, the rivetted aluminium-clad exterior represents a timeless design (you can trace it back over some 90 years if you really want).
The interior keeps up the styling, too, albeit with a UK twist to it all, as well as an upmarket specification that gives us home comforts such as Alde heating, Dometic cooker and fridge,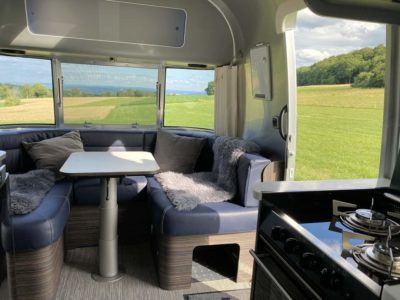 It's not light, though. Even this range-starter kicks off at 1,635kg before you've added any extra goodies.
Model: Airstream International 534
Dimensions: 6.81m L, 2.29m W, 2.65m H
MTPLM: 1,825kg
Payload: 190kg
KSPs: That body, American icon status, full UK specification
Price from: £78,495 OTR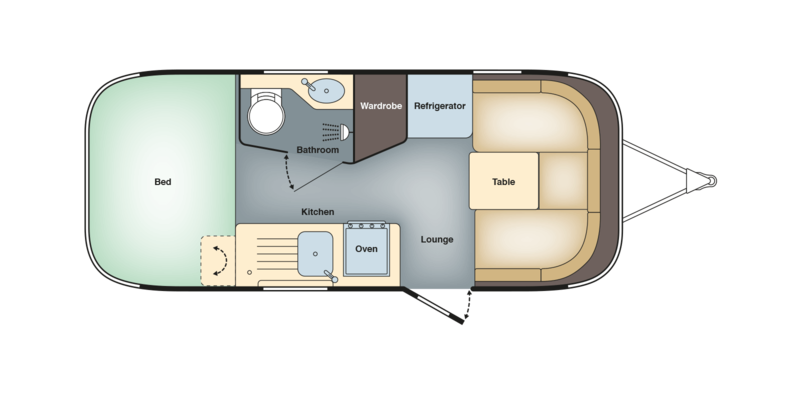 Bailey Discovery D4-2: Young at heart
Too new to be too cool? Surely not. Bailey's latest Discovery line-up was unveiled as recently as 2019 but – possibly the "must-have" for any caravan wanting to be seen as cool – there's a distinctive exterior from its single windowed front to its radiused rear corners.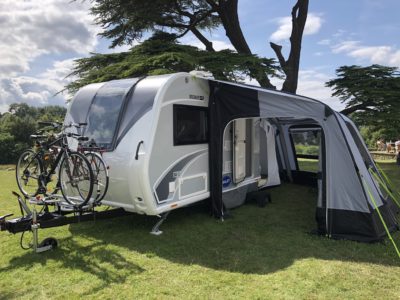 Bailey plays to its practical strengths, too, with plenty of recognisable, proven products in a floorplan that puts the washroom and wardrobe at the back, kitchen facilities just aft of the axle and a front lounge comprising two x 2m settees that can easily be used as single beds.

There's also a small range of bespoke accessories – the wraparound inflatable awning, for example – available exclusively via Bailey's accessories company, Prima Leisure.
Model: Bailey Discovery D4-2
Dimensions: 5.62m L, 2.23m W, 2.m H
MTPLM: 995kg (can be upgraded to 1,100kg)
Payload: From 111kg
KSPs: Distinctive exterior appearance, overall practicality, bespoke accessories
Price from: £16,764 OTR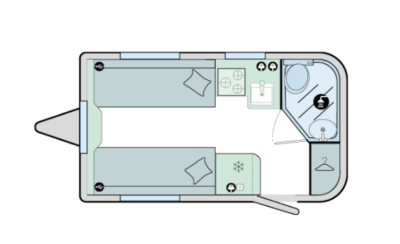 Barefoot: Tuned in to trendiness
British-made, here's a mini caravan that truly stands out from the crowd.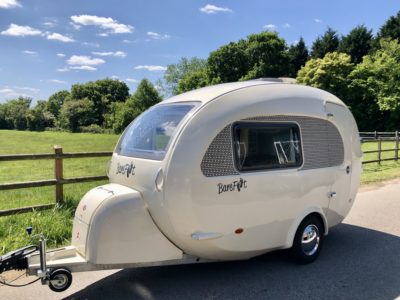 There's a choice of four body colours. Plus, if you want to something even more uniquely different, it's yours for an extra £600. There are also lots of choices on offer for the soft furnishings.
You even get a Roberts Revival Mini DAB Radio to complete the spec!

Model: Barefoot
Dimensions: 5.08m L, 1.92m W, 2.36m H
MTPLM: 1,100kg
Payload: 150kg
KSPs: All-GRP bodywork, bespoke service, British-made
Price from: £28,500 OTR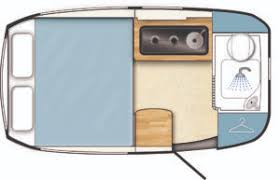 Caretta 1500: The teardrop starts
This trendy tourer is only some 5ft 7in high, but it packs in a proper kitchen (hob, sink, fridge) plus table – all accessible from the back – as well as a 2m x 1.5m bed.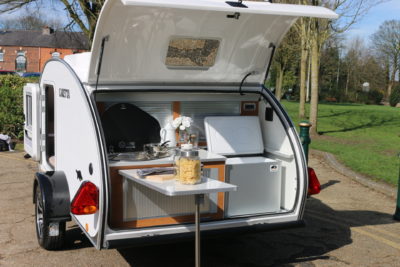 That teardrop shape is very aerodynamically efficient and its overall dimensions and weight make it very easy to manoeuvre – by hand, should you ever need to.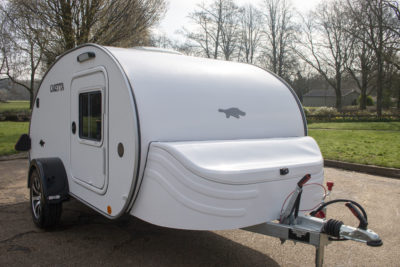 If this isn't radical enough, there's always the more expensive off-road version!
Model: Caretta 1500
Dimensions: 3.9m L, 2.04m W, 1.73m H
MTPLM: 445kg
Payload: tbc
KSPs: Classic body shape, keenly priced, a true lightweight
Price from: £9,495 OTR
Dub Box: In the classic campervan style
If you want a suitably cool caravan to tow behind your classic VW campervan, look no further.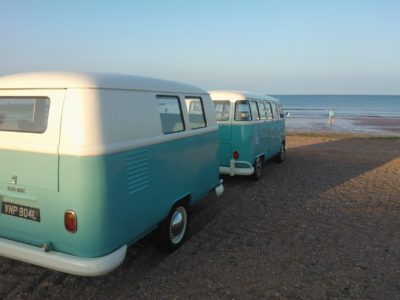 The service here includes paintwork to match your towing vehicle. Equally, there's an almost limitless choice of furnishings – with the company also happy to go that bit further if you want things even more bespoke. The company says no two Dub Boxes are the same. In fact, wait for a new Big version coming soon.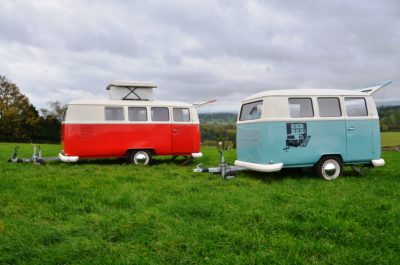 Model: Dub Box Classic
Dimensions: 4.89m L, 1.72m W, 1.85m H
MTPLM: 750kg
Payload: From 150kg
KSPs: GRP body, choose your own paint finish, pop-top option
Price from: £15,250 OTR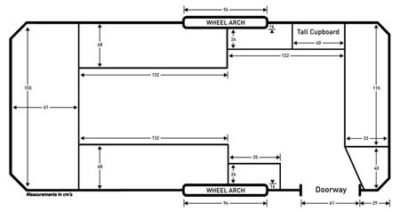 Eriba Ocean Drive 530: Travelling back in retro time
It's no coincidence so many cool caravans have their corner steadies planted firmly in the past. Eriba is certainly no exception. The company was founded over half a century ago and has been making on-trend tourers like this ever since.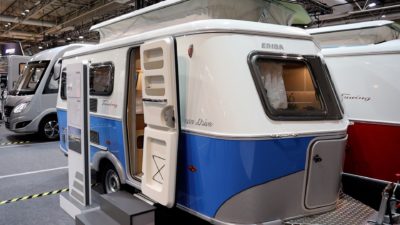 This is one of two special edition versions of the three-berth best-selling Eriba Troll 530. There's also the Rockabilly, sporting red where the Ocean Drive here has blue.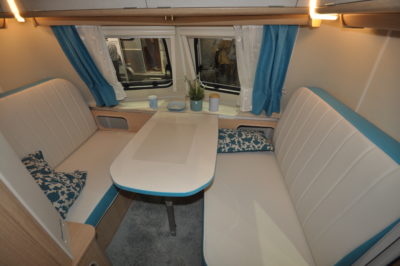 Also, if you like your caravans a bit more solid, you'll appreciate the build qualities here.
Model: Eriba Ocean Drive 530
Dimensions: 5.79m L, 2.10m W, 2.26m H
MTPLM: 1,300-1,400kg
Payload: From 335kg
KSPs: Iconic, Teutonic
Price from: £22,790 OTR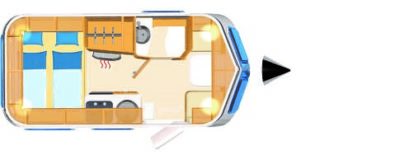 Go-Pod Platinum: All that glistens
Top-of-the-range, GRP-bodied two-berth that you can have in a choice of some 20 exterior finishes – all the way through to Hot Pink.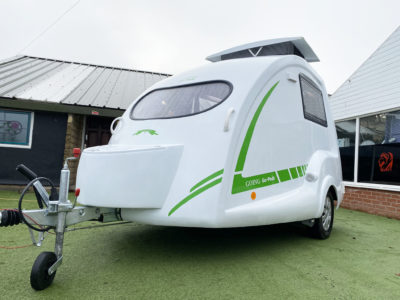 Made in Portugal and finished in the UK, the Platinum Go-Pod is good value at £14,495, although the Standard model kicks off at just under £11,000.
It's on an Al-Ko chassis and features a front U-shaped lounge, nearside kitchen and rear offside storage (including a portable toilet in a dedicated locker).

Model: Go-Pod Platinum
Dimensions: 4.20m L, 1.85m W, 2.05m H
MTPLM: 750kg
Payload: 205kg
KSPs: Light weight, all-GRP body, easy to manhandle
Price from: £14,495 OTR

Knaus Sport&Fun: Back in Black
Like plenty of its rivals, the Sport&Fun has been around a whole lot longer than its looks might suggest. Some 20 years, in this case.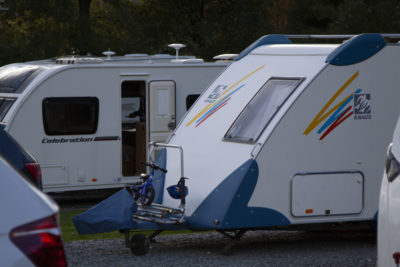 Indeed, German manufacturer Knaus is something of an expert when it comes to cooler-than-usual caravans – witness the Travelino and Deseo as well as close cousin T@B (see below).
Latest Sport&Fun's are available in Black Selection trim, which adds to the style.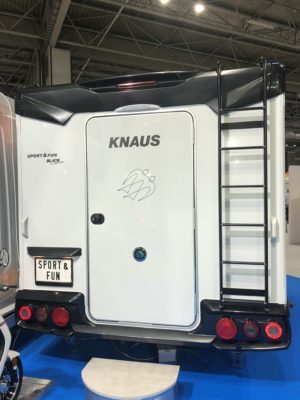 The rear door – wide enough to get in bike through for transporting – opens to reveal a floorplan that's very different, too, with a fixed/hinged double bed across the front and L-shaped centre lounge.
Model: Knaus Sport&Fun Black Selection
Dimensions: 6.25m L, 2.32m W, 2.57m H
MTPLM: 1,400kg (upgradable)
Payload: 174kg
KSPs: Still-avantgarde style, build quality, load-carrying capabilities
Price from: £22,599 OTR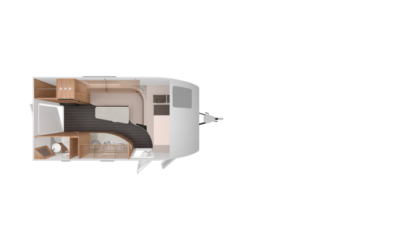 Swift Basecamp 4 Special Edition: For the family
There are plenty of cool caravans that can cope with couples. Multi-berth models are rarer. So, has Swift – the UK's largest producer of touring caravans – spotted a market gap with this latest addition to its funky-looking Basecamp line-up?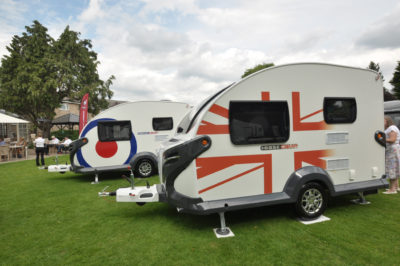 Squeezing in a couple of bunk beds is a great idea for anyone who want to take kids caravanning. But, there are also full kitchen and washroom facilities on-board.
Like the rest of the range, access is via a door at the back.
Just don't call it a caravan. Swift prefers the term crossover camping vehicle.
Model: Swift Basecamp 4 Special Edition
Dimensions: 5.59m L, 2.28m W, 2.58m H
MTPLM: 1,161kg
Payload: 136kg
KSPs: British-made, choice of body finishes,
Price from: £20,025 OTR

T@B 400: Through the round windows
A bigger style of teardrop makes this more than just a bedroom on wheels. You really can live in this, the larger of two T@B models sold in the UK.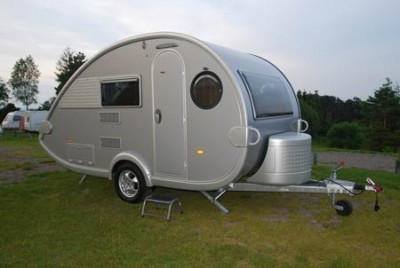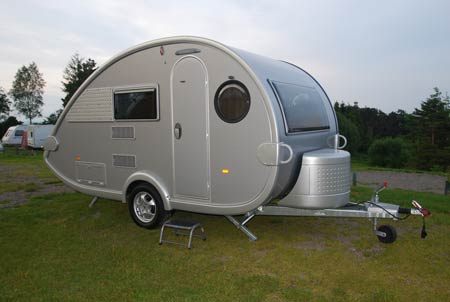 From German giant Knaus-Tabbert, T@Bs can be yours in a variety of stylish finishes.

A three-berth with a fixed double bed, there's still a great use of space in this distinctive tourer.
Model: T@B L400 TD
Dimensions: 5.97m L, 2.25m W, 2.61m H
MTPLM: 1,200kg (can be upgraded to 1,300kg)
Payload: From 220kg
KSPs: Aerodynamic teardrop shape, Made in Germany, great use of space
Price from: £19,750 OTR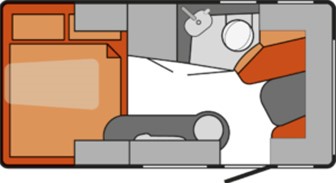 Trip Buddy Anyone: Take the cool custom route
Unmistakable looks. Top quality manufacturing. The manufacturers says the one-piece body is made to the same standards as yachts.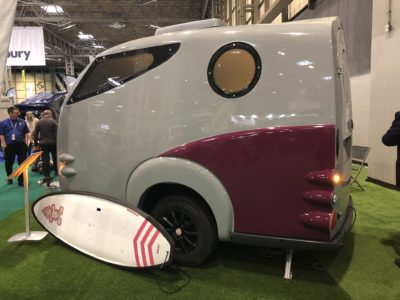 Standard models have two doors at the back, making for easy loading of all manner of gear.
Choose between three specification levels – EV, Lite and Ultra. The EV is available in two floorplans, depending on whether you want a washroom or not.
There's also bigger brother the Anywhere, on a twin axle chassis.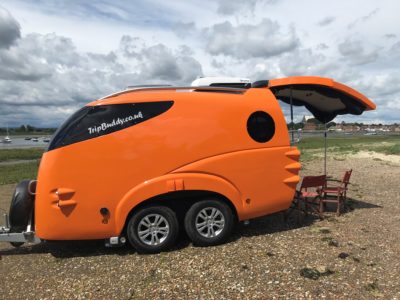 Model: Trip Buddy Anyone
Dimensions: 4.50m L, 2.04m W, 2.52m H
MTPLM: 650kg-850kg
Payload: 75kg-350kg
KSPs: Two rear doors (or top-hinged tailgate), superior quality bodywork,
Price from: £19,995 OTR (Lite variant)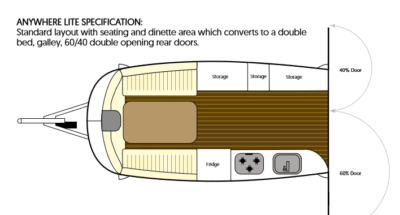 Over to you…
Are these the coolest caravans? Do you know a cooler caravan? Or are trendy tourers just hype? Please feel free to add a comment below.
Search our blog
---