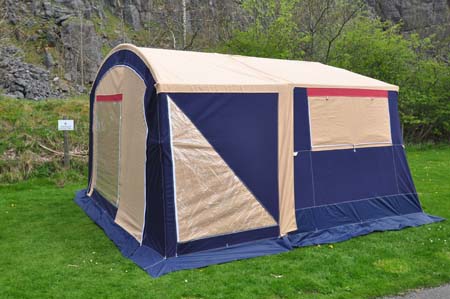 Less than three minutes. That's the claim for the initial set-up of this, the Galleon, the starter model in the Trigano trailer tent line-up. But, it also happens to be its best seller here in the UK.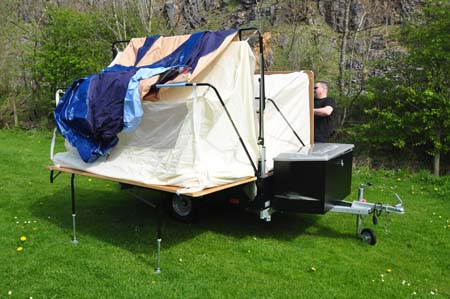 OK, there's a bit more to do, especially if you want the full montage – including kitchen and awning – but hopefully it goes towards dispelling the myth that units like this can be tricky to put up.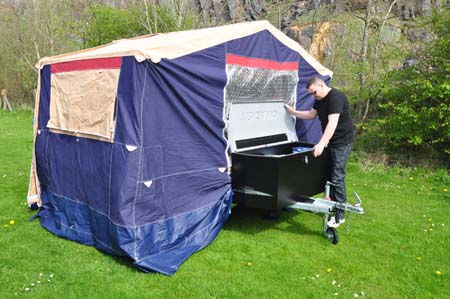 Let's make no pretence: trailer tents have struggled a bit in popularity over recent years. Reasons? It's hard to fathom, really. The pure and simple downside is they're a bit out of fashion these days. Maybe some of that is down to lack of publicity…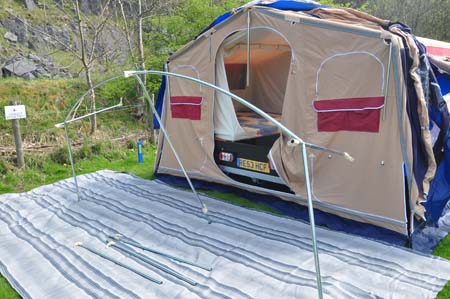 If we were to concentrate on the positives we'd say: they're relatively low cost to buy (certainly versus a caravan), they offer more living space than any tourer, too; they cost a whole lot less to actually own (why, you could even consider downsizing your car); so, kinder to the environment, then? They even cost less to insure.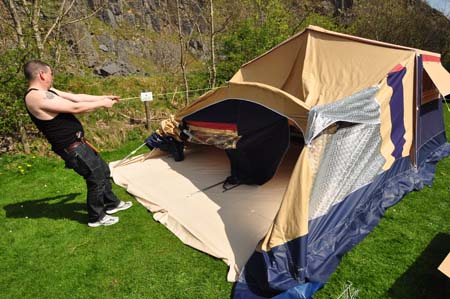 Manchester-based Camperlands is the leading Trigano trailer tent retailer in the UK, although it also specialises in all kinds of other trailer camping products.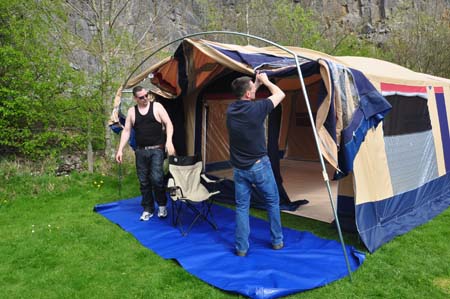 It certainly goes the extra mile with Trigano. For example, it commissions a bucket groundsheet, also offering other options at special prices – especially if you order as a whole package. The porch awning here, too, is actually made exclusively for Camperlands. Plus, it has also gone out and sourced carpet, again a feature that's proved very much of appeal to UK buyers.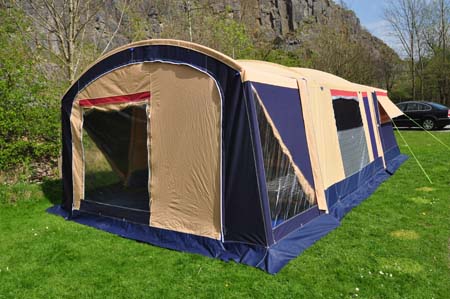 You get a bit of choice here, too. For minimal, weekend use, you can add the porch awning. For longer stays, go the whole hog with the main awning section and that porch on the front of that – it effectively gives you two huge living rooms, on top of the sleeping quarters.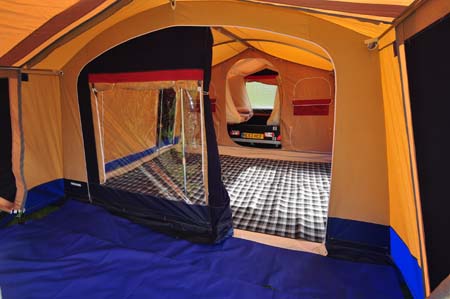 The trailer is steel construction, with wooden bed boards inside and, of course, the main tent canvas is stowed therein, ready to pull out and pitch. As with any tent, it's the full pegging out that adds more time. There's an approximate 10 square metres of cabin area, initially.
The canvas itself is high-quality Tencate – 340g for the roof, 280g for the sides. Reckon on it lasting some 25-30 years, with sufficient care, which isn't much. Putting it away dry – or drying it out as soon as is feasibly possible – is the key requisite.
The Galleon's windows are bigger than its rivals, too, with three layers – external canvas, curtain and the PVC window itself. Plus, there's mesh ventilation.
What do you get that you don't in a caravan? Two bedrooms, for a start. There's a solid floor between both of them, while the beds themselves feature standard foam on solid wood bases.
Extensive storage also includes two large, covered areas under each side of the trailer unit.
Putting it all up is really more akin to erecting frame tents of (largely) yesteryear – the instructions may say put down the groundsheet first then zip on the canvas, but in the rain you might want to do it the other way round. Zipped sleeves on the front end of the canvas makes this easy, alleviating the hassle of feeding poles through. After adding the two hooped sections, you reach a point where the whole unit stands alone.
You get well over 6ft of headroom throughout as well as that airiness of being under cotton canvas that no other towed camping unit can replicate. And, there's no reason you can't connect to a hook-up if you still want some of the creature comforts courtesy of a 230V mains supply.
True, there's plenty more you don't get as standard – spare wheel and carrier, jockey wheel, front storage box, underbed inner etc – although Camperlands packages these together at a special offer £99 from time to time. It's up to you what you want to kit yourself out with in terms of a cooker and coolbox, plus lighting, too – but again these are things you can easily enough budget for (or, indeed, may already have.
So, a brand new full camping unit for some £4,500, all-in. Makes you think, doesn't it?
Verdict: Interesting package at a severely tempting price
Plus: Quality canvas, huge living area, twin bedrooms
Minus: Not so easy setting up in the rain
In-a-nutshell: Easy towing… and easy living. A great value alternative to a "tin tent"
Cost to insure: £86*
In summary:
Trigano Galleon
Dimensions 3.60m L, 1.40m W, 1.10m H (closed)/5.75m L, 3.90m W, 2.35 m H (open)
Berths 4
MTPLM 495kg
MIRO 285kg
Payload 210kg
Key options: Bucket groundsheet £130, side store £219, side extension £585, side store ££215, front storage box £345, luggage rack £325, sun canopy £348, underbed tent £80
Recommended retail price from £4,398**
There's more information on the Trigano trailer tent range at the Camperlands website. To find out more about our low-cost premiums visit the trailer tent insurance page.
Alternatives: Camp-let Classic, Camplair XL, Comanche Montana, Combi-Camp Valley, Holtkamper Kyte, Raclet Solena, Trigano Galleon
*Trailer Tent insurance is based on Trigano Galleon retailing at £4,398. Fitted with a wheel clamp or hitchlock. Kept on drive at HX4 0BE. Campers over 30 years old, claim free for 3 years and a member of a caravanning club. £100 excess. 180 days European cover and up to £75 per day for up to 15 days emergency accommodation cover included. Legal expenses cover, extended European cover and other emergency accommodation expenses cover options are available at extra cost. Quote includes 10% online discount and 6% Insurance Premium Tax and is correct as of 07/07/2014.
**On-the-road, including VAT at 20%
Cost to insure: *
---
factfile
| | |
| --- | --- |
| Model | |
| Base vehicle | |
| Axle type | |
| Dimensions | |
| Shipping length | |
| RRP | |
---
Search our blog
---