Definitely one for downsizers who don't want to compromise on any aspect of their current vehicles, it's the drop-down bed over the lounge that's the signature of Bürstner's Ixeo models. And it's definitely a feature to make you think again. Especially as it's just got a little bit better.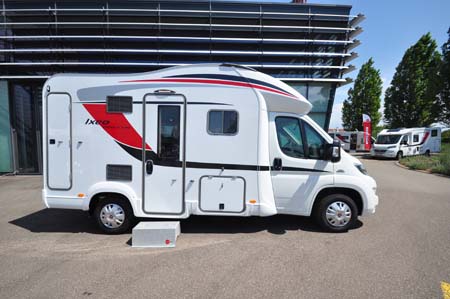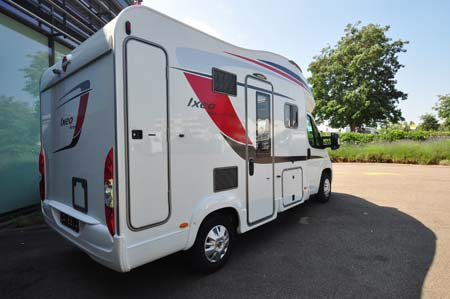 Bürstner uses the Time name to denote a lower price/specification offering. But, if you think getting on for £47,000 is still a lot to pay for a low-profile coachbuilt motorhome that's a centimetre short of 6m long, especially as it's a further £1,700 for the Chassis Pack to bring it up to full UK contention, please read on.
Using Fiat's low-frame Ducato, as made specifically for motorhome conversion, allows Bürstner to keep overall vehicle height down to an impressive 2.75m. It's the sufficiently impressive 130bhp engine as standard here and, although engine upgrades are available, it's tempting to advise you to spend your money on the Bürstner options list rather than any engine upgrades. This 2015 version has gained a little weight, but there's still a payload of almost 700kg here, and it's still on a driving licence-friendly 3500kg chassis.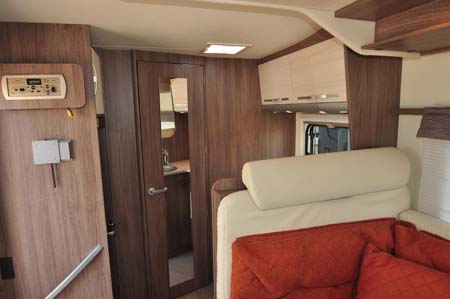 The bodywork remains all-white with red/grey graphics, but you might notice that habitation door. It's new for 2015 and will feature across a number of Bürstner models. Key is, at 70cm, is significantly wider than before and, with an inset step as here, it really does make access so easy.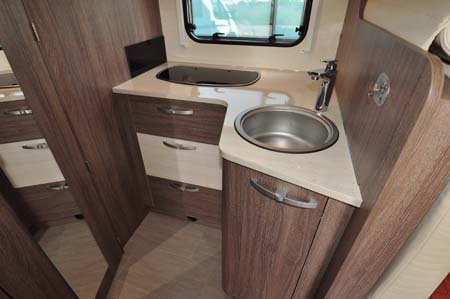 What's been compromised inside? Well, it's a new fridge (with removable freezer section), narrower than the outgoing model, but its overall capacity is greater than before, totalling 145 litres. This is the stuff of motorhome magic, surely!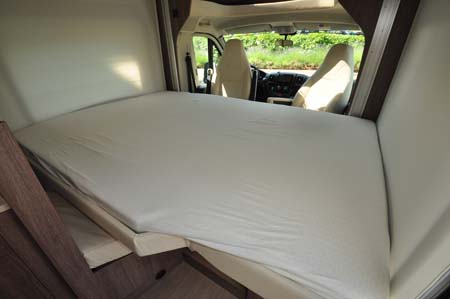 The same can be said for the all-important bed. It works electrically now, and goes that bit lower, too. Mattress size is slightly changed for 2015 – it's an inch longer now, at 2m (apologies for the metric/imperial mix) but it's also a bit narrower (blame that door) – 1.39m at its widest. The mattress itself is memory foam, on a slatted base with flexible rubber supports, and its cover is anti-allergenic and removable for cleaning.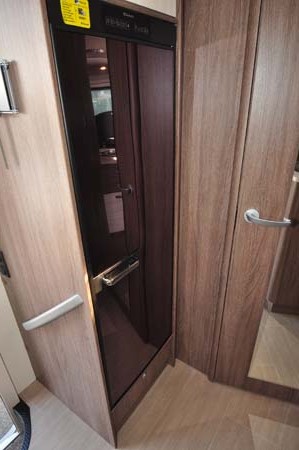 Dropping the bed to its very lowest level (some 9cm lower than previously) does mean re-arranging the seating cushions – and possibly also the table height – but the extra access it gives you will be a deal-maker for some buyers.
The newest fitting has also meant a rethink of the lockers on the underside of the bed unit, but again Bürstner has found an improved solution here. The genius is, with the bed up, there's still some 1.98m of headroom.
Plenty of natural light gets into lounge, too. The opening sunroof to the overcab area (Bürstner calls it the "cappuccino") is not only key to letting in light and ventilation, the interior design is such there's still some storage up here via open shelving.
The Bürstner Ixeo 586 floorplan also allows for a full washroom across the back. Complete with separate, fully lined shower cubicle, it comes with a stand-alone sink (with a rather trendy tap fitting (see the picture) and swivel-bowl toilet.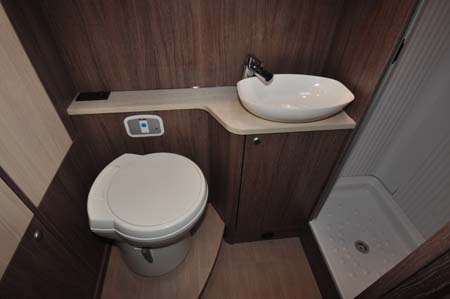 Further forward, the rest of the kitchen is based around an L-shaped unit with three-ring hob and separate sink. A grill/oven will be optional, but its price was waiting to be confirmed at the time of writing.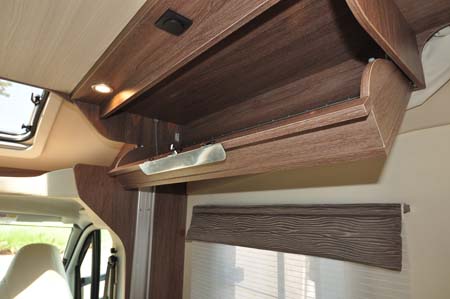 There are plenty of other options – including a variety of soft furnishings choices to complement the Truffo Ros furniture – with a VarioSeat (a fifth, rearward-facing travel seat) one of a number of initiatives for the season ahead. You might also want to upgrade to additional mains electrics operation for the Truma Combi 4 heating and hot water system, which is gas-only as standard.
Aspects like a bracket for a flatscreen TV monitor, USB socket etc haven't been forgotten, either. These, and plenty of other features, all go to show just what a modern, forward-thinking, all-encompassing little motorhome this is.
Considering its price tag of over £47,000, Caravan Guard would need to see a Thatcham Category 1 approved alarm system fitted to this motorhome, or an approved tracking system, to be able to offer insurance cover.
Verdict: A space-saving genius
Plus: Short length but full facilities, brilliant bed upgrades
Minus: Table too big? Truma system is gas-only as standard
In-a-nutshell: Compact and clever
Cost to insure: £278.50*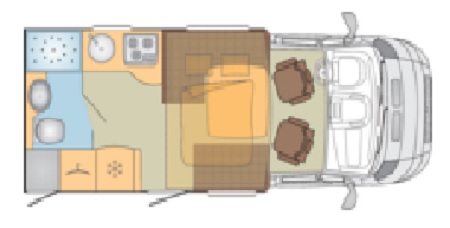 In summary
Bürstner Ixeo Time IT590
Fiat Ducato, 2.3-litre, 130bhp Euro V
Dimensions 5.99m L x 2.30m W x 2.75m H
Maximum weight 3,500kg
Payload 695kg
Key options: Chassis Pack (manual air conditioning, cruise control, passenger airbag, electric door mirrors, ESP [including ASR, hill holder and Traction Plus] £1,742, alloy wheels £1,022, Champagne paintwork £685, floor carpets £335, leather upholstery £1,466, VarioSeat £433, grill/oven tbc
Security and safety Central locking to all doors, ABS with ASR, driver's and passenger's airbags (see also Chassis Pack option above)
MPG estimate 25-30
Recommended retail price from £46,660**
There's more information on the Ixeo series at the Bürstner website. To find out more about our low-cost premiums visit the motorhome insurance discounts page.
Alternatives: Bailey Approach Compact 540, Chausson Flash 10, Rapido 600FF.
*Motorhome insurance cost based on Bürstner Ixeo Time IT590 retailing at £46,660fitted with Thatcham Category 1 alarm. UK travel only. Kept in secure storage at TD9 8ED. Motorhome owners – professionals over 50 years old with no claims, convictions or health conditions in last 3 years. 4 years no claims bonus mirrored from car policy and 2 years motorhome driving experience. Members of motorhome club doing less than 5000 miles annually. £300 excess applies. Premiums include insurance premium tax at 6% and are correct at 02/07/2014.
**On-the-road, including VAT at 20%
Search our blog
---