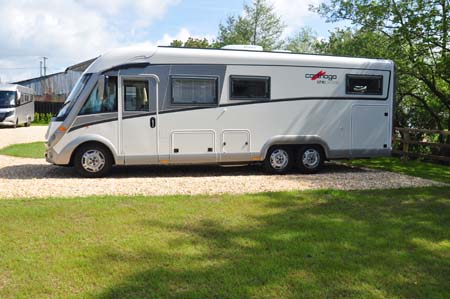 You get a lot for your money at this level… but still you have to spend more. It's a paradox but, as you move up the motorhome ladder, the more you need to add to your budget as you dip into extensive options lists and packages – all in the name of getting exactly what you want.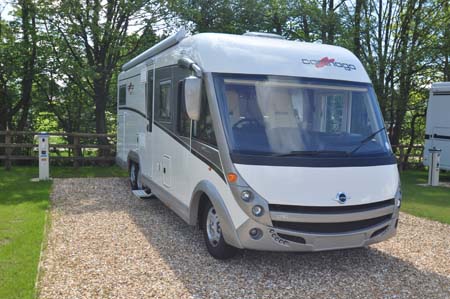 Carthago is very much up there on the upper rungs, the German manufacturer a veritable powerhouse when it comes to the making of seriously upmarket motorhomes. Its portfolio covers a wide range of price/specification/quality levels, but there's no room for "cheap" here.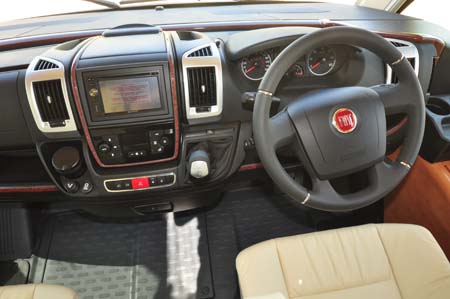 This example, packed with nearly £20,000 worth of extras (see below, but even that's only a brief summary), still has a payload of well over a tonne. At this level, it really is all about choice – starting with right-hand drive at an extra £2,250.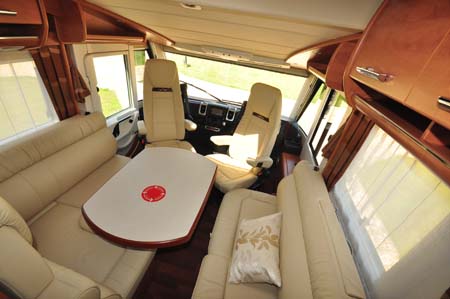 It has rivals, too (again, mainly from Germany). But, line them up and there's an instantly distinctive look to the Carthago, thanks to a different, double aluminium skin construction method that allows for rounded upper edges (where the side walls meet the roof).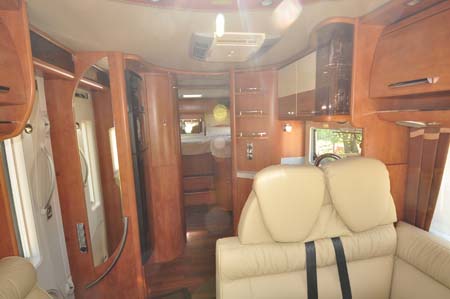 There are also a double-floor construction and insulation measures that really do make this suitable for all-year use, almost anywhere. The cab windows, for example, include double-glazed side windows. Sit in that cab, too, and you might notice it allows better views out than its rivals (although that's very much a personal matter).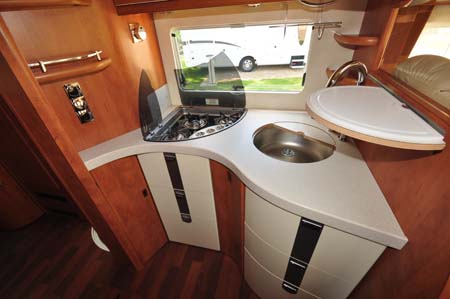 Slightly strangely, then, Alde's "wet" central heating system is another feature that needs to be allowed for from your budget (it's a £2,580 extra to replace the standard Truma Combi 6 set-up, with another £410 to have its en route use, heat exchanger facility).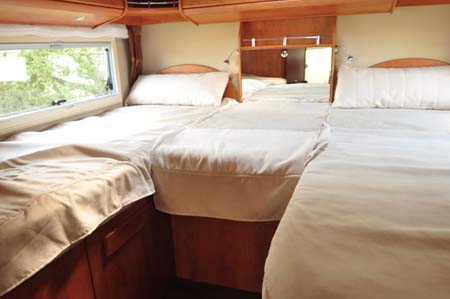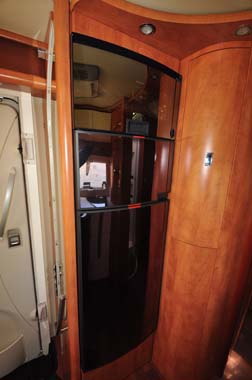 It's also a full four-berth, with this 5.5 LE being the twin-rear single beds model. There's the usual A-class double bed over the cab, too, while the lounge comprises L-shaped travel seat, inward-facing settee and both cab seats swivelled and a neat (optional) location to hide a flatscreen TV in the backrest of the settee when not needed.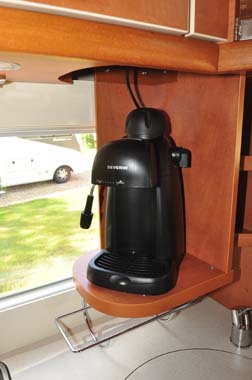 It's completed by the (again, optional, but most UK folk would say necessary) Dometic TecTower (fridge/freezer with oven/grill) across the galley.There's a generous sweep of kitchen, with excellent low-level storage (soft-close drawers, of course), also a clever loose cover for the sink that also has slots to add a bit of extra shelf area when it comes to food preparations. Other neat touches here include to stow-away coffee maker and electric timer – but, again the former is only an (essential?) option.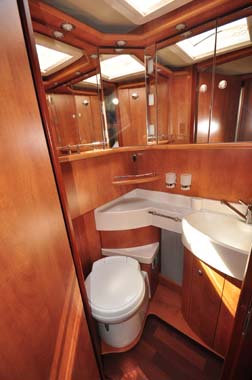 Aft of the kitchen area, but still mid-'van, there's a toilet room on the nearside and a separate shower cubicle directly opposite. Flimsy doors for the latter may not be quite what you'd expect in a vehicle of this stature, and it's also fair to say space is at a bit of a premium in both – but again, that's your call.
To be fair, this is an out-going 2014 model, with Carthago announcing upgrades (and possibly higher prices, of course) for next year as the company celebrates its 50th anniversary. Meanwhile, this example is on special offer at one of Carthago's five dealers, Southdowns Motorhome Centre, in Portsmouth, at £113,020 including a whole host of options.
It goes without saying that even at its £92,260 list price, this motorhome will require some serious security. An approved tracking system and a Thatcham Category 1 approved alarm system would be required to obtain cover from Caravan Guard. That said, we're sure most buyers will want that extra peace of mind anyway!
Verdict: Premium motorhome with a bit of individuality
Plus: Top-quality build, plenty of choice
Minus: Extra budget needed for key options, shower and toilet restrictions
In-a-nutshell: Stylish, sophisticated, superior, special
Cost to insure: £633.50*
In summary:
• Carthago Chic C-line XL 5.5 LE
• Fiat Ducato with Al-Ko tag axle, 3-litre, 177bhp Euro V
• Dimensions 8.09m L x 2.27m W x 2.89m H
• Maximum weight 5,000kg
• Payload 1,336kg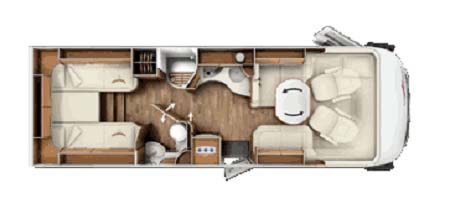 Key options: Right-hand drive £2,250, Comfort-Matic transmission £1,670, Super Package (comprising Chassis Pack, Add-on Plus 1 package, Media Paket) £3,610, double lens reversing camera £520, Blaupunkt media upgrade £260, Dometic TecTower £770, "Quick up" TV package £860, Alde central heating/hot water system £2,580, heat exchanger/travel heating £410, Dometic 2600 roof-mounted air conditioner £2,050, elastic/plastic front-bed springing £300, 5m awning £1,400, coffee maker £110, Cosy World scatter cushions and bedspread £250, Crème leather upholstery £2,580, carpets £110-£250
Security and Safety Electronic immobiliser, twin airbags, anti-lock braking system with brake assist and electronic brake force distribution
MPG estimate 20-24
Recommended retail price from £92,260**
There's more information on the Chic series at the Carthago website. To find out more about our low-cost premiums visit the motorhome insurance discounts page.
Alternatives: Frankia I 815 GD, Hymer B-class SL 878, Niesmann + Bischoff Arto
*Motorhome insurance cost based on Carthago Chic C-line retailing at £92,260 fitted with Pro-Active Tracking System and a Thatcham Category 1 alarm. UK travel only. Kept in secure storage at TD9 8ED. Motorhome owners – professionals over 50 years old with no claims, convictions or health conditions in last 3 years. 4 years no claims bonus mirrored from car policy and 2 years motorhome driving experience. Members of motorhome club doing less than 5000 miles annually. £450 excess applies. Premiums include insurance premium tax at 6% and are correct at 02/07/2014.
**On-the-road, including VAT at 20%
Cost to insure: *
---
factfile
| | |
| --- | --- |
| Model | |
| Base vehicle | |
| Axle type | |
| Dimensions | |
| Shipping length | |
| RRP | |
---
Search our blog
---