When the sun is shining and the barbecue's sizzling it can be easy to switch off and forget about the dangers that could crop up on that much needed caravanning holiday.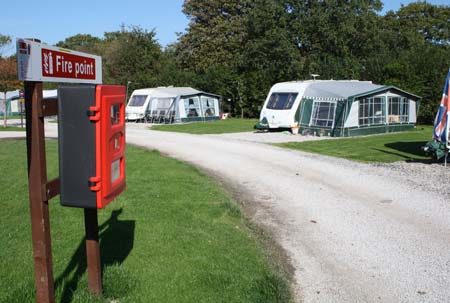 This guide looks at the most common claims made when on site and offers a reminder to caravanners of all age and experience to take extra care over the summer period.
Top five campsite claims
Fortunately campsite claims account for less than 5% of all our tourer claims since 2010, but already this year we're seeing numbers rise due in most part to the torrential weather seen early on in the year.
Unsurprisingly, since January over half of all campsite claims were for storm damage, making it the biggest on site danger to caravanners this year.
The second most common campsite risk is accidental damage to the exterior of the caravan not involving a third party, claims of this kind include cracked skylights, panel dents and scratches. Accidental damage done inside the caravan is the third most common risk on site – examples include, spillages, scorched carpets and broken shower trays.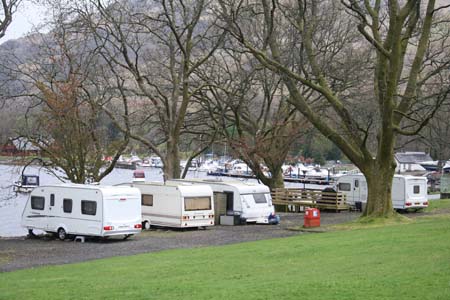 Studies show that flood damage and theft of equipment are the fourth and fifth most common campsite risks.
Check out these tips to staying safe and secure on the campsite…
The journey
The first things to remember when travelling to your chosen campsite should always be how you tow. Have you coupled up correctly? Is the caravan loaded correctly? These are the types of things that could jeopardise your entire trip if not done right.
If you want to remind yourself of the towing rules, regulations and good practice, the guide to safe towing has all the answers.
If this is your first time towing on a caravanning holiday, you might find our beginner's guide to towing more helpful.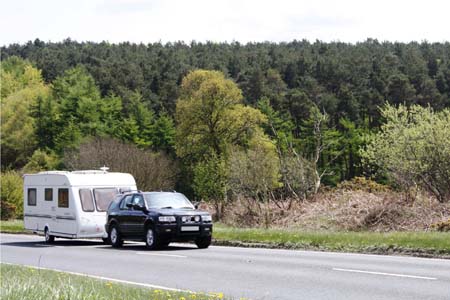 Many campsites are situated in remote areas accessible only via tight, winding country roads. If this is the case, remember to keep your speed down on approach – the last thing you want is to have an accident yards away from the campsite entrance!
On the campsite
When you arrive at the caravan park or campsite, all you really want to do is switch off and unwind but taking the time to set up properly will benefit you in the long-run.
You may be rushing to start your holiday but its well worth taking time to get onto your pitch. Our guide to reversing your caravan like a pro may help avoid a bad start to your holiday.
Avoid unnecessary storm claims
Most campsite claims are storm related and over three quarters of those came as a result of customers leaving their awnings up, so remember to take yours down when leaving the campsite for long periods and whenever strong winds are forecast. Resulting claims we receive are not only for torn awning canvas but often for scraped or punctured caravan panels caused by loose awning poles.
Prevent fire incidents
Fire is another danger on caravan parks and campsites. The close proximity of caravans, vehicles, tents, open fire and groups of people all contribute as risk factors.
If you're travelling with a tent, for some extra sleeping accommodation, make sure there's at least 6 metres spacing between it and the caravan. This is the guideline set by all UK fire safety organisations to reduce the risk of fire spreading.
Top tips on staying fire safe:
Fit and test a smoke alarm in your caravan – optical alarms that detect larger smoke particles produced by slow-burning fires are usually most effective.
Avoid using candles inside or near the caravan or awning – torches are much safer.
Keep flammable liquids and gas cylinders outside the awning at all times.
Don't smoke inside the awning and keep any flammable material away from the cooking area.
Turn off all appliances when leaving the caravan.
Don't use fuel-burning devices such as barbecues, camping stoves, heaters, lanterns, and charcoal grills inside an awning or tent.
Take special care when cooking – don't leave pans unattended.
Make sure ashtrays are stable on surfaces
Remove any litter and rubbish near the caravan to reduce the risk of fire spreading.
Make sure the caravan is ventilated, and never block air vents.
Take a look at our caravan fire safety article for more useful information.
It's also worth bearing in mind the dangers of carbon monoxide. Check out the CO – Be Alarmed website for helpful information and advice on how to prevent Carbon Monoxide poisoning.
Handle LPG gas cylinders with care
No caravanning holiday would be complete without the need for a gas cylinder but without the proper care and attention, LPG cylinders can be dangerous to handle.
Always change cylinders in open air; make sure the appliance controls and cylinder valve are turned off before you change the cylinder. Make sure the LPG regulator is compatible with your appliances and as stated above, ensure all appliances are turned off when not in use.
Avoid flood damage
Floods can occur at any time of year and often campsites are situated next to rivers or lakes. If the campsite is near to a source of water and you're worried the current weather conditions could lead to flooding, keep abreast of local weather reports. Your campsite should also have an evacuation plan so speak to the campsite staff to know what to do if flood waters start to rise. It may simply be a case of asking staff if you can move your caravan to a pitch on higher ground to avoid unnecessary damage.
Stay secure to deter thieves
Theft of equipment and possessions is the fifth most popular campsite claim. Opportunist thieves can strike at any time – even on the friendliest campsites and caravan parks! It's easy to feel as sense of security once you start enjoying your stay but it only takes one moment of negligence for a thief to strike.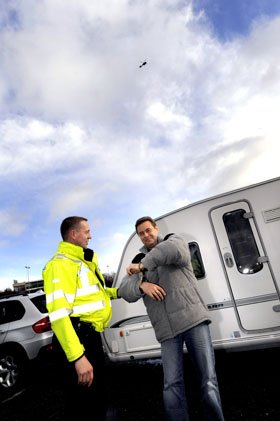 Whether your group is sat outside the caravan around a campfire, or you're away in the car exploring the local area it's so important to stay on your guard.
Keep expensive items such as gadgets, leisure equipment and mobile phones out of view or on your person.
Always lock your doors and windows and of course activate your security devices when you leave your caravan unattended. Don't forget many devices give you a caravan insurance discount too!
If your equipment, personal possessions or caravan are successfully stolen notify the police straight away then call your caravan insurance company with the crime reference number to ensure your claim is logged. If your caravan is stolen police will likely ask for its CRiS or chassis number to help them identify so make sure you have these to hand.
On the way out
A stress-free journey home is just the ticket after a nice relaxing caravanning trip. To ensure this, make sure you're as cautious leaving the caravan park or campsite as you were when you arrived.
Switch all the appliances off before you set off; empty the waste and water tanks, and don't forget to check that contents are secure in locked cupboards.
Have you had to make a claim whist staying a caravan park or campsite? Tell us your story using the comment box below. 
Cost to insure: *
---
factfile
| | |
| --- | --- |
| Model | |
| Base vehicle | |
| Axle type | |
| Dimensions | |
| Shipping length | |
| RRP | |
---
Search our blog
---